The Magic of Articulate Storyline 360 for Rapid Authoring
Are you looking for a rapid authoring tool to create interactive courses? Have you tried Articulate Storyline 360? Here is a blog that'll help you decide if Articulate Storyline 360 is your tool of choice.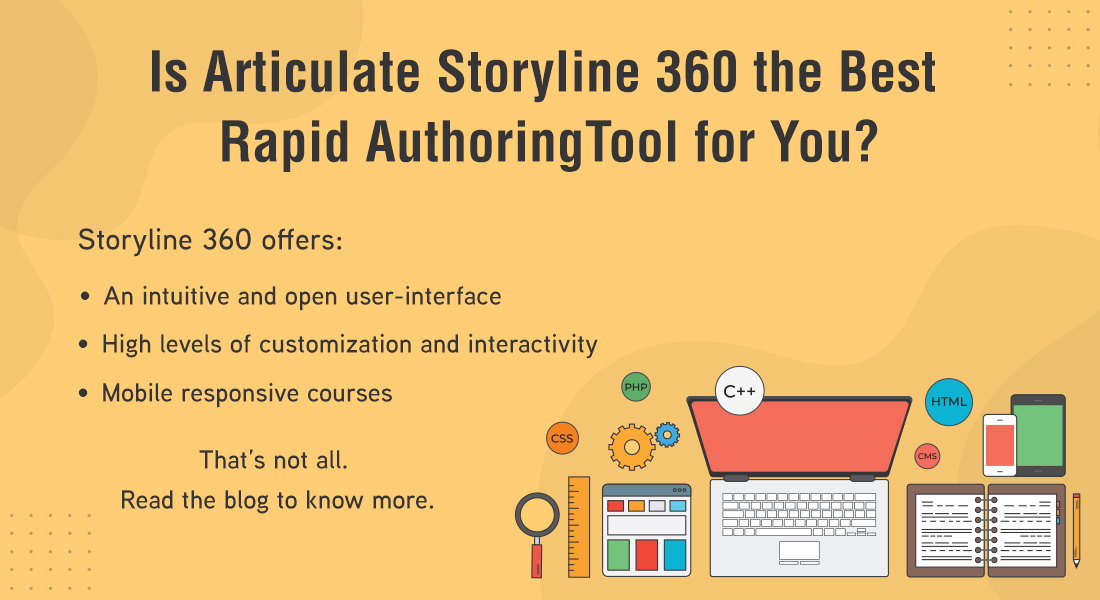 I don't know about you but I sometimes feel that having too many choices can be very confusing. Case in point – rapid authoring tools. We have so many authoring tools in the market today that it is very difficult to say, "Here is the best authoring tool among them all". So instead of looking for the best authoring tool, perhaps you should focus on finding the tool that can best address your training requirements. And there is one authoring tool that is so versatile it can fulfill most of your training requirements. Yes! Articulate Storyline 360.
5 Rapid Authoring Feature of Articulate Storyline 360
Intuitive and open user interface
Built-in media content library
Scope for customization
Responsive mobile learning experience
Online course review
Articulate Storyline has always been a firm favorite of eLearning developers for designing and developing courses. This tool is so versatile that you can use it for Flash to HTML5 conversion, rapid conversion of classroom material to eLearning, eLearning translation, custom eLearning development, mobile learning development, etc.
I know what you may be thinking, "Nah! One tool can't very well do all this." But believe me; Storyline 360 is just that good. Here are 5 reasons why I can say that with absolute certainty.
5 Reasons Why You Should Choose Articulate Storyline 360
1. Intuitive and Open User Interface
When it comes to an authoring tool, we always advocate choosing one based on the organizations' training requirements. But there is another related factor that is equally important – the choice of your instructional designers and developers. After all, it is they who will be actually using the tool and a tool that has a steep learning curve will only delay your course development.
Your instructional designers and developers will have no difficulty in handling Articulate Storyline 360. Using its intuitive and open user interface is almost like using MS PowerPoint. Developers can switch between Slide View (that allows them to create individual slides and layers) and Story View (that gives them a bird's eye overview of the entire course). Also, if the project includes eLearning translations (Chinese, English, French, German, or Spanish), they can switch between interfaces to accommodate the changes in text, font size, style, and alignment.
2. Built-in Media Content Library
Please note – a built-in media asset library is a must-have with any authoring tool. I mean, just think about it:
You will be able to access a wide range of stock images, characters (of different genders, ethnicities, and backgrounds, with different gestures), audio and video clips, and templates with varying levels of interactivity – all for free. If you have to search for these media assets externally for every course, it'll truly burn a hole in your pocket, not to speak about the effort involved.
Not having to create media assets from scratch or spend hours searching the web for them will also save a lot of time and ensure rapid eLearning development.
Having a range of stock media assets at your disposal also helps maintain uniformity throughout the eLearning course or curriculum. If you are using a particular avatar/character in a guided learning course, you can rest assured that the library will have the same character with different positions, expressions, etc. to be used throughout the course.
With Articulate Storyline 360, you get a vast library of 7+ million professionally designed royalty-free images, royalty-free media assets, and customizable slide templates.
3. Scope for Customization
Even though we champion rapid eLearning design and development, we still want our courses to look and feel different, interesting, and unique. But is it possible to cut down the time and cost of course development and still create more than slide-based 'click next' courses? Of course it is! If you have a rapid eLearning authoring tool like Articulate Storyline 360, you can customize the course content, the interactivities, the templates, and the course player.
The content library will help you customize the content with characters, backgrounds, etc. and create scenarios that suit the course topic.
While Storyline 360 provides many built-in interactive templates, they can be customized to your requirements. You can add more interactivities using timed triggers, transitions, and animations, and customize simple templates into gamified, simulation-based, or scenario-based ones.
You can also customize the course player to reflect your organization's branding, add logos, navigation buttons etc.
4. Responsive Mobile Learning Experience
The importance of mobile learning in the present corporate L&D cannot be stressed enough. It is the best way of offering learners flexibility in when they want to learn, enabling remote learning, and providing just-in-time support. But while the utility of mobile learning is undeniable, there are practical aspects of creating mobile learning that you have to consider during course development. Here is how Articulate Storyline 360 can help.
Your learners may be using a variety of mobile devices – smartphones, iPads, tablets, laptops, etc. with different screen sizes and orientations. Storyline 360 comes with a responsive player that adapts to screen size and orientation to provide learners an effective mobile learning experience, irrespective of the device they are using. And it does so without needing any tweaking at specific breakpoints during course development.
When you access the course in full screen, the responsive player hides the sidebar and buttons (menu, forward, rewind, etc.) much like a mobile video player. They will reappear if you touch the screen.
You can add touchscreen gestures and interactivities in mobile learning courses developed with Storyline 360 to allow learners to swipe, drag, and pinch to zoom in and out on their mobile device screens.
5. Online Course Reviews
When it comes to designing and developing eLearning courses, a proper review process is very important to ensure quality. But this is usually a frustrating process as you have to coordinate the schedules of the L&D teams, SMEs, and all stakeholders. Streamlining this course review-feedback-implementation loop will make the entire process hassle-free and that is exactly what online review tools do.
Articulate Storyline 360 comes with the online review tool 'Review 360'. You can use Review 360 to keep all your stakeholders and SMEs in the loop by sending them a link through which they can access the course and give their feedback directly on each slide. The tool also helps keep track of all suggested and implemented changes. Having an online platform to review courses will not only make the entire process painless, but will also save time by reducing repetition and redundancy.
Summing it Up!
Do you now see why I was so confident placing my bet on Articulate Storyline 360? All these features make Storyline 360 one of the top rapid authoring tools in the industry and will help you create highly customized and interactive eLearning courses for your learners.
If you want to know how you can design and develop courses using rapid eLearning, download our eBook.