5 Ideas for an Engaging Mobile Learning Experience
Are you planning to go for a mobile-first eLearning strategy? Find out how you can improve learner engagement in mobile learning.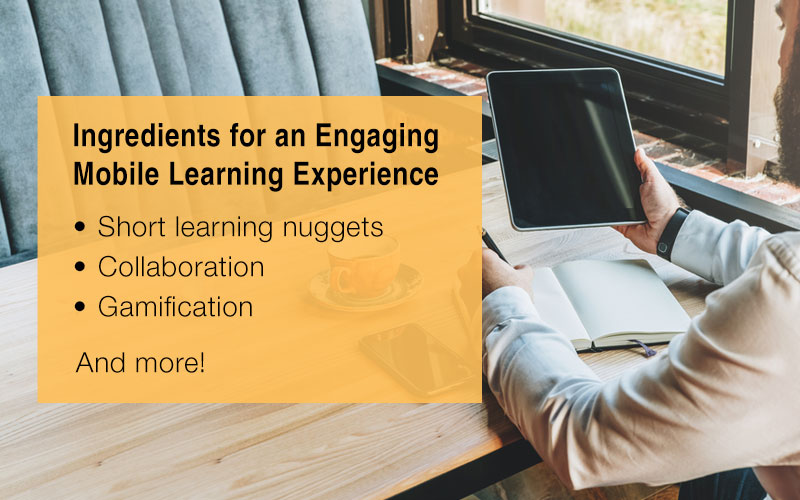 Did you know that 51% of global users (around 2 billion people!) access the Internet only through their smartphones? I wonder what we used to do before the era of smart phones! There was a time when owning a mobile phone was seen as a luxury. But today the number of mobile devices outnumber humans. We have smartphones, tablets, iPads, laptops, chrome books, and many more. As things stand, 74% of your employees access resources from their mobile devices. Mobile learning has rightly moved on – from being a nice-to-have training format to a must-have training strategy.
But why is having a mobile learning strategy so important?
Mobile learning:
Allows information to be accessed remotely at the moment of need
Enables learners to take control of their own learning (pace, time, and place)
Facilitates social interaction between learners and quick transfer of knowledge
Keeps learners engaged in the learning journey by providing a seamless learning experience
The last point is the most challenging for most training managers. Engaging learners remotely through small screens is not the same as engaging them at their desktops. Also, mobile learning is not just about converting conventional eLearning courses to fit the device size. So, what can you do?
Here are a few ideas that will help enhance the mobile learning experience.
How to Improve Engagement in Mobile Learning Experience
Go for microlearning courses with its bite-sized learning
Encourage collaboration through social media
Leverage on video-based learning
Personalize and customize learning
Employ game mechanics
5 Ways to Improve Mobile Learning Experience
1. Opt for Bite-sized Learning or Microlearning
Heard of the term 'scrolling fatigue'? It sure sounds exotic, but is not. We have all experienced this particular form of fatigue, when you are so frustrated or tired of going through long content on your mobile devices that you just simply keep scrolling down without even looking at or registering the information.
It sounds like a challenge for mobile learning, right? It isn't the only one. The mobile learning experience can be hindered by factors such as small screen size, unreliable internet access, limited battery life, and social distractions. So obviously, hour-long eLearning courses are just not right for mobile learning.
What you can do is use bite-sized microlearning modules to engage your learners and enhance their mobile learning experience, because they:
Are only around 10-15 minutes long (sometimes, even less), and are tailored around only one learning objective. They enable the learner to focus on the information provided, without getting distracted.
Can be configured into multiple formats – videos, animations, quizzes, flashcards, infographics, mobile apps – which make learning more engaging and flexible, and less monotonous.
2. Encourage Collaboration through Social Media
What do you do when you find learners constantly distracted by social media? Simple! Use those very platforms as effective training avenues.
Social media helps learners exchange ideas and can be used effectively to connect learners to their supervisors, peers, Subject Matter Experts, and industry experts. Discussion boards and learning communities can help learners share knowledge and discuss new trends. It also encourages collaboration between employees to build leadership skills and teamwork.
Social media is an integral part of smart mobile devices – make the most out of the situation and use social learning mediums to enhance the mobile learning experience.
3. Leverage on Video-based Learning
Did you know that every minute more than 500 hours of new videos get uploaded on You Tube? Videos provide information that's crisp, fast, and trendy making it the most popular format of content consumption. Apart from the ease of development and access that videos provide, they work like a charm when it comes to engaging learners.
Mobile learning videos can be in many formats – text-based, animations, webcasts, and even user-generated. It is possible to add interactivities to existing videos and convert them into eLearning courses. You can make use of microlearning videos to provide courses that teach concepts, decision-making, and problem solving. Microlearning videos are also a great way to provide reinforcement of learning and can be used in every stage of the learning journey.
4. Personalize and Customize Learning
Mobile devices are (very) personal devices, aren't they?
If what you access through your device is personalized, it will leave a deeper impact, won't it? Personalizing and customizing mobile learning makes the learning experience more successful. This can be achieved by:
Leveraging on microlearning courses to create individual learning paths
Re-purposing learning content into different digital formats that enables learners to choose how they learn
Giving learners the option to make choices in simple things (like the screen orientation they prefer)
5. Employ Game Mechanics
What is the mobile game you play most? Is it PUBG, Fortnite, FIFA, Candy Crush, or something else? Most people, both the young and the old find games fascinating. So, make use of game mechanics to make training fun and engaging. Gamifying mobile learning:
Brings edutainment into training and increases the joy of learning
Gratifies learners with points and badges and fosters healthy competition
Aids in the learning process providing learners with information exactly at their moment-of-need, encouraging decision making and exploration.
Summing it Up!
The mobile has changed the world for the better, making it more open and connected. With increasing globalization, everything is becoming more mobile, even corporate training. More and more companies now have a BYOD (Bring Your Own Device) policy and are going in for a mobile-first learning strategy.
So, why not go with the trend and devise a mobile learning plan for your organization?
And if you want any more information, download our eBook, 'Mobile Learning: How to Overcome Implementation Barriers' now!