Articulate Storyline 360 – What the In-house Expert Says
Find out why you should develop your e-learning courses using Storyline 360.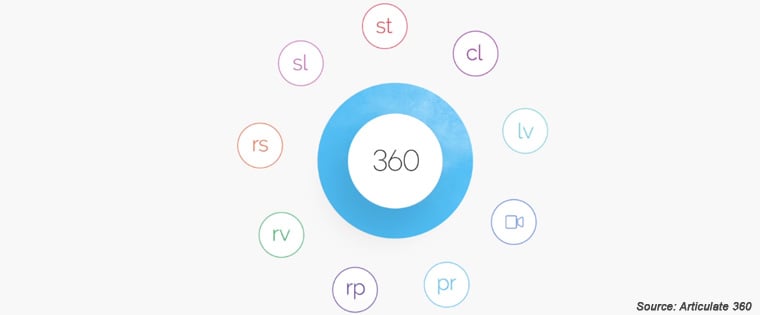 Storyline – a powerful application used extensively by the online learning development community. This rapid authoring tool, developed by Articulate, is inarguably the best software to convert Flash-based courses into mobile-compatible learning resources, as it enables developers to replicate animations and learning interactivities created using Adobe Flash. The web-based course development application is also one of the best tools to develop scenario-based courses.
The latest version of the rapid authoring tool, Articulate Storyline 360, comes with many innovative features that help online course developers create highly effective learning materials.
To find out more about this e-learning development application, I talked to a veteran online learning developer at CommLab India, a firm that has been in the business of providing technology-enabled learning scenarios since 2000. Here are the excerpts of the interview.
You have worked with various rapid authoring tools such as Adobe Captivate, Lectora Inspire, and so on. What makes Articulate Storyline special?
Its simple and highly intuitive interface. Over the years, developers of Articulate Storyline have ensured that their product can be used by anyone, even by novice e-learning developers. All you need to use the tool is familiarity with PowerPoint. It is as simple as that.
Articulate Storyline 360 has created ripples in the world of e-learning development. What makes this version of the rapid authoring tool different from others?
The latest version of this rapid authoring tool comes with a vast array of 100,000+ illustrated and photographic characters in various poses, depicting various emotions. You can also access more than 2 million royalty-free library photos, illustrations, icons, and videos. These make the lives of e-learning developers easy.
How?
One of the biggest challenges faced by an e-learning developer is finding appropriate images for his course. Many a time, companies have to purchase copyrighted images, increasing the cost of course development. Articulate Storyline 360's huge library of visual assets goes a long way in overcoming this problem.
E-learning templates are the key to the rapid, cost-effective development of good online courses. How well does Articulate Storyline 360 score on that count?
The application comes with several templates that make e-learning development a cakewalk. These templates are easier to customize than ever before, enabling online learning development professionals meet the unique needs of their organizations with little effort.
Articulate Storyline is well-known for its abilities to develop good animations. What are the improvements to the latest version of the tool on this front?
Articulate Storyline 360 provides good support to ten different motion paths and enables online course creators to trigger motion paths by learner actions or the timeline. Furthermore, e-learning developers can name motion paths, and this goes a long way in eliminating confusion when creating triggers. Storyline 360 also allows course developers to copy animations from one object to another, and animate objects that are grouped.
You can use the rapid authoring tool to make modifications to the orientation of an object as it moves across a non-linear motion path. This feature of the Articulate Storyline360 application enables you to ensure that the object always faces the direction in which it travels.
Good learning interactivities play a key role in ensuring effective delivery of online training. What are the learning interactions that can be developed using Articulate Storyline 360?
Slide layers in the rapid authoring tool can be used to develop complex e-learning interactions and branched scenarios. You can also use slide layers to trigger the appearance of content elements based on specific actions of learners.Storyline 360 enables you to change the state of an object, based on learner actions. For instance, you can zoom the text on a button when a learner hovers his mouse over it or change the color of a tab once it is clicked.
The e-learning development application allows you to modify the states of various objects such as pictures, shapes, captions, characters, markers, and buttons. You can also incorporate click-to-reveal and hover-to reveal interactions and trigger logic based actions.
Learning simulations play a key role in enabling workforce perform their jobs effectively. Can Articulate Storyline 360 be used to develop good simulations?
Yes, of course. You can develop highly effective training simulations, using Articulate Storyline 360. The slider and dial interactivity features of the rapid authoring tool can be used to depict the effects of various actions. For example, you can use the application to create an online sales simulation where customer reaction is determined by the sales rep's response to an objection.
You can also develop high quality software training simulations using Articulate Storyline 360. The tool allows you to record on screen activities and edit the recordings easily. You can also include mouse cursors in demonstrations of software applications to generate the effect of a moving mouse.
Good assessments are the heart of an effective e-learning course. What are the capabilities of Articulate Storyline 360 to create online assessments?
Storyline 360 offers a high degree of flexibility in the development of e-learning assessments.You can use the e-learning development tool to incorporate 11 types of graded questions and 9 types of survey questions. Storyline 360 allows you to transform normal objects on the slide into interesting questions. For instance, you can use the application to convert a photographic character into a drag-and-drop question. You can also assign negative scores and provide dynamic feedback based on learners' scores.
Mobile learning is the order of the day. How do you rate Articulate Storyline 360 in terms of developing courses for smartphones and tablets?
You can use Storyline 360 to publish courses to HTML5, a mobile-friendly format. The rapid authoring tool provides excellent support to touch interactions such as swiping, dragging, pinching, and this feature goes a long way in accessing mobile learning content effectively. You can also publish courses to Articulate Mobile Player (AMP), a native app available in iOS and Android flavors.
Companies are mandated by law to make their e-learning content accessible to all learners, irrespective of their physical status. Does Articulate Storyline 360 support the development of accessible e-learning courses?
Courses developed using Articulate Storyline 360 can be accessed by all learners, including those who are physically challenged. The rapid authoring tool provides excellent support to JAWS 16 or later versions, with Internet Explorer 10 or later, Google Chrome (the latest version), and Firefox (latest version), for HTML5 content.
The tool also allows you to localize content for learners using screen readers. You can also ensure that the screen readers deliver the right content at the right time, by customizing the 'tab order'. Learners have the option to skip player navigation when they tab through slide content and zoom the player size upto 200%. The tool also provides excellent support to WCAG 2.0 guidelines.
How does Storyline 360 compare with the latest versions of other popular rapid authoring tools, Adobe Captivate and Lectora Inspire?
Storyline 360 trails Captivate and Lectora Inspire in terms of responsive e-learning development. However, the Articulate product comes with a responsive player that renders content effectively on screens of all sizes. I believe that Captivate and Lectora are the best tools in the market, as far as the development of device-agnostic courses is concerned. Having said that, I must admit that Storyline 360 is a very simple tool to use, which is not the case with Captivate and Lectora.
This is what the expert from CommLab India had to say about Articulate Storyline 360. Hope you enjoyed the interview.