Leveraging Articulate Storyline for Accelerated Learner Engagement – 7 Secrets
This blog will explain how to best leverage Articulate Storyline for accelerated learner engagement in online courses.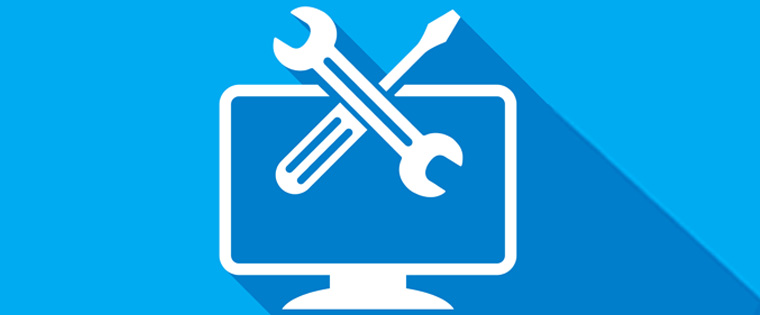 Nothing spells learner disinterest faster than a 'click Next' e-Learning course. Not only is it boring in its predictability, such courses also suffer a higher dropout rate.
What is it that is lacking in these courses? The essential ingredient in maintaining interest and avoiding a high dropout rate is learner engagement. For that, you need to provide your learners with multiple options and novel ways of interacting with your online learning courses.
Authoring tools play a key role in developing interactive learning. However, each tool has its niche in meeting specific training requirements. Articulate Storyline, the e-learning development tool from Articulate, produces highly interactive content that can be seamlessly accessed from any device.
To make the most of Storyline, however, you need an awareness of how to leverage its features toward the specific goal of increasing learner engagement. Check the seven useful pointers discussed in this blog.
1. Build Custom GUI & Templates
To engage your learners better in online courses, build a customized Graphical User Interface (GUI) with Articulate Storyline. Articulate Storyline offers many default GUIs, but also lets you customize them using Player properties.
A GUI that exactly matches your company branding with logo, visual, and presentation styles and colors is the key for better reception among learners.
What's more, you can customize your online GUI in Storyline without any prior programming knowledge. You can also change the dimensions of the GUI and customize Player buttons by changing 'Player' properties in Storyline.
2. Create Flash-like Animations
Until recently, Flash ruled the animation arena. However, the need for add-on plug-ins to run on most browsers, in addition to Flash not being mobile compatible, have set the stage for the creation of alternative authoring tools. Articulate Storyline is a rapid authoring tool that entered the market to fill this gap in the e-Learning development field.
With Storyline, unlike Flash, you don't need any programming knowledge to create high-end, Flash-like animations. You can develop stunning animations with its inbuilt templates and utilize features such as triggers, slide layers, object states, and variables, all at your fingertips. Unlike Flash, Storyline comes loaded with a wide range of built-in templates, including slide layouts. Let these templates inspire you, and experience the total freedom to customize them to suit your specific learning requirements.
3. Design Intuitive Interactivities
Incorporate intuitive interactive elements in your online courseware using Articulate Storyline, and enhance your learners' learning experience.
In online learning, there are interactive elements that focus on both teaching and assessing. Articulate Storyline helps you to create both types of activities, in a variety of formats, which can be used in their default form or customized, as needed.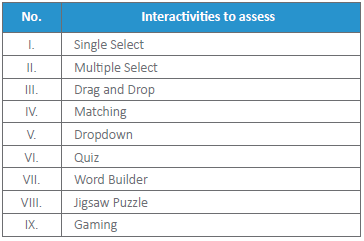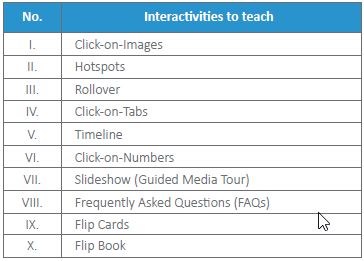 4. Use Branching Scenarios
Involve your learners in the learning process and elevate their decision-making skills with branching scenarios. This method educates learners on the consequences of actions, and equips them to face new challenges that might crop up in their work environment.
A branched learning scenario is an interactive learning element that presents learners with a problem that can be tackled in multiple ways, and challenges him/her to choose the best way to resolve the problem. As the learner decides on an option, a new challenge is presented, and based on the reaction to this challenge, further customized challenges are presented.
A large library of in-built templates in Articulate Storyline makes the development of branched scenarios easy. As with all the features of Storyline, you have the option to customize templates based on your requirements.
5. Gamify Learning and Assessments
Adding a fun element to your online courses will heighten learner engagement and motivation. With Articulate Storyline, gamifying online courses is easier than you think. Add gamification features such as scores, points, rewards, incentives, levels, leaderboards to your online courses to ramp up learner motivation. A variety of triggers, variables, characters, interactions, and templates are readily available for your use, pre-loaded in Articulate Storyline.
6. Experience Interactive Simulations
Watch-Try-Do simulations of software applications are an efficient and engaging option for software training that needs to be delivered quickly and effectively. In this approach, learners first 'Watch' how the software is to be used. In the 'Try' mode, learners execute the steps that they have watched, with the help of pop ups and hints. Finally, in the 'Do' mode, learners apply the knowledge that they have acquired, remembering the steps and executing them independently.
Screen recordings of a software application can be incorporated in your simulation in the form of online demos, tutorials, or videos. The tool that enables this, Peek, is fully integrated with Storyline 360, and can be used to produce high quality screencasts on both Macs and PCs.
7. Develop Interactive Videos
The addition of video-based learning (VBL) within e-learning courseware is a tried and tested method for increasing learner engagement. With Articulate Storyline, you can develop interactive videos within the tool itself, with ease.
The proper use of information icons, cue points, slide layers, player properties, triggers, shapes, and hotspots in Articulate Storyline will help create better interactive videos.
With these 7 secrets to leveraging Articulate Storyline to accelerate learner engagement, you are equipped to optimize the use of Storyline to meet your business goals!