Articulate 360 – Easy Authoring Features of Storyline 360
This post, the first in a series of fourteen write-ups, examines how Storyline 360, a component of Articulate 360, facilitates easy authoring of courses.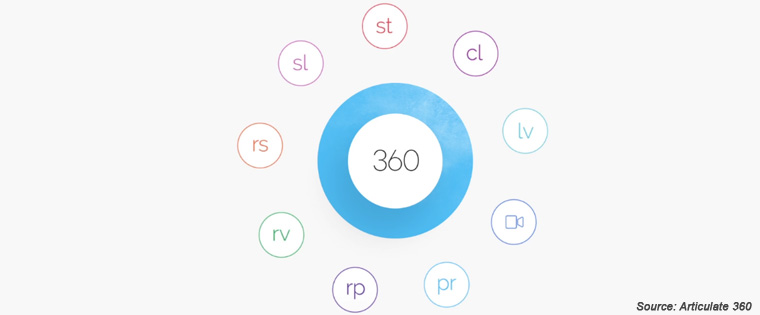 Articulate 360, the brand new software from the developers of Storyline, is creating ripples in the world of online training. This technology-enabled learning development suite has captured the imagination of the e-learning community.
How does Articulate 360 help create good web-based learning materials? This fourteen post series examines its features, to provide the answer. Let us begin by looking at the various elements of this rapid authoring product.
Articulate 360 – A Bundle of Nine E-learning Applications
Articulate 360 is an online course development powerhouse made up of nine applications. They are:
Storyline 360 – an e-learning development application
Studio 360 – a tool to rapidly convert PPT files into online courses
Replay 360 – an application that can be used to develop software simulations
Peek – a screen-casting tool for Macs and PCs
Rise – a responsive e-learning development software
Articulate Review – a tool that allows stakeholders to review online learning materials
Content Library – a library of templates, characters, and other e-learning assets
Articulate Live – a collection of training webinars by experts
Preso – a video creation tool for the iPad
These applications enable Articulate 360 to meet the online learning development needs of the 21st century such as creating device-agnostic courses and video-based training modules. Today, in the first blog of the series, we will look at the capabilities of Storyline 360, which facilitate the easy authoring of e-learning courses.
Highly Intuitive User-Interface
The interface of Storyline 360 is very simple, and developers of web-based courses can get used to it in no time. The interface allows you to move some panels of the application to create more space for work. You can also zoom slides to edit content easily and change the language of the interface from English into the following:
Chinese
French
German
Spanish
Seamless Integration with Articulate's Content Library
Users of Storyline 360 have ready access to the vast array of e-learning development assets contained in Articulate's content library. The library contains more than 100,000 illustrated and photographic characters in various poses that facilitate the hassle-free development of scenario-based online courses. The library also has several e-learning course templates that can be fully customized to meet your needs.
Text Editing Made Easy
You can use Storyline 360 to adjust space between text elements, modify their alignment, change their font and size, and alter their color. The Articulate 360 application also allows you to insert custom fonts and ligatures.
Visual Timeline to Trigger Slide Elements Seamlessly
Timeline is a very useful feature of Storyline 360. It can be used to ensure that the timing of objects and animations is right. The timeline allows you to trigger events precisely, with little effort. You can also use this feature to hide, lock, and rename objects. You can also use the timeline of this Articulate tool to sync animations easily.
Enhanced Picture Placeholders
You can use picture placeholders of any shape. The Articulate 360 application will automatically scale down images and crop them to fit the placeholder. Furthermore, triggers assigned to a placeholder remain intact, even when you remove or modify the content of the placeholder.
These features of Storyline 360 go a long way in making e-learning course development simple. In the second part of the series, we will look at the abilities of this component of Articulate 360 to incorporate animations and interactivities in online courses. So, stay tuned.