The Top 3 Aspects of Articulate 360 You Must Know
This blog post shares some important aspects of Articulate 360.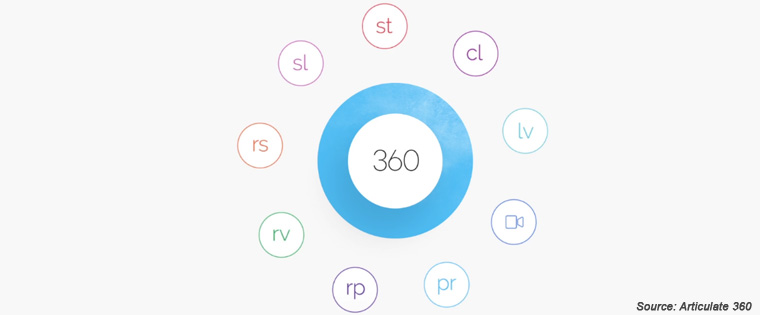 Finally, the much awaited day has arrived and Articulate launched its enhanced eLearning authoring tool – "Articulate 360". As the name implies, it can provide a complete solution for eLearning and mobile learning development. Adobe Captivate and Lectora have already launched the responsive design feature. Most developers were waiting for Articulate to add the responsive design feature because of its intuitiveness and ability to develop bug-free courses for all devices.
This version of Articulate is a completely different package, unlike its earlier upgrades. You must know what's new in this package and how it will impact courseware development. I would like to share some important aspects of Articulate 360 in this blog post.
1. Articulate 360 Package:
Like Adobe Creative Cloud, Articulate has also integrated all of its existing and new independent tools into one simple Articulate 360 package. It consists of various tools for desktops, the Web and iPads.
i. Desktop:
Storyline 360
Studio 360
Replay 360
Peek
ii. Web-based applications:
Rise
Articulate Review
Content Library
Articulate Live
iii. iPad:
The cost structure is also completely different. Now it's annual subscription-based and not on perpetual licenses. For existing customers, it costs $599 per user, for the first year. From the next year onwards, or for new customers, it is $999 per user, annually. It will be very cost effective for developers who use all the applications. The cost is also lower than the other authoring tools. Click here for the pricing list.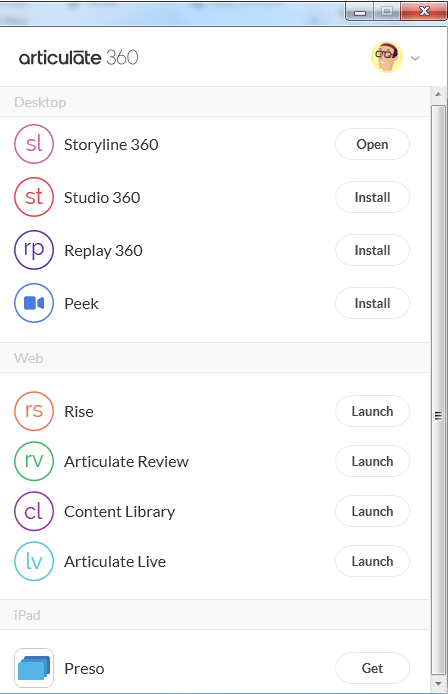 2. Articulate 360 Features:
a) Storyline 360 (sl): It looks like the next upgrade of Storyline 2. It has some new features such as a responsive player which can automatically adapt the layout to all desktop or mobile devices. It has a mobile-friendly interface for small screen mobile devices. Touchscreen gesture support has been added for the ease of navigation of mobile learners. Some new engaging interactions and triggers have also been added.
Some of the new features include:
Responsive Player for Tablets and Smartphones
Responsive Preview Toolbar
HTML5 Gesture Support
Content Library Templates
Content Library Characters
Publish to HTML5 First/Only
Dial Interactions
Best Right-to-Left Language Support
Section 508 and WCAG 2.0 Compatibility
Click to view the complete list of new features along with a comparison with Storyline 2 and 1 features.
b) Rise (rs): This web-based application can produce fully responsive design courses. Courses developed using this tool will work perfectly fine on all desktop and mobile devices. It adapts the content according to the device screen size. But it has limited features compared to Storyline 360. It does not support triggers or develop customized interactions. Though it offers limited templates, we can develop very engaging courses using those templates. It has a user-friendly interface and can create courses very quickly. It is similar to the open-source eLearning authoring tool "Adapt Learning" and paid applications such as Gomolearning.
Features include:
Lessons: Video, Labeled graphics, Process, Timeline, Sorting, and URL embed
Quiz: Only multiple choice questions
Text
Statement
Quote
List
Image
Gallery
Multimedia: Audio, Video, Embed, HTML code
Interactivities: Accordion, Tabs, Flashcard, Buttons
Dividers
c) Studio 360 (st): This is similar to Studio 13, but with the new features available in Storyline 360. It has the latest versions of PRESENTER 360, QUIZMAKER 360, and ENGAGE 360.
d) Content Library (cl): This library is very useful and offers creative and attractive templates which can be imported to Storyline 360 or Studio 360. You can also customize them based on your requirements. You can select the required character(s) using the filters available.
e) Articulate Review (rv): This is the most desired and helpful feature. Many of our customers request for such applications for quick and easy reviews. With Articulate Review, it is very easy to publish and send courses for review. There is no need of any server or LMS to send the courses for stakeholders' or SMEs' review. While checking the course, they can give comments without taking screenshots or mentioning the slide numbers. Slide details will be captured automatically. Developers can view the comments and resolve them quickly. This application will help reduce feedback in email communications and avoid confusion.
f) Replay 360 (rp): This application will help you record screencasts using a webcam. While capturing the simulation, trainer videos can be captured. Once the capture is done, you can modify the view and switch between webcam video and simulation. In addition, you can add external videos, captions, or titles to the screencast. The user interface is very intuitive.
g) Preso: This is an app for iPads which is used to create training videos. We can create interesting and engaging training videos with built-in features such as narration, annotation, panning, zooming, pointer highlights, and pen drawings.
h) Peek: This application is used to easily record screencasts on your Mac or PCs and use them in Rise or upload to your LMS.
i) Articulate live (lv): In this, you can learn about Articulate 360 applications and improve your development skills. There will be a series of live webinars and you can register for them based on your preference. In the live QA session, you can ask questions and get instant responses from Articulate experts.
3. Comparison chart to select the best tool based on your requirement: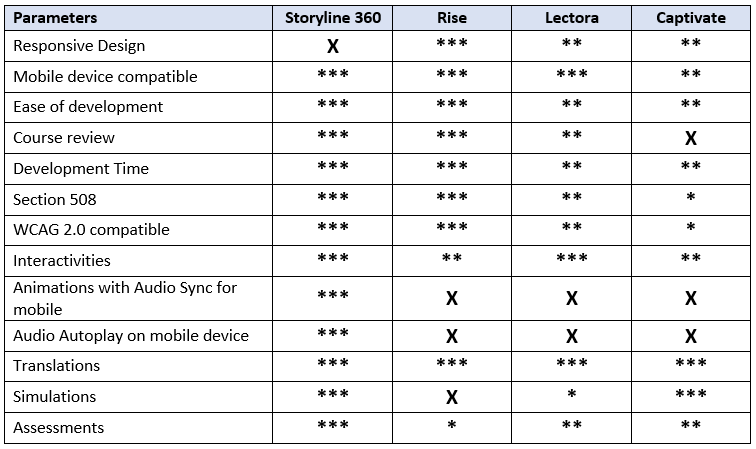 I was a little disappointed because I was expecting Articulate to add the responsive design feature in Storyline 360 like Lectora and Captivate. Storyline 360 gives you similar output as Storyline 2, with responsive players and some new features, but does not produce a fully responsive course. It just optimizes the page size based on the device screen like before. If a slide has a lot of content, it will be very difficult to read when viewed in mobile phones.
Readable text without having to zoom the page is one of the main criteria of responsive design which Storyline 360 does not support. Lectora and Captivate provide fully responsive design courses but there are some bugs. They both apply the concept of adjusting the content in the tool for mobiles, tablets, and desktops and can develop fully responsive courses.
Storyline 360 can become the best authoring tool if this feature is made available in the upcoming versions. The unique feature of Storyline is that it can autoplay audio in mobile devices, which Lectora and Captivate can't do.
Hope this post has given you a comprehensive idea of Articulate's latest offering – Articulate 360.