Drawbacks of Adobe Flash: How Articulate Storyline Can Help
Adobe Flash does have its drawbacks. In this blog, find out four important features of Articulate Storyline that triumph over Adobe Flash.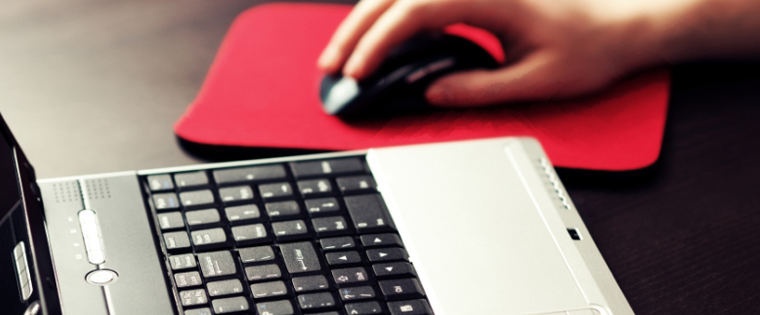 Smartphone usage has trumpeted in the last few years. According to research by Statista, the number of smartphone users is expected to pass the five billion mark by 2019. The trouble is that most smartphones and tablet PCs do not support Adobe Flash, which makes Flash-based courses archaic.
Features of Articulate Storyline that Overcome Drawbacks of Adobe Flash
Develop courses that are multi-device compatible
Create Flash-like interactivities
Leverage ready-to-use templates
Export content for easy eLearning translations
Today, many tools are available which give you Flash-like output, ones that lessen the complexities of Adobe Flash – requiring developers to have technical knowledge to create interactive elements, consuming a lot of time and most importantly, money. However, the process of converting Flash to HTML5 can be time consuming and at times complicated, when you work with an inappropriate tool, especially if your e-learning consists of a lot of interactive elements.
Today, let's see how Articulate Storyline improves upon Flash and its drawbacks.
4 Features that Offer Storyline an Advantage Over Adobe Flash
I'll take you through four important features of Storyline that triumph over Flash. Without further ado, let's jump right in.
1. Supports multi-device compatibility with just a single click
Articulate Storyline makes it easy to develop online learning courses that can be distributed across multiple devices such as smartphones, tablet PCs, and iPads, which do not support Flash. The Include HTML5 option of Storyline helps learners view content on their mobiles.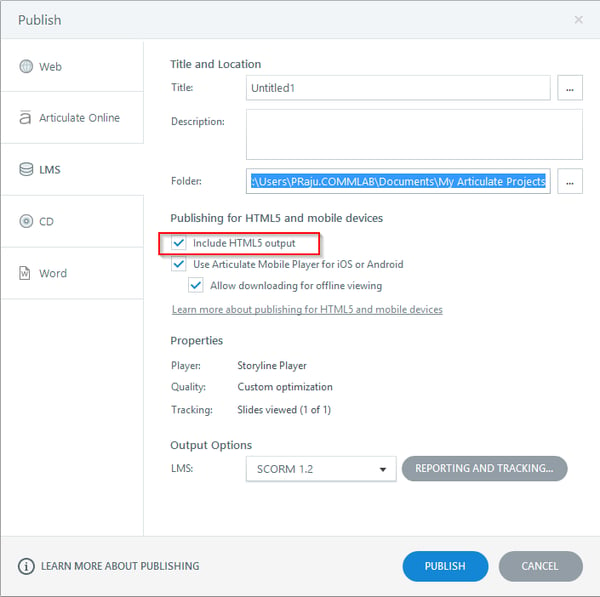 Additionally, selecting the Use Articulate Mobile Player on iPad option will allow learners access the learning content on tablets such as iPads, using Articulate Mobile Player (a free app that gives learners a rich and robust learning experience on an iPad).
And did you know, you can even publish your e-learning course with an offline viewing feature? Offline viewing comes in handy for people who work in remote locations with poor Internet connectivity.
To view the course offline, all they have to do is download it from the Articulate Mobile Player library. When they do, they can view it anytime, with or without an Internet connection.
2. Allows you to create Flash-like games and interactivities
Interactivities such as hotspots, rollovers, slideshows, and FAQs are a big part of an online learning course. They not only assess learners but also reinforce learning. And Flash is (was?) a great tool to create interactivities, but it takes loads of time to create high-interactive learning courses.
With Storyline, believe it or not, you can create "Flash-like" interactivities in quick time. You can use triggers, slide-layers, variables and states, in Storyline to develop these interactivities without any coding. Here's more information on creating Flash-like interactivities using Storyline.
3. Has ready-to-use templates to create effective e-learning materials
Adobe Flash offers no ready-made templates. Each and every action in Flash has to be created from scratch. On the other hand, Storyline offers a wide range of built-in templates. They include slide layouts which can be used to develop the best learning experience for learners.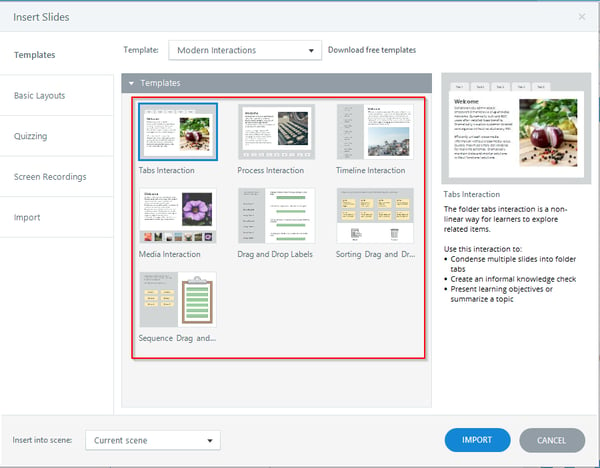 These inbuilt templates come with a set of interactivities. However, you can modify the interactivities as per your requirements. Here are some free templates built using Articulate Storyline.
4. Makes it easy to export course content for translation
Unlike in Flash, courses developed using Articulate Storyline can be quickly exported to XML (or Word) for translation. A big advantage with Storyline is that it supports the translation of right-to-left languages (such as Arabic and Hebrew). The support for double-byte character set (DBCS) means that now you can translate languages with special characters (such as Chinese and Japanese), which is usually absent in most authoring tools.
Once the content is translated, it can be imported back into Articulate Storyline and published to different devices.
Creating courses using Adobe Flash is a thing of the past. More and more designers are using Storyline to build rich, and engaging courses for their learners. One good thing about Storyline is that it allows you to create interactivities that are almost Flash-like; you can barely tell them apart. It's plausible to say Storyline is more than capable of creating Flash-like courses.
Our eBook on the conversion options available to migrate Flash content to HTML5 can prove to be a useful resource, and can also provide insights on the best authoring tools for conversion.