4 Amazing Benefits of Rapid eLearning Authoring Tools
It cannot be denied that rapid authoring tools have altered the landscape of learning and development. In this blog, I will state some amazing benefits of rapid authoring tools that prove why organizations love it.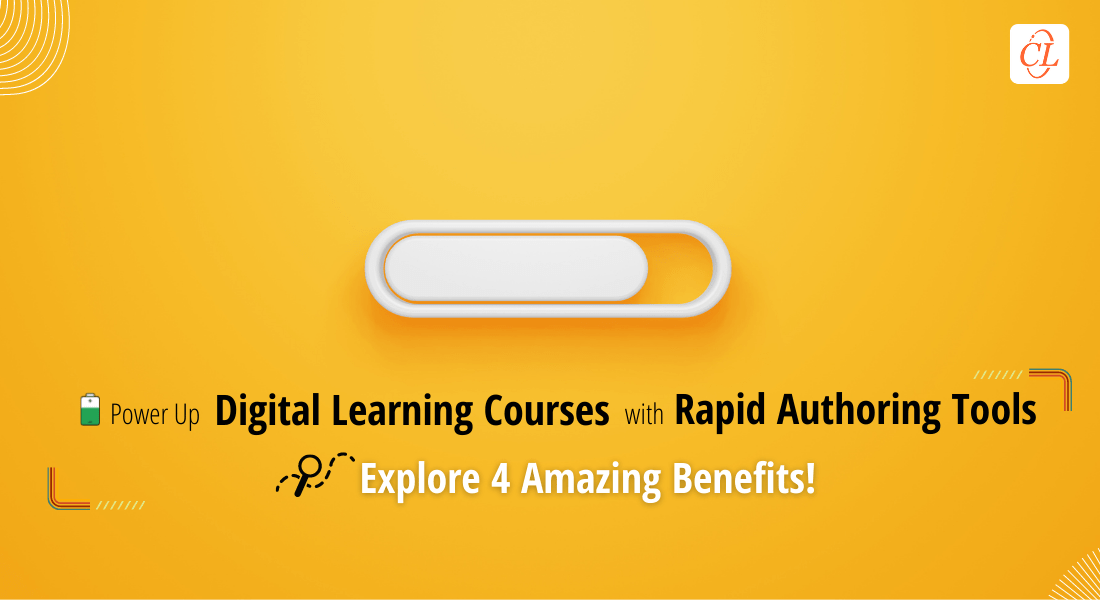 Any job can be completed effectively if you have the right tool for it. The same is the case with eLearning. Without the right tool delivering an effective digital learning experience will cost you countless hours. But is there a solution to it? Of course, there is! There are many rapid authoring tools with some notable benefits that will amaze you.
The Right Tool Always Makes the Job Easier!
Here Are Some Noteworthy Benefits of Rapid Authoring Tools
Saves Time and Cost
Facilitates Repurpose of Existing Learning Content
Helps Create Winning eLearning Courses
Provides Freedom of Any Time, Anywhere Learning
An authoring tool is a software that lets you create and publish winning digital courses in various formats. Authoring tools saves you the effort of manually coding the entire course. It offers many user-friendly features like drag and drops, built-in templates, multimedia assets and so much more. Authoring tools enable someone with no prior design experience to create some engaging courses. All in all, every authoring tool aims to make course creation easy and hassle-free for you.
Types of Authoring Tools
Authoring tools can be cloud-based or desktop-based. Let us find out about both: Cloud-based Authoring Tools Cloud-based authoring tools are becoming quite famous because of the benefits they offer. You can access the cloud-based authoring tool from the internet browser. All the data is stored on a cloud memory, avoiding hardware limitations. Because of their easy accessibility on various internet browsers, you can get them as SaaS (Software as a Service). Also, because of these authoring tools, collaboration with various stakeholders has become much easier. A few examples of cloud-based authoring tools include Elucidat and Lectora Online. Desktop-based Authoring Tools Desktop-based Authoring tools are reliable for local development processes. They are installed on your systems and provide you with a wide range of features to create effective eLearning courses. However, because of this wide range of capabilities, you also need a great skill set and hence becoming the perfectionist in these tools can be quite challenging. A few examples of desktop-based authoring tools include Adobe Captivate and Articulate Storyline 360.
Benefits of Rapid eLearning Authoring Tools
Rapid authoring tools offer many benefits. Here are a few of the many benefits that it provides.
Saves Time and Cost
The time and cost involved in developing eLearning courses can be significantly reduced with the help of rapid authoring tools. Thanks to the many features provided by rapid authoring tools like built-in templates, multimedia elements, default interfaces, and interactivities that help create eLearning courses faster and at a fixed budget.
Facilitates Repurpose of Existing Learning Content
Rapid authoring tools let you repurpose any digital learning material. A lot of time and cost is invested in creating courses; hence it is not easy to create new courses every time. Every presentation, image, or slide can be easily repurposed for eLearning, reducing development costs and time significantly. With the help of rapid eLearning authoring tools, you can modify and update the existing content and use it as and when required.
Helps Create Winning eLearning Courses
This is one noteworthy feature of the rapid authoring tools; it lets anyone with sufficient knowledge of the tool create eLearning courses. Now it is easy to design effective and engaging eLearning courses. There are many rapid eLearning authoring tools for people without prior experience designing courses. All that needs to be done is thorough research on different types of authoring tools and choose the one that best suits your requirements.
Provides Freedom of Anytime, Anywhere Learning
Modern learners need access to learning anytime, anywhere, and on various devices. With rapid eLearning authoring tools, courses can be published on various platforms. Using these tools, it is easy to deploy courses on a wide range of devices like computers, laptops, mobile phones, etc. These tools can also publish courses to HTML5 which is used for developing mobile-compatible courses. Hence, the freedom of accessing courses anytime and anywhere keeps learners motivated and leads to effective learning.
Parting Thoughts
These are only a few of the many reasons for the popularity of rapid authoring tools. Rapid authoring tools are playing a pivotal role when it comes to meeting the demands of evolving online training development. Gone are the days when operating such tools used to be a nightmare, now rapid authoring tools have allowed everyone to create immersive and effective eLearning courses, all that with lowered costs and minimal resources. However, it all comes down to selecting the right authoring tool for your needs. Here is a handy guide to help you select the right rapid authoring tool for your course development.