Why Use Rapid Authoring Tools? (If You Need Reminding!)
In today's fast changing world, organizations need to be able to adapt swiftly to stay relevant. What does that mean to you as a training manager? Just that you should amp up your online training with swiftly designed courses. Let's see how rapid authoring tools can help you do this.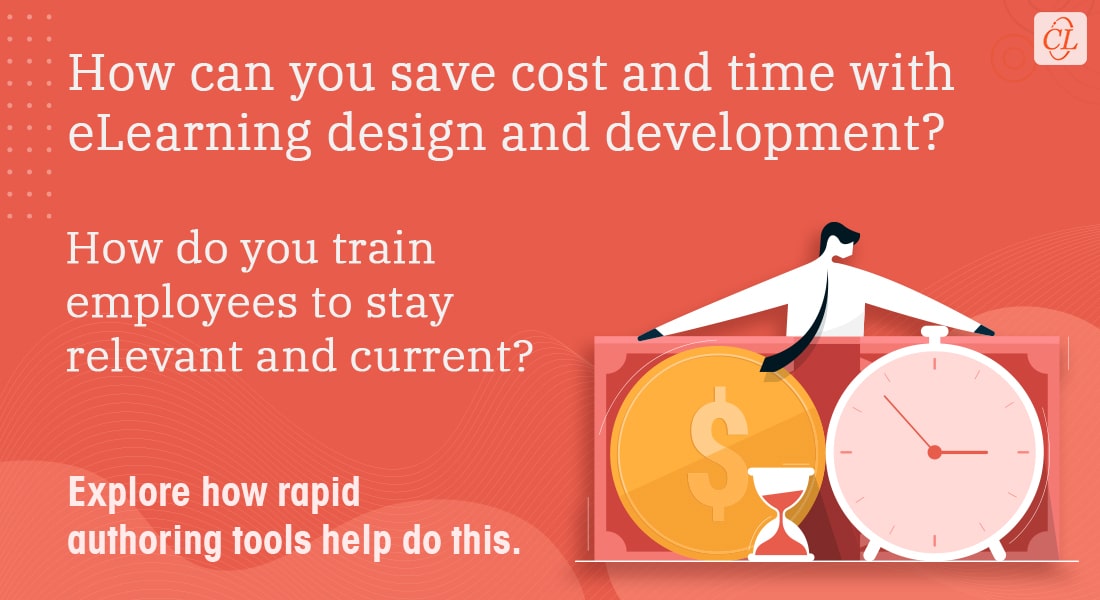 If you are a business, you would agree with me that scaling up your processes and growing as a company is not as simple and straightforward as it seems. There are multiple factors that impact your organizational growth – the biggest one being your workforce. Employees are the backbone of the company, but many a time, skill development is overlooked during the expansion process. And that might have major implications in the long term.
Whether it is training shop floor employees to speed up production, or sales employees on new products and services before they hit the market, your survival in a competitive market might depends on rolling out training programs as quickly as possible, regularly. One way to achieve this is by using rapid authoring tools to develop eLearning courses in record time, so that employees can update their knowledge and skills to stay on top in this competitive world.
Why Rapid Authoring Tools?
What if I tell you that they:
1. Are easy to use, which means that anybody can master them.
You do not require HTML or Java to use rapid authoring tools for eLearning course development. So, no need for a dedicated coding professional to design your courses. This is much more convenient than using complicated software and proprietary tools which require considerable programming experience.
Why Use Rapid Authoring Tools?
Rapid authoring tools help us:
Design and develop eLearning courses for employee training quickly
Reduce development costs and offer standardization
2. Speed up eLearning development by repurposing existing eLearning content.
When you use already available eLearning content for rapid development, you don't have to work on the content from scratch, and so save valuable time. Having a library of resources is very useful for recycling and upcycling of learning materials given that they are in digital form already. This helps to speed up the development process, cutting down on eLearning development time.
3. Reduce development cost, which in turn increases your training ROI.
Cutting down eLearning development time obviously helps cut down eLearning costs. Hiring a third-party rapid eLearning vendor for your requirements is another cost-effective way of designing and developing eLearning courses for training as you don't have to invest in authoring tools, and other infrastructure such as an learning management system (LMS).
4. Can quickly update and upscale eLearning content to keep it relevant and fresh.
With rapid authoring tools, you no longer have to redesign your entire course to update a few parts that need to be changed because of changes (compliance courses, for instance). Authoring tools make it easy to insert a new simulation or eLearning scenario without having to create it from scratch. They also offer templates for common screens and assessments – for easy standardization.
5. Increase learner engagement and participation by delivering easy to digest chunks of knowledge.
With the fast turnaround time offered by rapid authoring tools, you can ensure your learners always receive the most up to date information through microlearning courses that cater to their very specific learning needs. Bite-sized learning also helps with knowledge retention (considering their rapidly falling attention span), as they can assimilate, understand, and retain these smaller chunks of learning.
6. Can deliver content to any device, which makes for a truly flexible learning experience.
Even if the devices used by your learners don't support Flash (which is the case with most tablets and smartphones), you can still deliver learning content to their devices if it is compatible with HTML5. Rapid authoring tools make it easy to deploy content as they offer various publishing options – including HTML5.
Parting Thoughts
You can develop your own eLearning courses in-house for your training requirements. However, authoring tools with a steep learning curve are not a very good idea when you need to develop courses within a very short time. In such a case, it makes sense to outsource this task to a reliable and trusted eLearning vendor who can gauge your needs and design courses accordingly. Want to know more about rapid eLearning development? Download the free eBook on "4 Rs of Rapid eLearning" today.