Top 3 Advantages of Using Templates in eLearning Development
eLearning course development can take a lot of time but eLearning templates can help. They offer other advantages too. Read on to find out!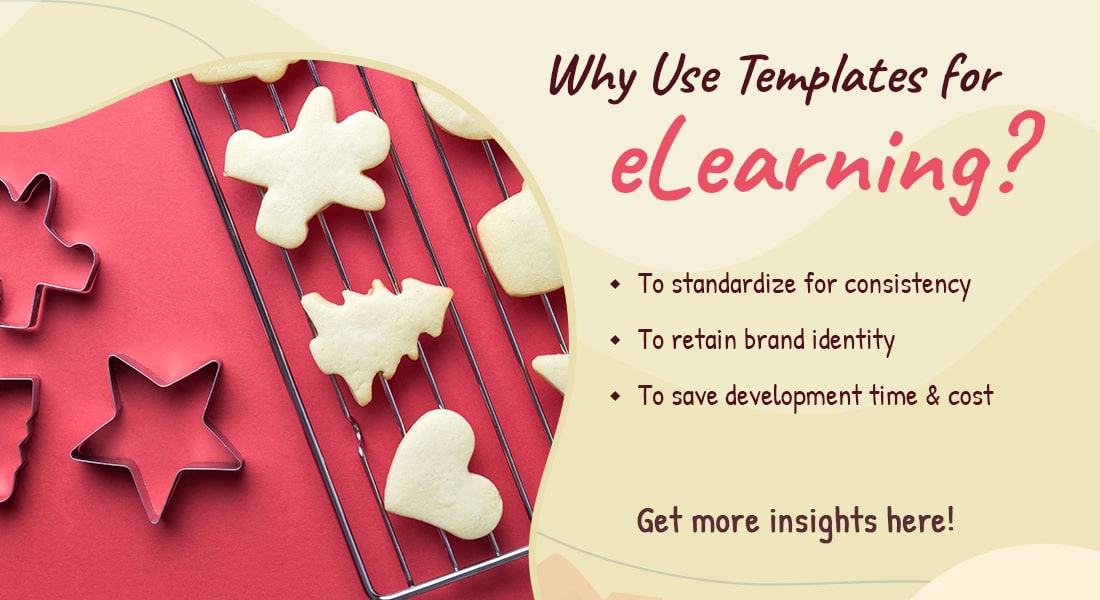 In today's fast-paced world, quick eLearning development is the need of the hour and templates are a blessing! eLearning templates serve as a framework for the course to be built on. They offer pre-built interactions, ready-to-use designs, patterns, and layouts. This eliminates the need for eLearning developers to design everything from scratch. Templates facilitate quick course design and development to save time and effort. They also ensure top-notch design quality and effectiveness.
Pre-designed templates give a structure to eLearning courses while offering customization to suit the training needs. The visual elements and functionality of templates can be easily modified based on specific instructional requirements. Customizable templates are capable of meeting all the design needs and make the entire process of eLearning course development simpler and faster.
Try Using Templates in eLearning Development!
Here are the top 3 reasons why:
To standardize for consistency
To foster brand awareness
To save development time & cost
In this blog, we'll see the top 3 advantages of using templates in eLearning development. They can lend themselves to designing really creative, instructionally sound eLearning courses.
3 Advantages of Using Templates in eLearning Development
Save Development Time and Cost
Reducing development time is probably one of the most significant and obvious advantages of using templates in eLearning development. They go a long way in simplifying and speeding up the most time-consuming portions of online course creation – storyboarding, creating visual assets, developing the course using the selected authoring tool, and testing.
Templates eliminate the need to develop the course from scratch by providing high-quality layouts. From in-built immersive games to interactive scenarios to creative assessments, templates provide you with everything!
Ensure Consistency
Standardization is one of the major advantages offered by templates in eLearning development. There are various elements involved in the eLearning development process. For instance, slides depicting learning objectives, definitions, process steps, interactivities, multimedia, and assessments.
eLearning templates offer different options for such elements. Once a template is chosen, the content can be simply placed within the placeholders. This eliminates the need to design each slide from scratch and simplifies the process.
The process of using templates in developing eLearning curricula is similar as well. A course curriculum can have a standard design for specific screens like the welcome screen, learning objective screen, and assessments screen. This ensures consistency in course design and development. Using eLearning templates to standardize a curriculum's design helps both the developer and the learner.
For the developer, it saves time and cost which can be used to make the course more engaging. For the learner, standardization leads to easier navigation. When the graphical user interface is standardized, the learner doesn't have to spend time decoding the navigation and can access information more quickly. It also helps the learner recognize the course as a part of a curriculum, providing a sense of continuity and familiarity, making learning easier.
Support Brand Identity for a Sense of Belonging
Organizations invest a lot to ensure their branding stands out. Branding provides a unique identity to your online courses and creates a sense of belonging among learners. This is an important aspect in eLearning development. Customizable eLearning templates make the whole process of developing brand-oriented courses simple and streamlined.
You can modify templates as per your company's colors, logos, fonts, styles, and images. It can be followed for all the courses. This consistency adds an element of visual professionalism to your courses. Once you've designed a template that aligns with your organization's identity and brand, it can be reused over and over again.
Templates Offered by Authoring Tools
Authoring tools play a vital role in eLearning development. They enable eLearning developers to create high-impact, learner-oriented training courses. With that said, authoring tools also consider the fact that not every eLearning developer has the same amount of experience, expertise, or time. So they offer eLearning templates for common screens and for interactive elements such as games, scenarios, and assessments. These can be customized down to the smallest details and used for different needs.
Let's take a look at the common screens offered by authoring tools.
Welcome Screen
The Welcome Screen is the first page of the course. It gives a glimpse of what learners can expect from the course. When you customize the welcome page template, make sure it is designed well and reflects the organization's identity. It should set the tone for the learning that will follow.
Learning Objectives Screen
Adults are most interested in learning that has an immediate relevance to them. That's why it's important to inform them what they would be able to achieve after completing the course. This is done through performance-based learning objectives. There are a lot of creative ways this screen can be customized, instead of using simple bullet points.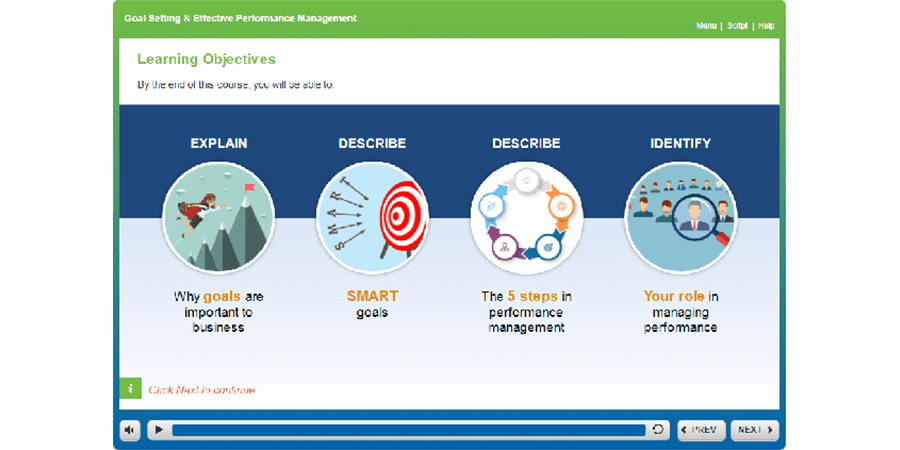 Formative Assessments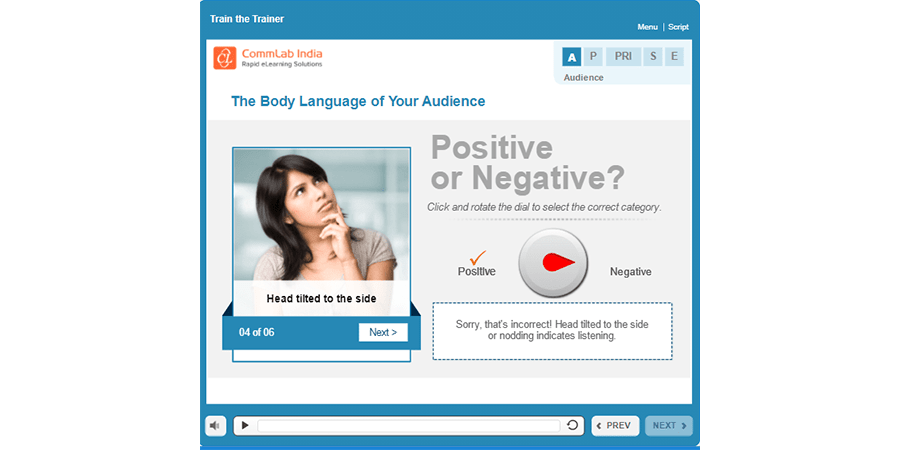 While the basic functionality is offered by the tool, templates can be customized by changing the drop area, adding images, personalizing the feedback message, and more.
Summary Screen
This screen summarizes all the important information that was conveyed during the particular training session. It helps learners retain and remember the highlights from training, which can be implemented in their roles.
Thank you Screen
This is the ending slide in the course. It aims to thank the learners for their time and attention.
Pro Tip
Articulate Rise offers a lot of templates called blocks that make it easy for instructional designers to quickly develop eLearning courses from text-heavy content. Also, courses developed on Rise are fully responsive. Some common blocks include:
Text – quotes, lists, statements
Gallery
Interactivities – accordion, tabs, flashcards
Parting Thoughts
We have explored some of the amazing advantages of using templates in eLearning design and development. We've also learnt that they can be customized to produce quick, appealing, and instructionally sound eLearning courses. Now that you know the benefits of eLearning templates, we've designed a storyboarding template for you. It is sure to make the process of creating engaging courses super easy. Check it out below!
Editor's note: This post was originally published in July 2021 and has been updated for comprehensiveness.