Think Templates for A Quick Transition from Classroom Training to E-learning
To initiate eLearning economically, you can leverage templates. Here are eight reasons templates are a boon while converting classroom training material to eLearning.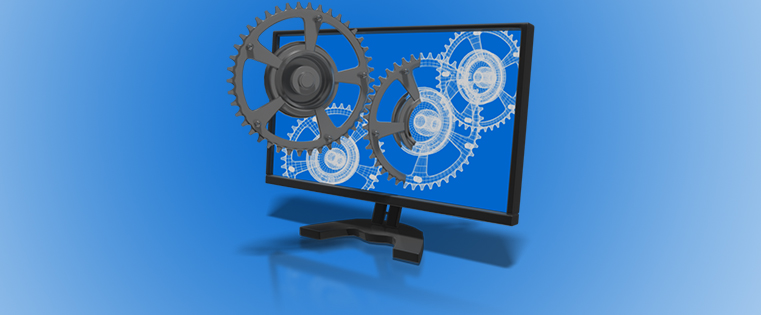 As organizations move toward rendering training in the online mode, there is an increasing demand to convert existing classroom training to eLearning. However, companies find it expensive to get started. Hence, a cost-effective approach is required for the transition from ILT to eLearning.
To initiate eLearning economically, you can leverage templates. A template is a tool with a pre-designed layout, which anyone can use to plug-in their own content. These templates can be developed using rapid authoring tools. Here are eight reasons templates are a boon while converting classroom training material to eLearning.
Faster Turnaround
Since time is money, using templates can save you a lot of time, especially when you have a huge stack of ILT material to convert. To develop an eLearning course, you don't have to start from scratch; these templates are ready to use. You will simply have to load the content from your ILT material into the templates, to get started.
Since eLearning templates already have a defined page layout, you don't have to bother about figuring out where the title or text should be placed or where the images should be. You can go straight to loading your text into the template. This is handy when you're just starting out with eLearning development, and working on a tight deadline. Having an eLearning course built from scratch takes a month, with a template you can get it up and running within days.
The other big advantage is that the productivity of your staff also goes up, since they don't have to spend hours creating courses. Moreover, your non-techie guys can also work on these templates, to develop a great looking eLearning course.
Cost-Effective
Templates can be used over and over again, for many projects. Hence, the development cost of the template can be distributed over many projects. When you have a library of templates, with various interactivities and games, you will realize the value of these templates. Developing games or a high-end interactivity consumes a lot of your developer's time. Templates will expedite the process to a great extent.
Modifiable
Requirements change from project to project. Fortunately, templates can be modified according to the requirement of your eLearning course. While retaining the structure helps you get started, you'll have the ability to make updates anytime you want. You can change the logo, replace generic images, change the colors, modify the text and font style, and more.
Achieves Consistency across all Modules
What you see is what you get. With eLearning templates, there is no need to worry about the final output. Templates already have a designed format for the entire eLearning course. Hence, the resulting slides will have a uniform appearance. Templates can boost the consistency and ambience of your courses, with standard pre-defined colors, fonts, sizes, and layout, all of which result in a high-quality eLearning course.
Countless Options
From the library of templates, you can find numerous designs in various colors, style, levels of interactivity, etc. No matter what kind of course you are working on, there is at least one template out there that suits your course.
You can have templates for different interactivities; you can have templates for the welcome slide, templates for learning objectives, templates for assessments. This blog gives you a list of templates you can have for an eLearning course.
Error-Free
Usually, templates are developed with the intention of being used in many projects. Hence, these templates go through rigorous testing processes, to eliminate programming bugs and ensure consistency. They will also be tested for their functionality in various browsers and various devices.
Moreover, once these templates are used in various projects, based on the feedback and suggestions you receive from your team, you can keep on improving them templates. Hence, at some stage, they become highly optimized.
Compatible with all Devices and Browsers
Templates can be developed to work on multiple devices and browsers. If templates are developed using rapid authoring tools such as Articulate Storyline 3, Lectora 17, or Adobe Captivate 9, they work effectively on all devices.
To share an example, we recently converted 500 legacy courses to responsive courses, using responsive templates. Six templates were developed. We just loaded content from the old courses into the new templates, this way we could complete 500 courses in 2 months.
These are some of the advantages of using templates for eLearning; templates are highly recommended when you are low on budget and looking for a quick solution.