How Rapid eLearning Can Win the Race Against Time to Facilitate Blended Learning
Time can be considered a hurdle for corporates in multiple ways, but every hurdle can be crossed with a proper mindset and execution. Read on to understand how rapid eLearning can help to create blended learning courses swiftly and win against time.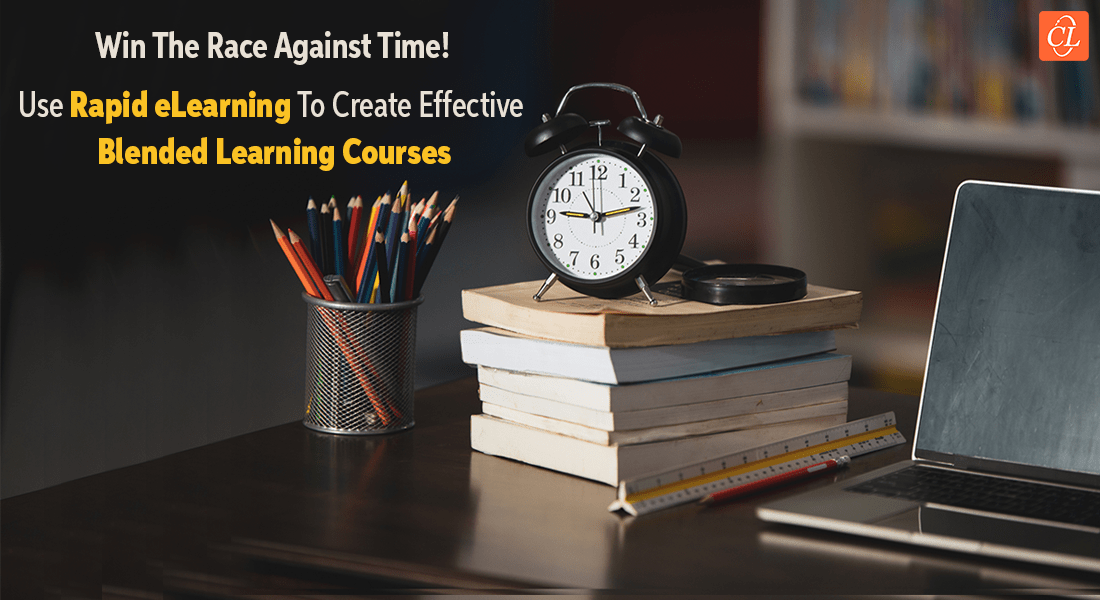 "Time is what we want most, but what we use worst." – A famous quote by William Penn, can be a hard-hitting reality if we waste the time we have. The L&D industry in the corporate world is certainly aware of the importance of time yet finds it hard to make time for quite a few things. Whether it's the instructors, learners, or designers, everyone has their own reasons for not being able to give appropriate time for learning. To tackle the inevitable problem of time management to a great extent, the eLearning industry has come up with a solution that combines the power of rapid eLearning and blended learning.
Is It Time-Consuming for You to Develop Blended Learning Assets?
Follow these steps powered by rapid eLearning to develop them quickly-
Segregate the content in hand for Classroom and Online Training
Build a Prototype
Encash Upon the Existing Classroom Material
Reuse VILT Content for Job-aids
Read on to rapidly unfold this 4-step process.
What is Blended Learning?
Blended learning is a mix and match of synchronous and asynchronous training methods to provide the best fusion to the learners. Blended learning allows the learners to choose from a number of ways to learn a single topic, whether they wish to prefer self-paced learning or face-to-face instructor-led training, digitally or physically.

Rapid eLearning in Blended Learning!
In simple words, rapid eLearning refers to a faster and more effective form of custom eLearning that eliminates any sort of extra cost and time for eLearning design and development. Here is a 4-step procedure to understand how rapid eLearning can be used to develop eLearning assets for blended learning, "rapidly".
1. Segregate the Content in Hand for Classroom and Online Training
Converting classroom training to online training isn't as easy as it narratively sounds. First of all, it dumps a lot of work on the shoulders of your development team. Classroom training conversion requires quite a considerable amount of time and it might be hard to deliver these courses under tight deadlines successfully. Apart from the first-hand problems, there are some specific types of training where the presence of an instructor is mandatory.
To implement blended learning, make sure you have a clear idea of where to prefer classroom training and where you can go for online self-paced training. Rapid eLearning entails an agile project management process that helps you plan the eLearning development strategically. It can help you decide on the formats that are fit for your eLearning sessions. It also helps you figure out how these preferred sections would be converted for eLearning within a limited time. The preferences depend mainly on the training objectives of the company, i.e what will your learners gain or what task they can perform without errors at the end of training sessions.
2. Build a Prototype
After you have successfully figured out what can be converted into online training, your first step should be to create a fully functional prototype. Rapid eLearning development follows the Successive Approximation Model (SAM) and thus facilitates the development of prototypes before the actual course. Creating a prototype will help you to understand the expectations of all the stakeholders as well as get rid of any technical errors that might be troublesome later on.
Project expectations of stakeholders and the end product delivered by the L&D team can differ at times, which might cause a clash of 2 different opinions. These opinions can be regarding the core content, the design, or even post-course assessments. A prototype will help you to figure out any such conflicts prior to the actual course's development and save time for everyone involved.
3. Encash Upon the Existing Classroom Material
Almost every organization has a lot of content at hand, it can be in the form of PDFs, PPTs, handbooks, guides, manuals, or even raw notes. Rapid eLearning utilizes the existing content and speeds up the eLearning development time. You must be thinking about how rapid eLearning does so? Well, Rapid eLearning leverages the power of rapid authoring tools which have pre-built templates and media libraries so organizations save a lot of time they would have spent creating it all from scratch. Apart from authoring tools, multiple instructional design strategies can be used to develop eLearning courses in a much faster and more efficient way.
An overview of the 4 popular instructional design strategies to create eLearning courses for your blended learning programs:
Microlearning – When a single topic is broken down into small chunks of information and delivered as separate topics or units, it's called microlearning. Microlearning can be in any format, videos, audio, infographics, or animated GIFs.
Gamification – When game elements such as levels, leaderboards, and points are added within an eLearning course to make it more engaging and immersive, it's called gamification. Either an eLearning course is delivered in a gamified format or training is delivered in the form of actual games.
Scenarios – When learners are trained for specific roles that involve decision-making skills and critical thinking abilities, they are generally trained through scenarios. Learners are put into different scenarios virtually and they are trained to deal with all possible outcomes associated with that role.
Simulations – These are pretty similar to scenarios but more inclined toward physical tasks rather than roles. Learners can gain first-hand experience on specific tasks or software in a risk-free virtual environment. Simulations follow the concept of "watch-try-do".
4. Reuse VILT Content for Job-aids
Apart from combining classroom training and online training methods, VILT (Virtual Instructor-led Training) can also be considered one of the primary training formats for blended learning. VILT sessions can be recorded and then those recorded videos can be used for performance support such as job aids. The content contained in the PPT decks used in the VILT sessions can be used in various ways to create microlearning content in the form of infographics or content slides. The questions that learners ask in the VILT sessions can be noted down and then sorted as FAQ sheets. And all this is facilitated by rapid eLearning with the help of rapid authoring tools that offers the scope to reuse the existing VILT content and transform them into amazing microlearning courses.
Wrapping Up!
Rapid eLearning is impactful to developing blended learning assets in multiple ways and each way solves some or the other troublesome time-related problems. Even though rapid eLearning is quite beneficial and makes things relatively easy, it's not necessary that in-house teams will hold the required expertise to implement rapid eLearning flawlessly. To solve this, you can always outsource multiple aspects of eLearning development as per your requirements. This eBook will assist you in your outsourcing journey and help you to select the right vendor.
Editor's note: This post was originally published in September 2022 and has been updated for comprehensiveness.