Classroom to eLearning Conversion – A Modern Guide to Corporate Training Transformation
Are you looking to adopt eLearning courses into your corporate training strategy? Here's a modern-day guide that outlines the process of classroom to eLearning conversion.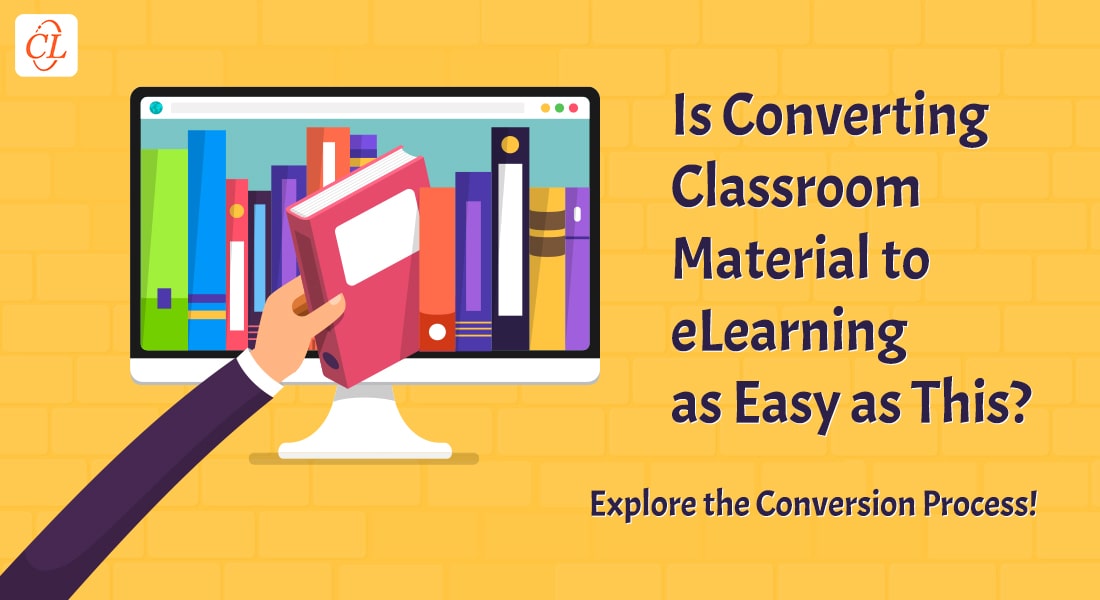 For decades, classroom sessions have been the go-to corporate training method for organizations looking to upskill their employees. However, times have changed and new business technologies, practices, work models have emerged not to mention the evolving global workforce. To navigate these changes, many organizations must transform their corporate training strategy by facilitating the classroom to eLearning conversion process.
Converting classroom training to eLearning courses involves transitioning from instructor-led programs to self-paced online courses. By removing the instructor from the learning experience, organizations can overcome several obstacles, including jam-packed schedules, remote work models, and rising costs.
How to Convert Classroom Material to eLearning Courses?
Here's a simple guide to the classroom to eLearning conversion process:
Analyze Your Employees and the Learning Environment
Revisit and Prioritize Your Learning Objectives
Analyze Your Existing Content
Rethink Your Content Style and Devise an Effective Instructional Strategy
Go for an eLearning Development Tool
In this blog, we'll talk about the key benefits of eLearning and share a brief guide to converting classroom training to eLearning courses.
Key Benefits of eLearning
Don't get us wrong. Traditional classroom training remains the most sought-after corporate training platform even in the digital age that we live in. eLearning offers undeniable benefits for organizations looking to upskill their employees faster and more cost-effectively:
Let's check out some of these benefits:
1. Cost-Effective Training
Following the pandemic, with businesses looking to cut down on their costs to ensure sustainability, , eLearning is an emerging and viable alternative to traditional classroom training. By developing courses digitally, you can eliminate the cost of admin, accommodation, and equipment and enable immediate access for learners.
2. Learner-Centered Courses
Rapid eLearning courses provide each employee with undivided attention. Instructors don't have to use their limited session time to discuss new initiatives, concepts, or projects. With eLearning courses, employees must take advantage of the opportunity and focus on skills that can advance their careers.
3. Real-Time Access
Are your employees occupied with their everyday tasks at work or are they dealing with your customers? Are they unable to attend in person training due to more pressing obligations? Don't fret, as eLearning courses can be accessed anytime and from anywhere, employees can stop and restart them at their own pace.
4. Personalized Learning
During traditional classroom sessions, instructors transmit a ton of information in a short period of time, and it is overwhelming to grasp, retain and recall. Although eLearning drastically reduces the amount of concentrated learning time training managers often use microlearning assets to organize training content into manageable bite-sized chunks. Organizations can also create multiple eLearning courses for different departments based on varying skills.
5. Reduced Material Costs
With thousands of offices going green and cutting down their use of paper due to digitalization, managers can expedite this process by reducing the amount of paper used for training material and stationery in their classroom sessions.
How to Convert Traditional Classroom Training to eLearning
If you're intrigued by the prospect of digitizing corporate training at your organization, here's a simple guide to the classroom to eLearning conversion process:
1. Analyze Your Employees and the Learning Environment
The goal of any corporate training program is to improve employee performance. Therefore, before you kick start digitalization, you should find out more about your employees' capabilities and the skills gap that you're planning to close.
Moreover, you need to research your employees' preferred learning environment by considering factors such as their ease of access, average time available and workload. For example, if you're developing an eLearning course for on-the-go sales staff, you must ensure that it's accessible on their mobile phones.
2. Revisit and Prioritize Your Learning Objectives
You need to establish the eLearning courses' performance-based learning objectives, that describe the type of skills your employees will gain once they complete it. The purpose behind this is to pick the relevant content and strategy for better learning outcomes.
Prioritizing learning objectives will also keep track of the conversion process as well as enable real-time modifications and additions to these learning goals.
3. Analyze Your Existing Content
Review your existing course content thoroughly and realign them with the new learning objectives. If you find any training content gaps, you can fill them by bringing in subject matter experts or you can hire eLearning course developers. This is especially important in case you're looking to get into unchartered territory in terms of training content.
Another major aspect of the conversion process is to eliminate extra information and ensure that content is shared with employees on a need-to-know basis.
4. Rethink Your Content Style and Devise an Effective Instructional Strategy
In a traditional classroom, the primary focus is the instructor who is often seen sharing from a PDF document or a PowerPoint presentation . Therefore, most of the attention is on them. In eLearning, your content is purely visual, so it must stand out to engage your learners. A great way to do this is by adding compelling stories like the ones instructors share to make their classes more memorable and effective.
Moreover, you need to anticipate your employees' queries and solve key areas of confusion. By proactively addressing this, you can minimize questions asked outside the classroom.
Once you've defined your style of presenting training content, you need to devise an instructional design strategy that works for you and articulates the knowledge and skills you want your employees to acquire once they complete the course. For instance, you can present your content in the form of a story to engage and enhance your learners' understanding.
Storytelling appeals to creative minds and helps develop critical thinking skills so that learners can improve how they process and react to real-time situations on the job. Other eLearning strategies include scenario-based and immersive learning. Furthermore, you need to incorporate formative and summative assessments to give learners a chance to recall what they've learned and enable trainers to evaluate their learners' performance.
Formative assessments typically include regular quizzes and tests to assess learners' understanding of the material. Whereas summative assessments are quizzes or tests designed to evaluate everything employees have learned throughout the entire course.
5. Go for an eLearning Development Tool
It's time now to move on to the technical aspects of converting your classroom training to eLearning courses. Here's what you need to do:
You can convert your PowerPoint presentation into an HTML5 file by using popular software and tools such as iSpring, Udutu, or Digital Office Pro. This will serve as the foundation of your eLearning course, which you can further enhance by adding audio clips, videos, and colorful animations to captivate your audience and improve their learning outcomes.
Convert PPT Slides to Video
Videos are an effective way to hold your employees' attention. While PowerPoint is undoubtedly a powerful tool, it doesn't contain animation, audio clips, or videos that also make learning more exciting. Using software such as Converter365, As pose, and iSpring Solutions, you can convert your PPT slides into video formats. Furthermore, by narrating each slide you can guide your learners through the course.
Add Interactivities
To create enjoyable eLearning courses, you need to incorporate exciting interactivities. You can do this by adding clickable diagrams, charts, and graphics. A few select eLearning authoring tools allow trainers to add gaming techniques to their courses to make the learning process much more fun and memorable. They are Storyline, Adobe Captivate, iSpring, and Elucidate.
Add Questions and Quizzes
To determine the effectiveness of your eLearning course, you can add a variety of questions to test your employees and check whether they can apply their newly learned knowledge in their everyday tasks on the job. A few examples include multiple-choice, fill-in-the-blanks, task-based simulations, problem-solving case studies, and even branching scenarios that can help you evaluate the learners' grasp.
Many organizations use quizzes to prove their employees' grasp, comprehension, and application, especially within highly technical teams.
Alternatively, you can use surveys to collect employee feedback thereby enhancing interpersonal interaction. In such cases, you need not stick to multiple-choice or true and false quiz questions. Preferably, you can make it fun and engaging by adding intriguing fill-in-the-blanks, hotspots, and matching games.
The Bottom Line
Classroom to eLearning conversion is one of key strategies of corporate training programs. Organizations looking to cut down on costs, save time, and avoid the logistical hassles of traditional classroom training find this strategy to be organic and doable. So, if you're looking to improve your training outcomes and maximize your ROI, then consider this the time to transform and digitize your training courses.
Save your spot for the upcoming webinar to gain insights on the nuances of ILT to VILT conversion. Register now!