The 5 Technologies Taking the Corporate Training World by Storm
Recent times have seen the emergence of new corporate training technologies that encourage self-driven and autonomous learning. This blog talks about 5 such technologies that pave the way for immersive learning experiences.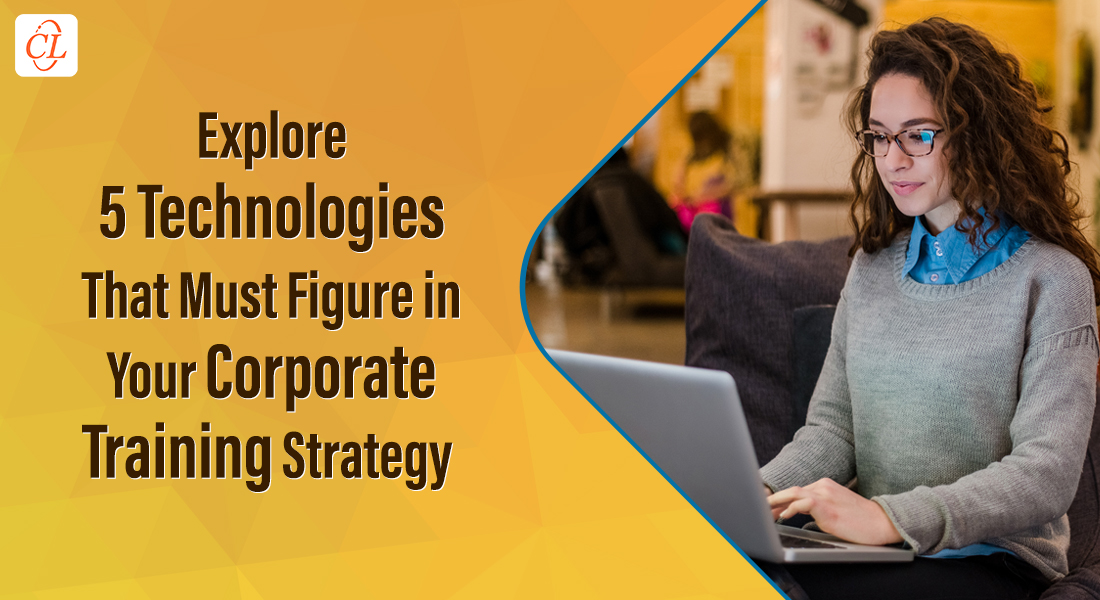 Let's admit it. The onset of the pandemic in 2020 has speeded up the use of advanced technologies in the workplace. It has redefined all aspects of functioning including corporate training. Today, organizations employ efficient learning strategies to nurture the talents and skills of their employees. Technological tools and software are used to fine-tune the quality of training programs, increase participation in the learning process, and personalize training content.
Do you want to encourage self-driven and autonomous learning at your organization?
Here are the top 5 corporate training technologies to help you do just that:
Learning Experience Platforms
Microlearning
Gamification
VR, AR and XR
Learning Analytics Tools
By employing these tools, you can streamline training processes and gain insights into learning behavior. Moreover, new and improved corporate training technologies allow organizations to deliver progressively exciting and engaging programs. Let's not forget, they also help develop strategies that create a better synergy and make for a collaborative environment in the workplace. With such promising potential, no organization would want to neglect novel and sophisticated corporate training technologies.
If you are a training manager, read ahead for five of the most revolutionary technologies in the learning and development sector.
5 Corporate Training Technologies to Encourage Self-driven Learning
Learning Experience Platforms
Learning Experience Platforms, or LXPs, are an advancement of the LMS (Learning Management System). While LMSs focus on the organization's goal of developing and hosting product and service training, company policy training and compliance training for their employees, LXPs address the shortcomings of the LMS platform.
Put in a nutshell, an LXP is an AI-driven learning platform that emphasizes employees' needs. It steps away from the conventional top-down management style and encourages a more autonomous and self-directed style of learning.
Additionally, LXPs hosts resources, courses and assessments that provide an interactive and personalized experience for learners. A good LXP features a Single Sign-On (SSO), allowing users to access multiple systems from a single platform.
Moreover, LXPs feature knowledge-sharing facilities such as polls, surveys, discussion forums and chat rooms. Most LXPs also provide the means for learners to connect with Subject Matter Experts (SMEs) so that they can clarify their doubts and get answers to their questions.
LXPs give in depth insights into learners' behavior for organizational analysis. This is highly beneficial in correcting present programs and strategizing new developments for courses in the future.
Microlearning
With the growing popularity of mobile learning, the demand for bite-sized content is also steadily rising. As a result, microlearning is the current buzzword among corporate training leaders.
Microlearning allows for the seamless incorporation of learning programs into daily workflows.It includes many features and can be used as a blended learning format making it appealing to both organizations and employees. Some of its benefits are:
Straightforward and task-oriented content
Time saving, engaging and value addition
Real-time tasks and data for better application of knowledge and skills
Specialized skills enhancement
Cost-effectiveness and quick rollout
Greater flexibility to host and manage courses
While microlearning cannot replace training programs, it can add value to the existing ones.
Gamification
Gamification is a learning strategy that adopts game mechanics to develop employees' skills in non-game learning environments. It has become a trusted methodology to increase learners' engagement, productivity, and satisfaction. Here are a few advantages of gamification for corporate trainers:
Increases motivation
Makes learning more engaging
Inculcates learning behaviors
Provides performance indicators and critical feedback
The following are a few examples of game mechanics.
Quizzes: One method of easily incorporate gamification is to include quizzes and assessments in your eLearning programs.
Game-based learning: You can include scores, badges, and leaderboards to promote learning experiences.
Healthy competition: Small-scale competitions at work can be used to better enhance learners' participation and focus.
VR, AR, and XR
Immersive technology is the future of today's virtual world. AR, VR and XR are revolutionizing every facet of human life including the world of corporate training.
Devices powered by this technology create endless possibilities for learners. Let's dive deeper. Here is a look at what VR, AR and XR are capable of as well as how corporate trainers can make better use of them.
What is VR?
Virtual Reality (VR) uses software technology to create 3D simulated environments. It is generated using a combination of hardware and interactive software.
Primarily, there are three types of VR: fully immersive, semi-immersive and non-immersive.
What is AR?
Augmented Reality (AR) adds virtual elements to augment real world experiences. Using virtual technology, AR can enhance what you see, hear, and feel through sensory stimuli.
What is XR?
Extended Reality (XR) is an umbrella term used to describe every type of immersive technology. It includes everything from combining physical and virtual stimuli to purely virtual experiences.
VR, AR and XR for corporate training
These technologies are powerful tools that can enhance the field of learning and development. They provide the opportunity for employees to gain immersive, hands-on experiences in the virtual world before progressing to their jobs in real time. Moreover, there is no limit to the variety of courses that can be created using VR, AR and XR. They can range from basic training modules to next level learning and development programs.
Furthermore, these technologies can feature AI-empowered mentors to guide learners through their modules. This decreases the dependence on physical administrators and ensures adaptability to hybrid workspaces.
Lastly, VR, AR and XR are advantageous for technical, medical and other skills-based professionals that require low-risk training environments. Put in a nutshell, these technologies are fascinating ways to enhance learners' journeys from theory to practice.
Learning Analytics Tools
How do you tell if your training program has been effective?
The answer is with feedback!
It is crucial to have a measure to collect feedback that enables you to compare the performance of the various learning strategies. Furthermore, with Big Data in the picture, these insights are the most valuable information for any organization.
Given the importance of feedback, a range of revealing data on learners' behavior is readily available within the digital learning arena today. Corporations can utilize this information to significantly improve their training programs.
Some of the crucial learning factors that you can measure and analyze using learning analytics tools include:
Time taken to complete a course
Interest in a particular course
Proficiency in a course
Points of difficulty
Most discussed topics
Pause points in videos
Posts with the highest number of comments
Shared content
To Sum Up
The advancement in technology has opened doors to new opportunities like never before. The training and development industry is growing at an exponential rate. With technologies like VR, Gamification, Microlearning and LXP, the otherwise long instructional training process is becoming much more interactive and immersive.
These avant-garde technologies do not just refine learners' experiences, but they also help organizations with critical data. Consequently, incorporating these technologies into your workplace is no longer just an option but the need of the hour. To get more insights on the eLearning trends for 2022, download this free eBook now!