4 Emerging Learning Technologies That's Transforming the World of eLearning
Organizations are embracing new technologies to stay ahead of the learning curve and win a competitive edge in today's technology-driven world. Read the blog to find out which emerging learning technologies are transforming the eLearning world and scale your training ROI.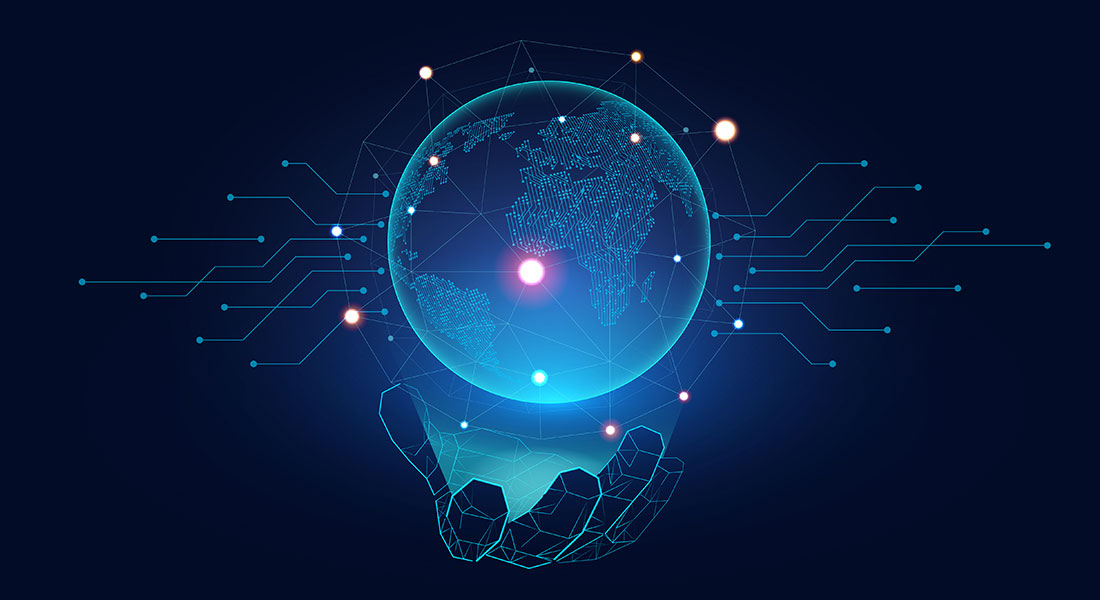 Innovation and digitization are making a mark in the present dynamic business world. The L&D industry too is taken by this storm. Successful organizations across industries globally are embracing eLearning as their preferred format for corporate training. And why not. The scope of eLearning is expanding at an exponential rate as it offers immersive learning experiences and uplifts learner performance by using advanced technologies. Let's find out what are these trending technologies and their role in enhancing the learning experience of modern learners.
New Learning Technologies are Ruling the L&D Space!
Here are a few that top the list:
Generative Artificial Intelligence (AI)
Augmented Reality and Virtual Reality (AR/VR)
Mobile Learning
Learning Experience Platforms (LXPs)
4 Emerging Learning Technologies That are Transforming the eLearning Space
1. Generative Artificial Intelligence (AI)
There's much happening in the field of AI and machine learning lately. Generative AI is transforming the way we learn as it offers personalization and scalability. Using generative AI, you can analyze your learners' learning styles and generate customized content to offer personalized learning experiences. Generative AI can help with language learning. Companies like Memrise and Mondly have AI-integrated eLearning that makes language learning fun. Generative AI also enables language translations. So, now you can translate your eLearning courses without much hassle and cater to your globally diversified workforce.
ChatGPT, which is based on generative AI needs no introduction. It is already a sensation that's taking the world by storm. You can use it to create awesome eLearning content to offer personalized courses to your mixed-generation workforce. Not only, the core content, you can also use the tool to design interesting practice exercises and quizzes to augment learner involvement. It can help to generate adaptive assessments based on the learners' performance as it allows you to adjust the difficulty levels of the questions.
2. Augmented Reality and Virtual Reality (AR/VR)
In recent times, AR and VR have gained much popularity in the L&D domain. They are effective tools that offer immersive learning experiences as they use digital content to create a highly interactive learning environment. AR and VR can be used to simulate real-world scenarios and make learning more engaging and effective. Integrating AR and VR into your eLearning can provide your learners with a risk-free learning environment to explore complex concepts, practice skills, and apply their learning. Pretty useful for high-risk industries like healthcare, right?
VR is an affordable and remote-friendly way of teaching technical as well as soft skills like leadership and change management. With the rise of the metaverse, further opportunities are foreseen in the L&D domain. According to a PwC 2022 US Metaverse Survey, 51% of organizations are already integrating VR into strategy and 34% of them say that one of the prominent benefits of metaverse they currently enjoy or foresee is training and development. The same study reveals that VR courses can train your employees four times faster and 275% more confident to apply their learning post training. Integrating VR into your eLearning could be a gamechanger. So, what are you waiting for?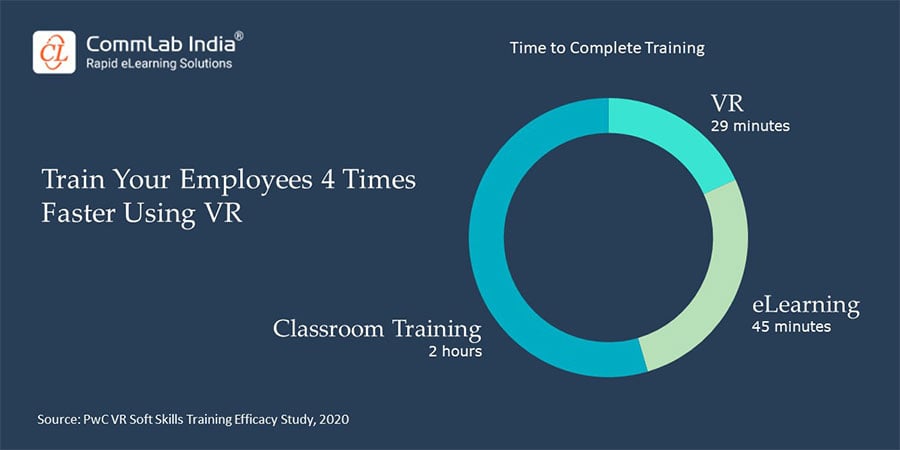 3. Mobile Learning
How often do you check your phone? Quite often, right? Well, worry not as you are not the only one. According to Reviews.org, 56.9% of Americans are addicted to their cell phones. No wonder why businesses are tapping into this opportunity to train their learners through mobile learning. Mobile learning can take your eLearning initiatives to newer heights as it offers self-paced learning, just-in-time learning, and social learning.
Today's modern workforce is mostly millennial-dominated and statistics reveal that 71% of millennial learners prefer mobile learning. There are multiple noteworthy benefits of mobile learning for corporate learners. eLearning courses that are mobile-compatible can be accessed anywhere, anytime allowing learners to learn at their pace and convenience. Mobile learning enables learners to access microlearning modules in the form of videos and digital flashcards and makes learning fun and interactive. Mobile learning apps such as EdApp is widely popular for offering gamified courses that are impactful to training learners and can be immensely effective for your millennial and Gen Z workforce. This app comes with an advanced Learning Management System (LMS) that ensures flexible learning. You can use this platform to create a knowledge-sharing culture in your organization as the tool offers an in-built social and peer learning feature.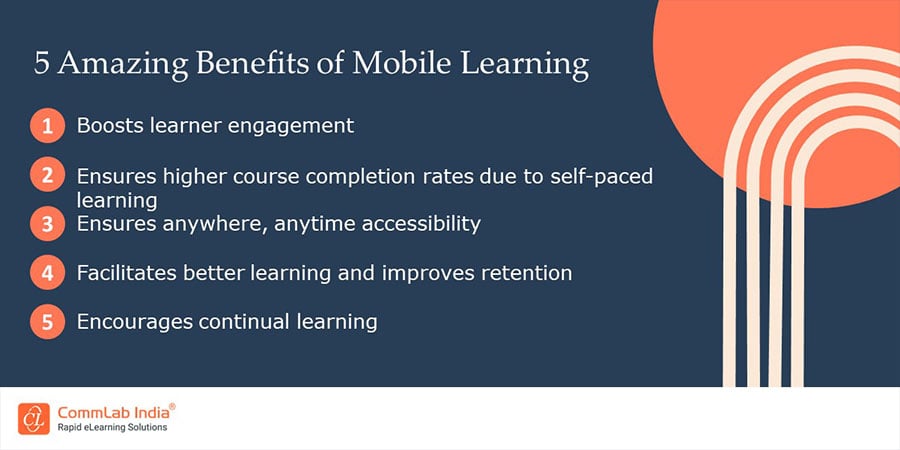 4. Learning Experience Platform (LXP)
If you have been into eLearning for quite some time now, you must be having a Learning Management System (LMS) that manages your eLearning program, right from hosting and delivery of your courses to tracking the progress of learners and generating reports. But with workplace learning becoming self-directed and informal, and a sharper focus on user experience, LXPs are becoming the best learning suite. They do not have the content, rather they act as a portal to all forms of content residing in your LMS.
Through LXPs, learners can take charge of their own learning. LXPs use predictive logic to determine important and relevant topics for an individual based on their profile such as job role and department, search history, and areas of interest. LXPs facilitate self-paced learning as your learners have the freedom to search for their courses by looking at the topic checklist that highlights engaging and popular eLearning courses. LXPs are a great way to keep your content integrated and accessible if you have multiple source systems containing content for L&D. They create customized learning paths and provide personalized learning resources to your learners.
LXPs like Docebo and Udemy Business offer a complete learning suite for all your learning needs.
Watch this video to know the key benefits of an LXP.
To Conclude!
Advanced learning technologies back the success of your corporate training programs. L&D leaders who are embracing new learning technologies are to lead the show. It's time to reimagine your learning strategies and give your traditional eLearning a tech makeover. Use the technologies discussed above to engage your learners in eLearning that offers interactive simulations, fosters collaborative and social learning, and makes learning an enjoyable experience.
Learning technologies are transforming the world of eLearning. If you want to stay updated with what's current, check this eBook to unlock what's trending this 2023. Grab your copy now!