Why Choose Lectora Inspire 17 for Responsive eLearning Development
The more mobile-friendly and responsive your course, the more consistent and effective the training will be. Lectora Inspire offers an almost-complete set of features for the courseware designer to make eLearning responsive-ready.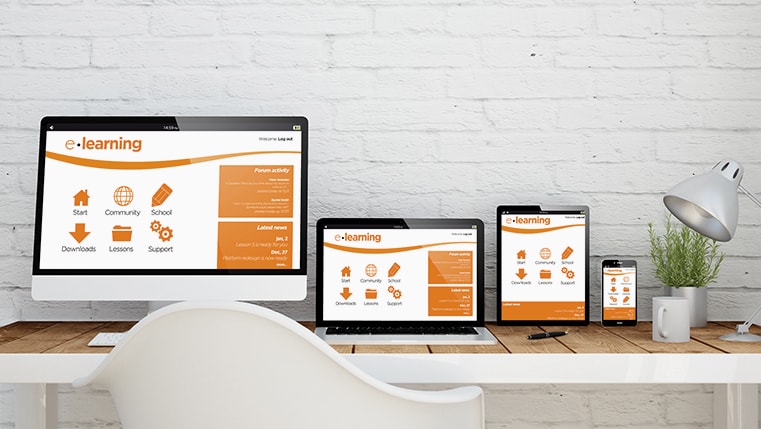 Every learner has different device preferences. Some learners find it easy to access the training content on smartphones, while others tend to use tablets or stick to desktops. The bottom-line is: learners shift between different devices depending on the availability of devices.
What does this tell us? This means that to ensure your learners have a good learning experience, the training content that you intend your learners to access must be available on all the devices they use (regardless of their shapes and sizes). This can be achieved through responsive eLearning.
Responsive eLearning facilitates the development of online learning courses that can be accessed on multiple devices – from smartphones to desktop computers, and provide an optimal viewing experience. To create responsive courses, a good rapid authoring tool must be chosen that can deliver a rapid and cost-effective solution. In this blog, we will see why organizations must choose Lectora Inspire 17 for the development of responsive eLearning courses.
1. One-Time Design and Access on Multiple Devices
With most authoring tools, creating an online learning course that is accessible across multiple devices is cumbersome. The process usually involves designing courses for different multiple layouts i.e., separate layouts for smartphones, tablets, and desktops respectively. You end up spending time more time trying to ensure courses look good on each of the devices learners use.
On the other hand, Lectora Inspire allows courseware designers to design the course only for a single device layout, and it will automatically be available on multiple devices. No matter how many devices you plan to distribute the course to, you need to design the course only once. The option to adjust the mobile view is nevertheless available for the designer if necessary, to ensure that the courses offer a seamless experience to learners.
2. Reach a Rapid Solution with Responsive Themes
A big worry for most organizations implementing eLearning is the time it takes to develop and deploy them. When it comes to eLearning, the development time is directly proportional to the cost i.e., the more time it takes to develop the course, the more expensive the project will turn out to be.
One of the key strengths of Lectora Inspire is its library of customization-friendly themes, which helps in ramping up the development process. Which means that responsive themes not only scale up your eLearning projects but more importantly, lead to a really cost-effective solution.
Online learning courses created using responsive themes respond to different screen sizes and orientations, based on a flexible grid that can collapse and stack content in a way that preserves its readability and quality. The overall benefit of using responsive themes is that they are:
Customizable as per client-specific requirements
Built to adapt to the screen size they are rendered on
Better at readability and usability on smaller screens such as smartphones
3. Simulate Real-world Scenarios with BranchTrack
Scenario-based learning is a great way to reinforce your learning objectives. They are good tools to not only increase learner engagement but also to help learners apply the learning and improve job performance. They simulate real-world experiences and compel the learner to truly absorb the scenario as they would in a real-life situation.
With Lectora Inspire 17, courseware designers automatically have access to BranchTrack, using which they can create impactful scenarios and import them into the responsive e-learning course (and even edit them easily).
It only takes a couple clicks to create a new scenario from the built-in library of characters and backgrounds. You can select specifically how the character is feeling, what it wants to say, and make it as realistic as possible.
4. Convert Legacy Courses to Fully Responsive eLearning
Many organizations still use legacy courses that have been built using Adobe Flash. Flash, unfortunately, is not mobile-friendly and by proxy, not responsive. For those organizations looking to convert their repository of legacy courses to responsive and HTML5-based eLearning, Lectora Inspire 17 is an ideal tool. In fact, this feature of Lectora remains one of the popular tools for Flash to HTML5 conversion.
The tool publishes courses to HTML5 output which means that it can work on diverse platforms and even on the smallest of hand-held devices. As I mentioned earlier, the tool lets courseware designers preview course layouts on multiple device sizes and make necessary adjustments to the content, to ensure an optimum learning experience.
5. Easily Translate Responsive Courses for a Global Workforce
Online learning courses delivered in the learner's native language are significantly more effective than the ones offered in his second or third language. E-learning translations are also beneficial to the organization on a larger scale. According to a study by California State University at Chico, "65 percent of multinational enterprises believe translation and localization [of online learning courses] are either important or very important for achieving higher company revenues".
With so much demand for eLearning translation – among the modern-day learner who uses a wide range of devices to access training content spread across different countries speaking different languages and dialects – it is a sensible move to have just one tool that can handle both responsive eLearning development and translation.
This multi-functionality is just what Lectora Inspire is capable of achieving: designers can create responsive courses in the tool and export the content of courses as a rich text file (RTF), which can be sent to a translator for rendering the content in the desired language. Once the file has been translated, all they need to do is import it into the tool and publish it to create the responsive translated course.
The more mobile-friendly and responsive your course, the more consistent and effective the training will be. Lectora Inspire offers an almost-complete set of features for the courseware designer to make eLearning responsive-ready. However, the tool can be used to its full potential when in the hands of an expert instructional designer who can combine his skills along with the features the tool offers, to create good and impactful responsive eLearning.