How to Leverage Rapid eLearning to Design Blended Learning Assets Quickly
Designing a blended learning program from scratch can be a big blow to your time and budget but rapid eLearning solutions can ease out these issues single-handedly. Explore how you can utilize rapid eLearning to create blended learning assets quickly.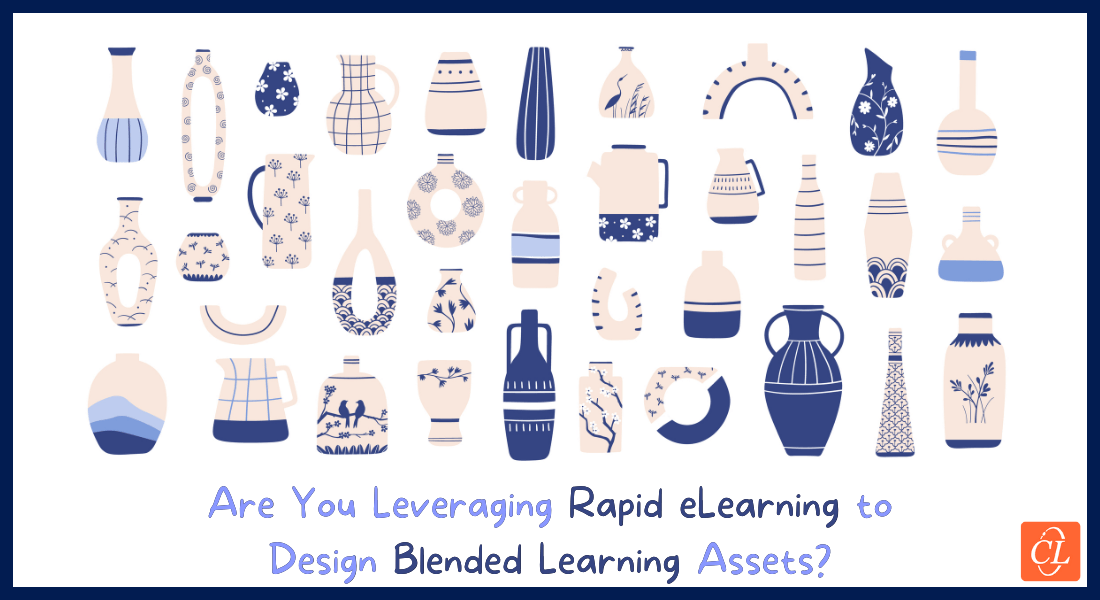 Modern learners prefer flexibility over monotony and blended learning is one of the very few strategies that have the potential to provide immense flexibility and personalizations for their corporate training. But to create a complete blended learning program that includes a mix of multiple training formats and strategies can be a time taking task and even cause your budget to explode if everything is designed from scratch. To prevent this from happening you can leverage rapid eLearning solutions and design online training materials quickly without compromising on their quality. Read on to explore how rapid eLearning can be used to design blended learning assets.
Do You Want to Design Blended Learning Programs Quickly? Use Rapid eLearning!
Follow these steps to design the required digital assets:
Identify the learning objectives
Determine the appropriate mix of online and in-person activities
Use existing content to develop multimedia elements
Plan the type of assessments
Promote social learning
Gather relevant feedback and make the desired update
Why Should Organizations Opt For Blended Learning?
Blended learning is said to provide the best of both worlds, online and offline, and this approach ensures that corporate training is productive for a hybrid workforce. Blended learning is a viable solution because modern learners have various learning preferences and styles, and one or two training strategies, at times, aren't sufficient to cater to their needs. It also provides a more self-paced approach through various online formats such as eLearning, microlearning, mobile learning, and game-based learning. This helps the learners access their training at their convenience and enhance their productivity, eventually improving the company's training ROI.
How to Design Blended Learning Assets Using Rapid eLearning
1. Identify the learning objectives
Identifying the learning objectives and desired outcomes of the blended learning program is the first step in designing assets for blended learning. This step involves determining the specific skills and knowledge that learners should acquire through the program, as well as the overall goals of the program. This information will guide the development of all other assets in the blended learning program.
2. Determine the appropriate mix of online and in-person activities
Determining the appropriate mix of online and in-person activities to achieve the desired outcomes is the next step. This step involves considering factors such as the type of content being covered, the learning style of the employees, and the resources available. The appropriate mix of online and in-person instruction depends on the specific objectives of the program and the needs of the learners. Earlier, organizations preferred a 55:25:20 model to design a blended learning program where 55% was "Experiential Learning", 25% was "Social Learning", and the rest 20% was "Formal Learning" but nowadays, shifting toward a more flexible and personalized 70:20:10 model is a popular approach.
3. Use existing content to develop multimedia elements
Designing multimedia elements such as videos, interactive content slides, and infographics to support online training is an important aspect of blended learning. Instead of creating them from scratch, you can use the existing classroom training materials like PDFs, PPTs, manuals, guides, etc. Rapid eLearning leverages the various advanced features of authoring tools to create fresh multimedia assets out of them in a jiffy. Ensure the elements are designed to support the learning objectives of the program while at the same time, they are interactive, engaging, and creative. Additionally, these multimedia elements can further be exported as individual performance support assets accessible to all learners on their preferred devices for instant job aid.
4. Plan the type of assessments
Designing post-program activities and assessments that can either be completed in the in-person setting or after their online session is another important aspect of blended learning. These activities and assessments should be designed to give learners the opportunity to apply what they have learned, and to receive feedback on their understanding and progress. You can create branching scenarios and gamified assessments using prebuilt templates and external platforms like Kahoot! And integrate them with your online course to provide an immersive experience and enhance the knowledge retention of the employees.
5. Promote social learning
Incorporating opportunities for engagement and collaboration, both online and in-person, is crucial for blended learning. Collaboration can take many forms, such as group discussions, peer reviews, or team-based projects. Online collaboration tools such as breakout rooms, forums, and social media can be used to support collaboration among employees through social learning. Online discussion boards can be set up for employees to share their thoughts and engage in conversations with their colleagues. Similarly, for the local workforce, employees can be grouped into teams to work on research projects, and can also participate in group debates and discussions.
6. Gather relevant feedback and make the desired updates
Testing and revising the effectiveness of assets and ensuring they are meeting the desired outcomes is an important step in the blended learning design process. For example, after the program is entirely designed, employee feedback can be collected and analyzed to determine the effectiveness of the program. You can use online review tools to gather feedback from remote employees seamlessly. Based on the feedback, adjustments can be made to the program and this may include revising content, changing the mix of online and in-person instruction, incorporating interactivities or assessments, or revising the assessments.
Parting Thoughts!
Blended learning helps the employees understand a concept in more than one way, increases information retention and ensures their productivity on the job is enhanced. Rapid eLearning can help organizations create blended learning assets efficiently and speed up the overall development process to a great extent. Through blended learning, employees tend to gain skills required to carry out their daily tasks in less time and this makes up for an increased training ROI for the organization. To understand more about how blended learning accelerates time to proficiency, you can check out our free webinar recording.