Time to Take Another Look at the 70:20:10 Model!
Blended learning can help apply the 55:25:20 model for different learning needs with eLearning courses, microlearning modules, virtual instructor-led training, and more. Read on to know more about the flexible implementation of blended learning for corporate training.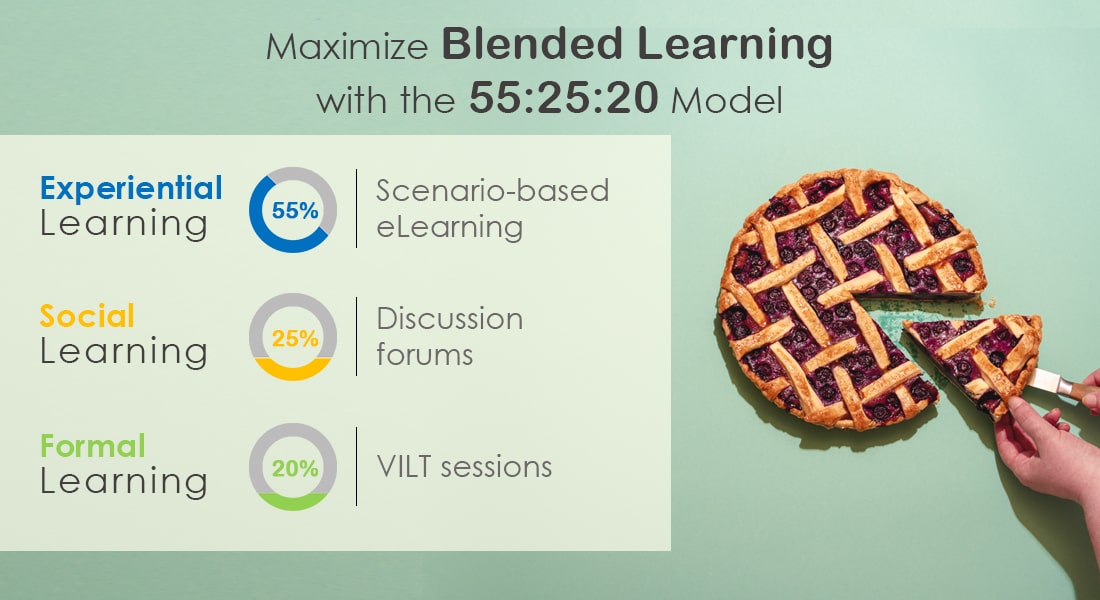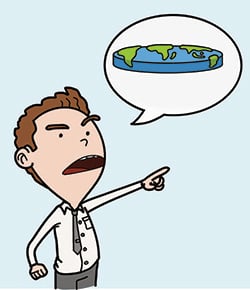 There was a time when humans believed that the Earth was flat. That made us wary of travel and limited our opportunities. Some curious and sharp minds questioned this concept to steer the world toward the truth, away from popular misconception. The new information was initially met with disbelief but ultimately opened up the international waters (and minds!) to foster a global workforce. "What does this have to do with blended learning?," you may wonder. You'll find out as you read along!
Today, groundbreaking discoveries are made and validated by rigorous research and documentation. The stakes might not be high, but the results and outcomes can still be astounding. We build on the information available to us, getting better with practice to build a more effective framework for learning, retention, and consequently, growth. Let's look at the 70:20:10 model of learning and development in the same light.
About the 70:20:10 Model
The 70:20:10 Model for learning was developed by Robert Eichinger, Michael Lombardo, and Morgan McCall in the 1990s. They came up with the model after surveying 200 odd executives about their learning strategy. Its surprising results led to a significant shift in the learning scene.
The 70:20:10 Model states that learning comes from 3 different sources:
70% from on-the-job experiences
20% from social sources: interacting with and observing peers
10% from formal training
Introducing the 55:25:20 Model
After it was proposed, the 70:20:10 model went on to become one of the Ten Commandments for Learning and Development. However, latest research shows surprising developments in the model. A report by Training Industry Inc. based on data from nearly 1,500 working professionals also supports the new development in this model.
The updated on-the-job, social, formal learning blend shifted from 70:20:10 to 55:25:20, increasing the role of social and formal training. These new insights can be translated into a richer corporate training experience through blended learning.
Shift from the 70:20:10 to the 55:25:20 model to achieve varied training goals with blended learning
Experiential Learning (55%)
Scenario-based eLearning
Watch-Try-Do Simulations
Social Learning (25%)
Online Discussion Boards and Forums
User-generated Content
Formal Learning (20%)
Virtual Instructor-Led Training (VILT)
If you're a training manager trying to come up with the perfect blended solution for your employees, let this article serve as a guide for applying the 55:25:20 model to create an interactive and engaging training blend that fulfills different training needs through different learning sources.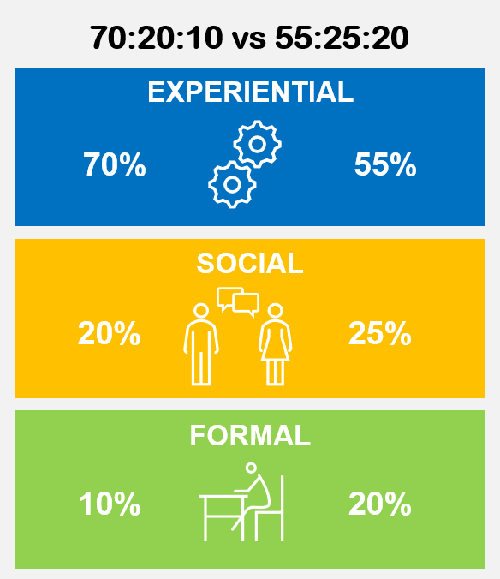 Let's see how.
The 55:25:20 Model and Blended Learning
Experiential Learning (55%)
Much like the 70:20:10 model, the 55:25:20 model also considers Experiential Learning as the path through which maximum learning happens. Employees learn from hands-on experience on the job by tackling challenging tasks. So, how can we create this experience with eLearning?
Scenario-based eLearning
Scenarios with a strong storyline are relevant to their jobs engage learners and help them transfer their knowledge to workplace situations. The questions and feedback given at the end of each scenario helps reinforce the learning.
Scenario-based eLearning engages emotions, stimulates retention, and promotes critical thinking. It is the perfect virtual substitute for the 'real' on-the-job experience, and is ideal for sales training, compliance training, safety training, and communication skills training.
Watch-Try-Do Simulations
Simulations demonstrate the process in the 'Watch' phase, and then invite the learner to 'try' and perform the required operations with some helpful hints and guidance. Finally, it allows the learner to 'do' the process all by themselves. This provides a smooth transition from watching, to trying, and finally, executing the operation. It virtually encapsulates the practical task, making it a very useful tool, especially for software training.
Microlearning Assets
Microlearning modules can be used to motivate learners for training and also to reinforce formal learning on-the-job at the learner's point of need. Microlearning with mobile responsive content in different formats such as how-to videos and gamified quizzes can be used to effectively reinforce learning.
Virtual Reality
Virtual Reality (VR) provides a three-dimensional, computer-generated environment that learners can explore and interact with. It provides a truly immersive experience that improves the quality of training in different areas such as product training. It can help employees observe and learn things that could be missed in traditional training methods. Virtual reality is ideally used in situations that are difficult or risky to practice in real-world conditions.
Augmented Reality
Augmented Reality (AR) superimposes digital or virtual elements on real elements through a transparent screen, like holograms or heads-up displays (HUD). AR devices are small and compact and can even be designed like regular glasses.
Augmented Reality can increase employee engagement just as much as virtual reality. It is also a more affordable option, and is ideal for new hire orientation, quality and service training, and employee safety training.
Social Learning (25%)
Social learning involves learning through peers – observing senior colleagues at work, and through their feedback and review. Employees can talk to people and share their knowledge and experience. This also helps them develop meaningful relationships at work, which is very important in the workplace and a crucial part of learning.
Social Media
Social media can generate a buzz about training programs and foster readiness to learn. You can create groups on your social media platforms such as LinkedIn or Facebook for learners to share their ideas, apprehensions, and doubts about the upcoming online training session.
You can post announcements about upcoming courses with easy access links to videos and audio on YouTube. Learners can like, comment, and share their responses.
Online Discussion Boards and Forums
Online platforms can be used to create a virtual community where employees can discuss their projects and tasks. They can recall and share experiences, share resources, and continue to support each other, even after the training is over. This opens up room for collaboration and facilitates social learning.
Learner-generated Content
User-generated content (UGC) lets organizations capture the best practices, efficient methods, or success mantras followed by employees such as experts, veterans, and best performers – to be shared with a larger group. Training managers can ask team members to share tips, tricks, and workarounds, and create a catalog of real-life scenarios that others can become aware of and learn to manage.
User-generated content will also prepare employees to circumnavigate real-life challenges by learning from others. It can also work as a feedback loop for SOPs and instructions, and can be shared in different formats such as PowerPoint presentations, FAQs, job-aids, and videos.
Webinars
Web video conferencing promotes blended social learning. Most webinar platforms support live video, text chat, interactive whiteboards, note-taking, real-time polls, and surveys. This creates an atmosphere conducive to interpersonal learning.
Formal Learning (20%)
Unlike in the 70:20:10 model where formal learning accounts for a mere 10%, the 55:25:20 model allocates a more robust 20% for formal learning. While experiential learning and social learning are key to an effective blend, organizations benefit when formal learning is a vital component of the learning mix.
Formal learning establishes a framework and foundation for on-the-job learning, enabling job experiences to be easily converted into better job performance. While eLearning courses are a good way of facilitating formal instruction, for the purpose of this blog, we will talk only of virtual instructor-led training (VILT) in this context.
Virtual Instructor-Led Training
Virtual instructor-led training retains the value of traditional classroom interaction in an online environment. It needs different instructional material (such as facilitator and participant guides, worksheets, classroom decks) and collaboration activities (chat, annotations, polls, whiteboards, etc.) to take the place of those used in the physical classroom. A facilitator will also be needed to help the instructor take care of technical aspects such as screen sharing, chat windows, and breakout room activities.
VILT also blends seamlessly with other asynchronous formats to meet different training needs. Here are a few effective combinations.
VILT + eLearning – for spaced learning
VILT + Videos – for compliance training
VILT + Mobile Learning – for social learning
VILT + Microlearning – for performance support
Wrap Up
We have discussed different aspects of learning and how blended learning can fulfill each need. But I have saved a very important aspect of corporate training till the end. That's right, the LMS!
A Learning Management System makes it easy host, distribute, manage, and track all learning resources – it can facilitate online discussion boards for social learning and microlearning modules for experiential learning.
An LMS can be used for:
All types of employee training
New hire orientation
Channel/vendor partner training
An LMS should have simple and open navigation, personalized dashboards, and mobile accessibility for learners. It is also an important aspect of assessing the effectiveness of your blended solution, and makes the training manager's job easier by simplifying learning analytics.
A lot of things need to be considered before choosing the LMS for your organization's needs. Make a smart investment in the ideal LMS by letting the information and insights in this free eBook guide you.