Upskilling and Reskilling – Corporate Training Made Easy with Blended Learning
Blended learning offers the perfect solution for corporate training in these dynamic times and makes learning a continual journey. Explore how blended learning offers social learning, self-paced learning, on-demand learning, and more.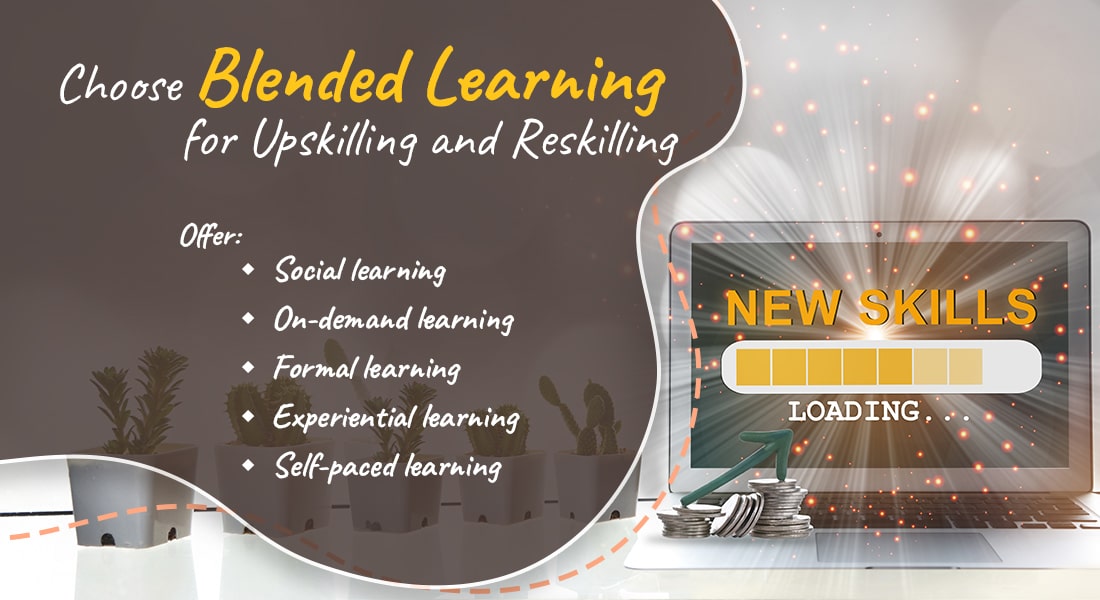 LinkedIn Learning's 2021 Workplace Learning Report contains invaluable insights about the changes in Learning and Development brought about by global changes.
Let's look at what L&D professionals are prioritizing in 2021:
1. Upskilling and reskilling is the priority for 59% of L&D pros
2. Leadership and management is a close second with 53% professionals prioritizing this
3. Virtual onboarding is prioritized by 33% of the L&D professionals
Upskilling, Reskilling, and Training
Clearly, upskilling and reskilling is a priority in the learning and development industry globally. Why wouldn't it be?
With fast-changing global conditions, technology, and the rapidly growing needs of consumers, organizations should keep up. Employees need to constantly update their skillsets to meet the growing needs of their industry and customers. Employees who are equipped to meet the latest demands and adapt to evolving conditions will help their organizations achieve business goals.
Owing to the pandemic, employees have to interact with and meet the needs of consumers and clients who are in remote locations. Further, even employees are working remotely, and organizations are having to train an increasingly remote workforce. They need to be trained on new-age technologies that have become indispensable since the onset of the pandemic.
Training has therefore seen an increasingly online shift which comes with its own challenges. Online training needs to accommodate on-the-job learning and social learning. One effective way to meet these challenges and upskill workforce is by opting for blended learning.
Upskilling, Reskilling, and Blended Learning
Global changes such as the pandemic, increasing spread of technology, and new generations of learners are forcing organizations to upskill and reskill employees to stay relevant and grow. Blended learning offers the perfect solution for corporate training in these dynamic times and makes learning a continual journey. Blended learning offers social learning, self-paced learning, on-demand learning, and more!
Reasons for Upskilling and Reskilling
1. Gen Z Learners' Zeal to Learn
Generation Z learners range from people born in the mid-to-late 1990s to the early 2010s. They are a huge part of the current workforce and will continue to be so as they replace Millennials and Boomers. This is the generation that grew alongside the advent of technology.
They are not only fascinated with tech but also have a natural knack for it. They are more comfortable with new-age tech than any other generation. Gen Z learners are autonomous, independent and career driven. They are motivated and fueled by career growth. Let's establish this with some statistics.
76% of Gen Z learners believe that learning is the key to a successful career.
69% of Gen Z learners will spend time learning if it can help them perform well in their current jobs.
Gen Z learners watched 50% more hours per learning content in 2020, compared to 2019.
So providing them with various online and offline learning formats that focus on performance-based learning objectives is the way to go.
Blended Learning Solution
Rapid eLearning courses (both curriculum and standalone) can be developed to enable self-paced learning.
VILT can be used to provide guidance, clear doubts, and enhance learner understanding.
Just-in-time learning can be provided through microlearning assets that serve as job-aids, and quick reinforcers of learning.
2. The Impact of the Global Pandemic
The pandemic has had a dramatic and drastic impact on the global landscape. When the world was hit with Covid-19, work was on hold as we were all grappling with the severity of the situation, and the complete yet sudden change in the way we fundamentally interact with each other. Some of the changes industries and workplaces went through are:
Employees working from home.
Demand for technology-based and remote services.
Disruptions to the acquisition of raw material and production of goods
Owing to these changes, and many more, employees had to learn a lot of new skills to meet their daily jobs. Moreover, they had to do so over a short period of time. Training managers have to ensure employees adapt to the new normal of working with changed business processes and routines.
In 2021, organizations are offering a blend of both online and offline training programs. Resources are being shifted predominantly online to ensure uninterrupted learning and growth. Blended learning is more relevant than ever right now and will only continue to be so.
Blended Learning Solution
Formal online training methods such as eLearning courses and VILT can be used when there isn't the option of classroom training. VILT will help supplement human interaction and doubts can be cleared during the live session. eLearning courses will build a solid foundation of fundamental knowledge needed to cater to the newfound remote needs.
Even when classroom training is feasible and safe, eLearning courses and VILT blend effectively with it to save time and cost and lead to greater learning outcomes. Performance support of course, closes the loop and refresher training in the form of microlearning will help beat the forgetting curve.
Challenge Faced While Upskilling and Reskilling
Lack of Learner Engagement
Learner engagement is one of the major challenges faced by any training manager. Making training engaging is hard without in-person interaction. Due to the dramatic decrease in instructor-led training (ILT) owing to the global pandemic, we saw a further decrease in learner engagement.
92% of L&D professionals believe that community-based learning fosters a sense of belonging. The motivation to learn dropped as people were robbed of their sense of community and felt increasingly isolated. How can we upskill & reskill our employees to achieve business goals if they're not engaged in the learning process?
Of course, blended learning came to the rescue of our disengaged employees!
Blended Learning Solution
VILT sessions can be used to increase learner engagement. Course recommendations from managers, interaction and participation in online groups can make learners feel more connected.
Micro videos of management talking about training impact can be shown before the start of eLearning modules to encourage learners.
The Evolving Blended Learning Model
One of the popular models followed by the L&D world to design blended learning solutions is the 70:20:10 model of Learning and Development. However, latest research shows surprising developments in the model. There is a shift in how different aspects contribute to learning.
The updated on-the-job, social, formal learning blend shifted from 70:20:10 to 55:25:20, increasing the role of social and formal training, according to a report by Training Industry based on data from nearly 1,500 working professionals. These new insights can be integrated into a richer corporate training experience through blended learning.
Here are some formats that can be used to cater to the different aspects of blended learning.
Experiential learning (55%) can be provided with scenario-based eLearning, watch-try-do simulations and more.
Social learning (25%) can be supplemented with online discussion boards and forums, and user-generated content.
Formal learning (20%) can be provided with classroom training, virtual instructor-led training, and eLearning courses.
Parting Thoughts
Global changes led to the need for a new normal for training. One of the formats that grew and thrived from this need is virtual instructor-led training (VILT). Another offshoot of the current scenario is L&D teams looking to demonstrate the impact of learning – this is important to ensure employees are equipped to achieve your business goals.
For insights and to explore how you can make 2022 all about making an impact, join the webinar on the eLearning trends for 2022, now!