5 Reasons Why Blended Learning Complements Diversity Training
Efficient diversity training is one that has a lasting impact on the workforce. Blended Learning solutions offer an array of options that enable enhanced learning amongst a diverse, hybrid, and inclusive workforce. To comprehend the true impact of Blended Learning solutions, keep reading.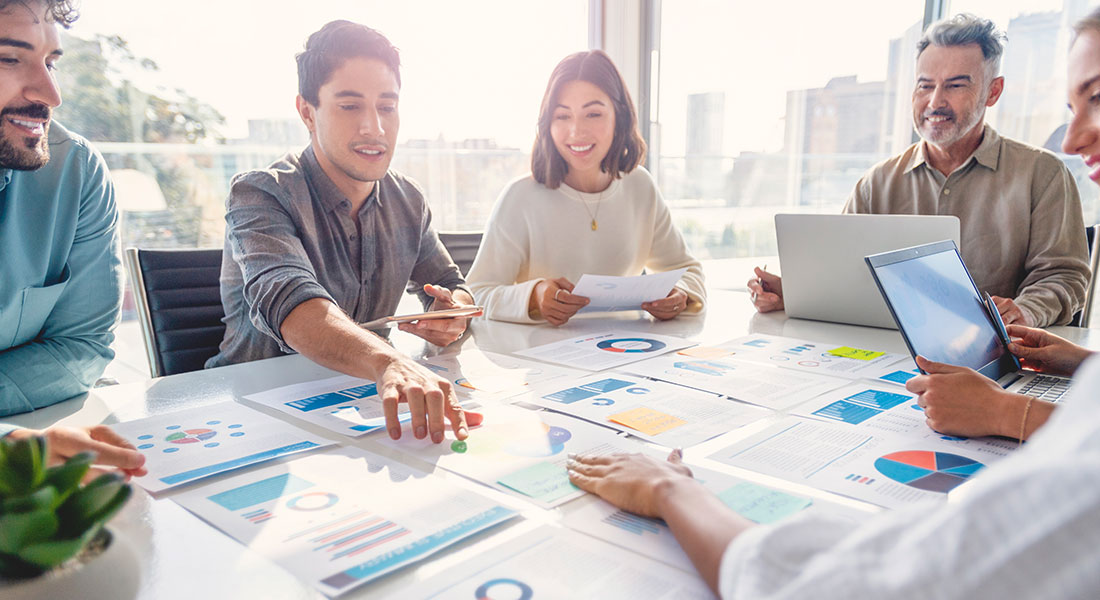 DEI Simplified
Diversity, equity, and inclusion (DEI) training has evolved into an essential element of corporate training. As per the eXtension Organizing Committee on Diversity, Equity, and Inclusion; diversity is the prevalence of differences, equity is fairness to – accessibility, opportunity and support, and inclusion is providing a sense of value and belonging to everyone.
In organizational terms with respect to corporate training, diversity is having a diverse workforce of employees from distinct races, genders, ethnicities, socioeconomic statuses, ages, disabilities and so on, collaborating in a productive environment. Equity is to ensure fairness in training and development that is offered to all employees. Inclusion is the consideration of the unique needs, of the hybrid workforce and incorporating them in training programs.
Blended Learning to the Rescue!
Enhance DEI Training with Blended Learning Solutions. Here are 5 reasons to pursue Blended Learning for Diversity Training:
Move over content to learning delivery format
Accommodate varied learning styles
Synchronous mode with asynchronous mode
Design a Learning Journey
Enhance Inclusivity
Advantages of DEI Training
Here are some key observations from organizations that have implemented DEI Training:
Peak Innovation – There is steady increase in productivity, innovation, collaboration, and creativity across functions in the organization. This leads to a streamlined contribution to the business with a significant increase in bottom-line.
Customer Satisfaction – With globalization in mind, organizations have a diverse pool of customers across the globe. Customers are actively seeking to partner with culturally sensitive organizations who prioritize DEI internally.
Breaking Bias – DEI training enables organizations to design progressive processes and policies that help the workforce break age-old biases thereby creating a positive workplace conducive to growth.
Attract Talent – In the age of quiet quitting and great resignation, organizations attract a diverse talent pool thanks to proper DEI programs in place. Inclusive hiring of a diverse pool changes the dynamics of the workplace for the better.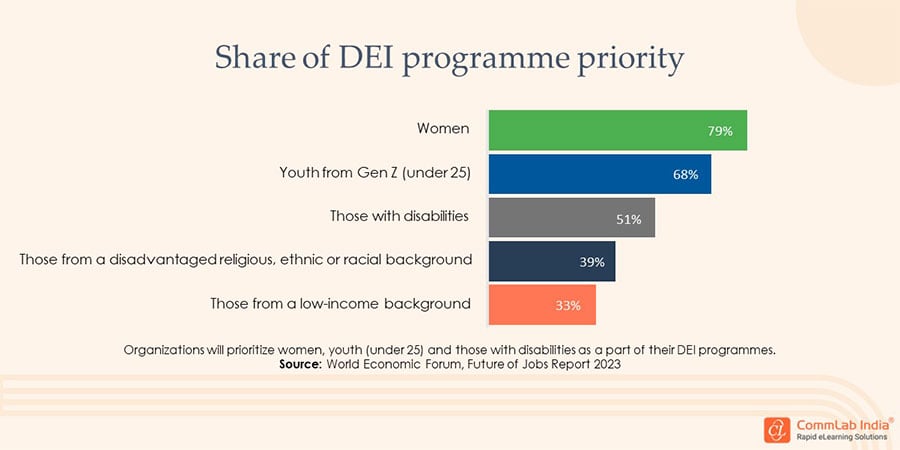 In line with these advantages, it has become imperative for training managers to emphasize effective delivery for DEI Training and ensure that the training works on a grass root level.
Blended Learning – In a Nutshell
Blended Learning is a methodology where training is delivered in a combination of formats such as online training, microlearning, virtual instructor led training (VILT) and so on. The blend of various formats offers numerous benefits to learners. To understand this better, let us explore the reasons why Blended Learning is a suitable option to implement DEI Training:
Reason 1 – Focus on Learning Delivery
The focus of blended learning is more on the delivery format than the content. Of course, the content is key, but when you present the content in the right format, with the right access it enables every learner to absorb the knowledge better given the multiple touchpoints. Organizations often fuse self-paced eLearning modules with a VILT session, so learners get the optimum experience. For example, organizations may start with an awareness program on DEI with microlearning and follow it up with a workshop or group discussion.
Reason 2 – Caters to varied learning styles
When it comes to DEI Training, there is no one-size-fits-all. The availability of a combination of formats in blended learning ensures the diverse group of learners with varied learning styles can be catered to with ease. For example, if training managers notice a drop in engagement for a certain interactivity, they could replace it with a microlearning module.
Reason 3 – Synchronous + Asynchronous
The asynchronous mode mainly offers multiple self-paced learning options, that gives learners a great flexibility to train at their own pace. Combine this with a synchronous mode to facilitate active listening, respectful communication, empathy, problem-solving and similar underlying soft skills in a real-time scenario.
Reason 4 – Creates a Learning Journey
When we strategize a blended learning program end-to-end, we design a unique learning journey for the learners to achieve the best results. When it comes to DEI Training, charting a learning journey helps to accommodate many aspects and strategize better to handle the diverse workforce with diverse learning needs.
Reason 5 – Optimized Inclusivity
The inclusivity factor offered by the blended learning mode is unparalleled. Imagine being able to adapt the training in a format that fits everyone irrespective of their limitations. Apart from just imparting knowledge, blended learning solutions allow to reinforce learning with ease.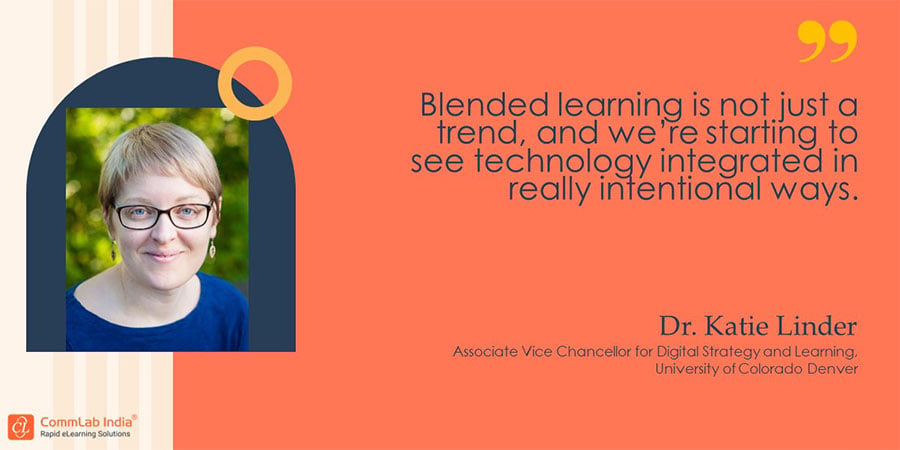 Positive Impact of Blended Learning for DEI
DEI training can no longer be ignored. The crux of Blended Learning solutions is the successful integration of multiple learning solutions to form a unified learning experience that enhances knowledge retention and promotes behavioral change.
Watch a short video to learn how to Foster a Culture of Diversity, Equity, and Inclusion
Blended Learning Works wonders for Diversity Training. Training managers looking to simplify gender sensitivity, intersectionality, racial equality, belonging, and other aspects of DEI can totally vouch for a blended learning solution for their upcoming DEI trainings.
As quoted by William Wordsworth — 'To begin, begin.'
An organization's culture contributes heavily to DEI. Build a harmonious workplace, where everyone feels safe and excited to show up to work. Make DEI a part of your organization's DNA to harness the potential of a unified workforce. Learn how to design the optimal blend of solutions for your unique learning needs. Watch our on-demand webinar to "Deploy Blended Learning to Flatten the Forgetting Curve" today!