The Top 6 Advantages of Blended Learning for Corporate Training
The benefits of blended learning are diverse and far-reaching. Blended Learning saves time and money while also encouraging collaboration. Continue reading to find out more about its advantages and how it can help with corporate training.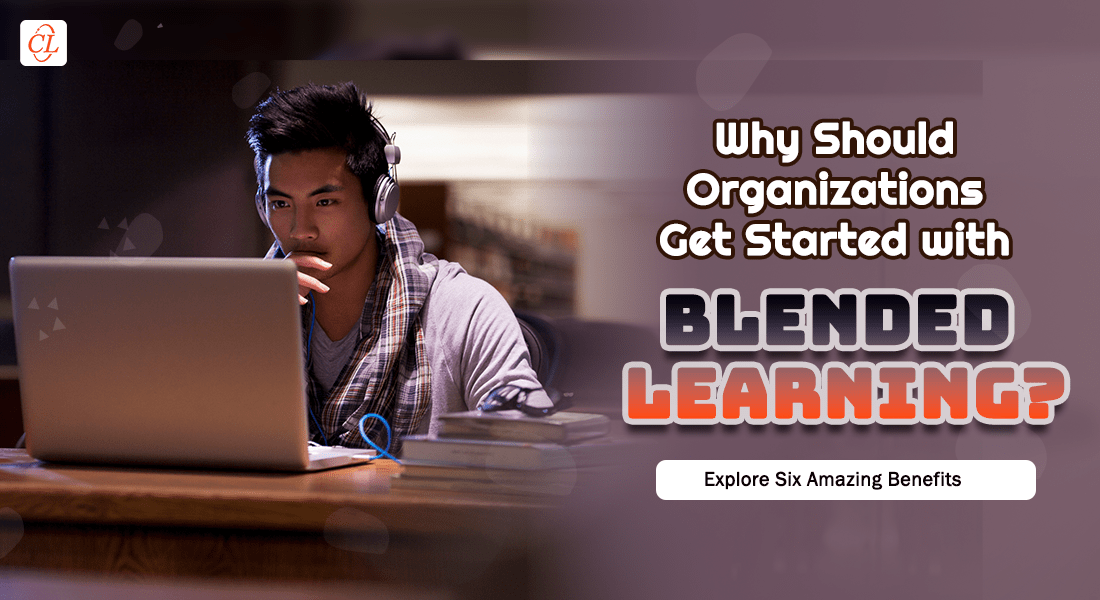 Blended learning combines the benefit of individualized attention in face-to-face training with the flexibility of online training. It uses technology to supplement classroom sessions. It enhances employees' learning experience and results in improved performance on the job. Employees can attend a classroom session and then complete online course components on their own time. They could also learn the fundamentals of training concepts online before attending the classroom virtually or in-person for in-depth discussions.
Using a blended learning plan can increase your employees' motivation, engagement and productivity, because it incorporates a wide range of learning methods. Organizations can provide employees with comprehensive training experiences by utilizing blended learning.
Benefits of Blended Learning for Corporate Training
Optimizes Both Time and Money
Promotes Collaborative Learning
Enables Self-paced Learning
Adapts to Different Learning Styles and Preferences
Utilizes a Variety of Media and Learning Methods
Increases Training Effectiveness
According to the 2021 Workplace Learning Report by LinkedIn Learning, due to the pandemic, blended learning will remain the status norm, integrating a combination of virtual instructor-led training (VILT) and online learning, The blended learning approach incorporates classroom instruction as well as the technology of online learning.
Adopting a blended learning strategy allows firms to efficiently plan training for employees that are at various levels within the organization. Blended learning provides a mix of training methodologies that affords employees the ease and flexibility to complete their training at their own pace.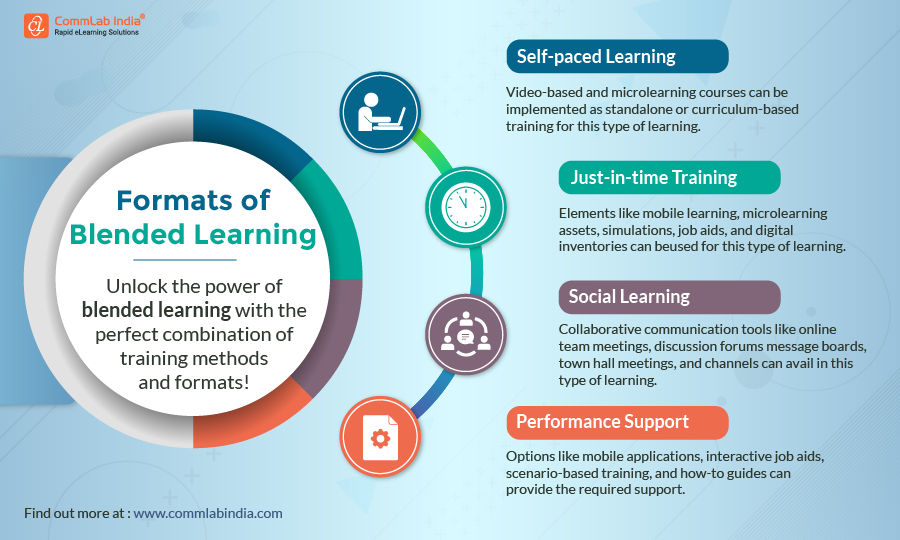 The blended learning approach reduces the costs associated with planning a classroom training session. It allows businesses to teach their employees in a way that fits in with their training budgets. The blended learning method is multifaceted in addition to being cost-effective as it incorporates several training methodologies. With so much in favor of blended learning, firms can take advantage of its properties to benefit both their employees and the organization as a whole.
Blended learning has several great advantages. Let's take a closer look at a few of them.
Benefits of Blended Learning for Corporate Training
1. Optimizes Both Time and Money
Employees benefit from online training because it reduces expenses and eliminates logistical constraints of classroom training. By utilizing authoring tools to create quick eLearning corporate training courses online, you can drastically decrease production time and expense. Training content can be studied and reinforced frequently when it is available both online and offline. As soon as eLearning courses have been designed, they can also be rapidly updated for multiple employees. This feature saves a significant amount of time and money throughout the development process. Additionally, employees might be given microlearning modules and job-aids to use while performing their duties. This can significantly minimize the likelihood of mistakes, resulting in improved job performance.
2. Promotes Collaborative Learning
Blended learning promotes collaborative learning not just in the classroom and virtual training sessions, but also in online discussion forums where both trainers and learners can exchange their ideas and experiences. Participants can visit discussion forums of their choice, to reflect on and participate in the online conversation anytime they want.
3. Enables Self-paced Learning
With blended learning, employees can complete the online part of their eLearning curriculum at their own pace. In addition to this, microlearning modules can reinforce learning, and employees can get their questions answered in real-time. Microlearning modules such as short how-to videos, dos and don'ts infographics, gamified evaluations, and scenarios to aid critical thinking, can be used for bite-sized sessions. Employees are provided opportunities to clear their doubts during the physical or virtual instructor-led component of the course. They can access their training at any time and from any location using their mobile devices or PCs. Blended learning allows employees greater control over their learning that is not possible with traditional classroom instruction. Web-based connections and resources can be utilized for additional learning.
4. Adapts to Different Learning Styles and Preferences
You can use blended learning to accommodate a variety of learning styles. Some learners prefer the traditional classroom settings, while others go for online learning. You can cater to various kinds of learners using diverse learning methodologies of the blended learning platform. Organizations can readily adapt their training programs to match the needs of specific groups of learners.
Another advantage of blended learning is that it works well for a globally scattered workforce. You can train certain employees in the classroom, as well as provide the same training online for others who are on the go. The advantage is that everyone receives the same instruction.
5. Utilizes a Variety of Media and Learning Methods
Blended learning methodologies allow learners to use a variety of media r throughout their courses, including audio and video presentations as well as face-to-face instruction. Using a mixture of visual, aural, and kinesthetic learning styles is one of blended learning's best practices This feature appeals to a variety of learners and ensures improved training outcomes.
6. Increases Training Effectiveness
Classroom training is much more successful when using blended learning. Learners can use web-based resources to complete specific elements of their training. This saves the classroom instructors' time by eliminating their need to answer additional questions and gauge their learners' knowledge. Learners are better equipped to absorb what is taught when provided with the context of the training session through prior study online.
With the help of appropriate formats, great blended learning solutions can be built according to the 55:25:20 Model of Learning and Development. This model incorporates 55 percent of experiential learning methodologies, 25 percent of social learning processes, and 20 percent of formal learning techniques).
VILT provides human interaction and intervention albeit through virtual engagement and intervention. Microlearning reinforces learning after initial training and expedites the recapitulation of training material when needed on-the-job. Virtual reality, user-generated content, and webinars can all be incorporated into blended learning formats to boost the impact of training.
Summing it up!
There are varied benefits of blended learning for corporate training. It is customizable and saves time and money of both the employees and the organization. It boosts training efficacy when used in conjunction with the appropriate formats. Now that you've learned about the multiple advantages of blended learning, check out the free eBook "Blended Learning: A Guide to Boost Employee Performance," to discover how to put it into practice.
Editor's note: This post was originally published in March 2022 and has been updated for comprehensiveness.