What Exactly is the Bookend Blended Learning Model? [SlideShare]
Most of us know that blended learning is a combination of in-person and online training formats. However, there are several delivery strategies in blended learning, and the Bookend blended learning model is one of them. Let's look at what this blended learning model is all about.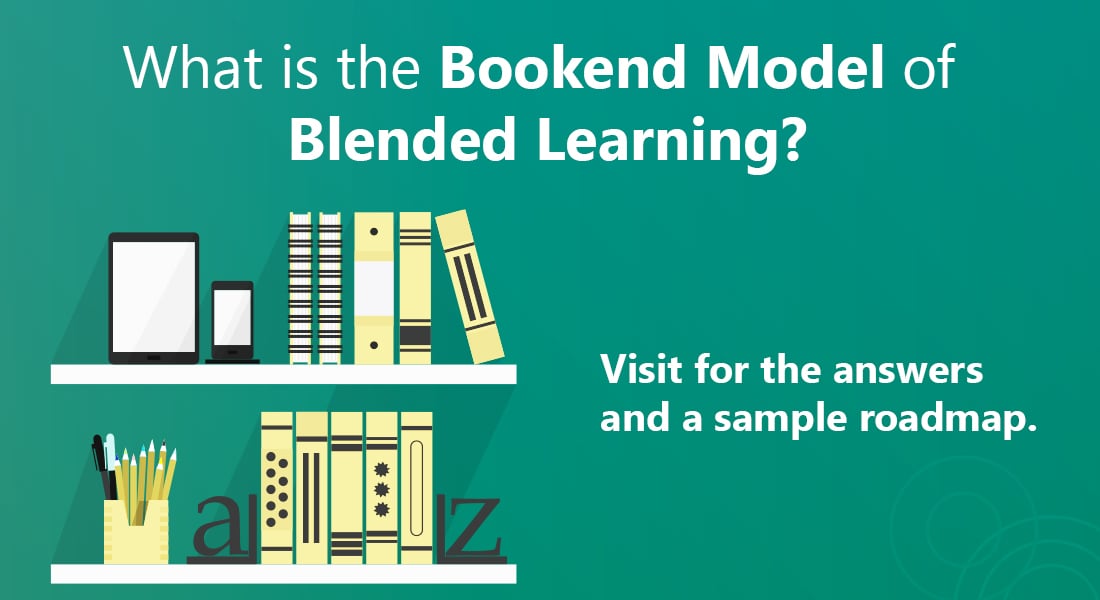 Blended learning combines the personalized interaction of traditional face-to-face classroom training with the flexibility and convenience of online training. It leverages technology to supplement classroom training and improve learning, and leads to enhanced job performance through practice and the application of face-to-face learning.
Learning Formats in a Blend
This hybrid or mixed learning strategy combines:
Instructor-led Training (ILT) – Classroom-based or virtual instructor-led training (VILT) with an instructor to guide, coach, interact, and engage learners.
eLearning – Formally structured online learning modules based on learning needs and performance outcomes, available as a standalone course or a curriculum of courses.
Just-in-Time Training — Mobile learning, digital resources (simulations, animations, quizzes, games, infographics)
Performance Support — How-to guides, videos, job-aids, mobile applications
Social Learning — Discussion boards, online forums
Most of us understand that blended learning is a combination of in-person and online training programs. However, not all of us know about the several delivery strategies in blended learning. The Bookend blended learning model is one of them, and we'll look at what this model of blended learning delivery offers in this SlideShare.
The Bookend blended learning model is a three-phase strategy that uses online training as bookends for face-to-face instruction. Learning under the Bookend paradigm, according to Nick van Dam's The E-Learning FIELDBOOK, starts and ends with online instruction, with a brief classroom or virtual classroom session sandwiched in between.

The main advantage of the Bookend blended learning model is that it reduces employees' time away from work by cutting down on classroom or face-to-face training.
3 Phases of the Bookend Blended Learning Model
Phase 1: Planning and Preparing to Gain Basic Knowledge
The goal of the first phase in the Bookend blended learning model is acquiring and evaluating knowledge. It involves:
Using self-paced eLearning modules
Allowing learners to:

Browse articles related to the training content
Take online self-assessments that test their current or prior knowledge
This phase also helps training managers decide on the need for additional teaching or explanation in the next phase of training.
Phase 2: Interacting and Focusing on Practicing Skills
The focus of the second phase in the Bookend model is on practice and teamwork. This phase is delivered with the help of an instructor – either as face-to-face classroom training or a virtual session with the instructor. The benefit of the Bookend model is that it gives learners an opportunity to interact and engage with their peers and the instructor (and not being isolated as in asynchronous self-paced learning).
Classroom training is primarily focused on dealing with complex topics and practicing skills. Group discussions and role plays can also be included in the classroom training.
Phase 3: Applying Learning and Providing Performance Support
The learning goal of the third phase of the Bookend model is the application of knowledge that learners have gained in the first two phases. This is offered as performance support through microlearning or digital assets. This aspect of the learning process is frequently overlooked in training programs.

Employees go through training programs, and whether they are able to apply the knowledge gained is up for debate. The final phase in the Bookend model takes care of the application part, closing the cycle of learning effectively.
Providing learners effective performance support enables them to perform tasks at the workplace efficiently. Learners can, for example, view a video that quickly shows how to complete a task or go through an infographic that lists the steps of a process. They can also participate in discussion boards to learn more from subject matter experts.
Parting Thoughts
When it comes to getting the most out of the least amount of classroom time, using online training resources efficiently, and accelerating the transfer of knowledge from training to the job, you can't do better than the Bookend blended learning model.
Don't forget to download our eBook on 'Blended Learning' if you want to discover how to utilize blended learning to increase employee performance quickly. This eBook is aimed for those who want to use technology to improve employee performance and reduce the time it takes to prepare them for their jobs. It provides practical guidance on how to choose the best training strategy for a given learning need while minimizing duplication of efforts and resources. It also provides a solid framework for building a company's ideal blended learning strategy.