How Rapid eLearning Helps to Develop a Successful Blended Learning Course Quickly
Blended learning is a creative mix-match of several training methods to design a personalized training course. This blog helps you leverage the power of rapid eLearning to create an effective blended learning course quickly.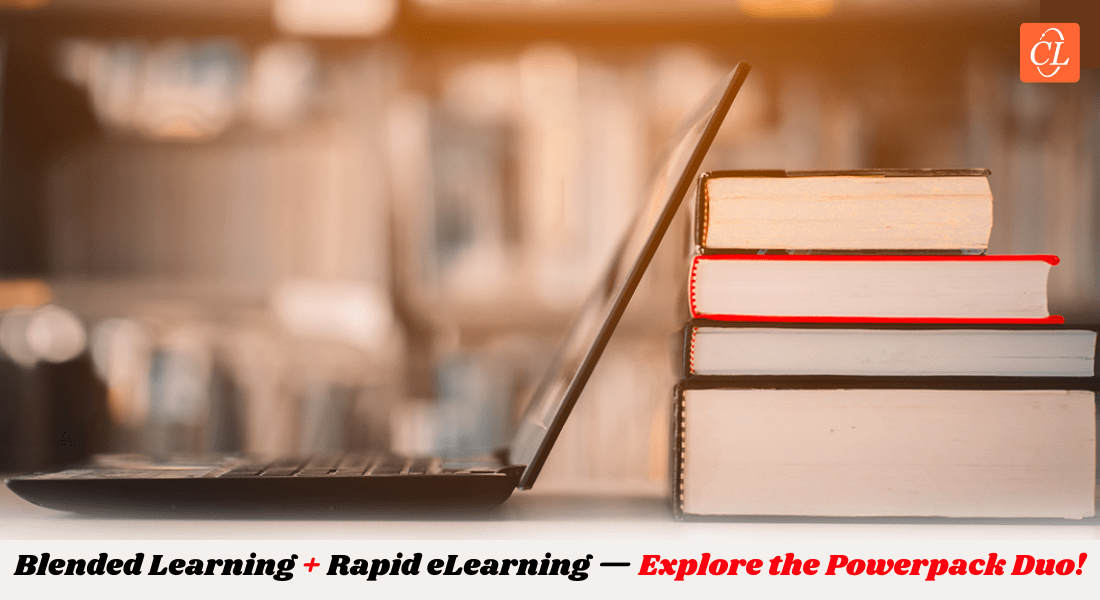 Organizations these days have a low training completion rate, wonder why? This is due to the traditional training practices being considered outdated by the current workforce. Modern problems require modern solutions, and a solution for this problem has turned out to be blended learning. A perfect blend of classroom training and online training is curated to address different phases of learning for an individual. But how do you even design a basic blended learning course? That too under tight deadlines? Worry not as rapid eLearning comes to your rescue! Rapid eLearning solutions can help you create blended learning assets efficiently without compromising the quality.
Do You Wish to Boost Your Blended Learning Development with Rapid eLearning?
Follow these steps and fulfill your requirements rapidly:
Define your goal
Redesign the existing content
Decide the levels of interactivity
Allow instant feedback
Allow mobile compatibility
Integrate an assessment plan
How to Utilize Rapid eLearning to Speed Up Your Blended Learning Course Development
1. Define Your Goal
Just like any other learning strategy, the first and most important step is to have a clear understanding of why the course has to be created or what objective it fulfills. While defining the goal of your course, keep these 4 things in mind:-
What are the necessary skills your learners need to focus on throughout the course?
What information should be discarded and what should be included in the course?
Is there any specific instructional design model you need to follow?
What sort of different tools do you need to use?
This can serve as a basic roadmap to the introductory phase of your course designing process. You will be able to understand more clearly whether the course development process is going in the right direction or not as you move on from one step to another. Rapid eLearning will help you align your training goals with business goals as it follows an agile project management process.
2. Redesign the Existing Content
Creating a basic outline for your blended learning course will help all the learners to understand the course properly and stay on track. Take up your content in hand and segregate what is relevant, it can be anything like your legacy courses, video lectures, PPTs, and PDFs.
Rapid eLearning's Redesign strategy can help you redesign the existing classroom training content into multi-purpose performance support assets like video clips out of long lectures, and infographics out of full-fletched PPTs and PDFs so you don't have to create anything from scratch. This will help you to create the content for a blended learning program whether it is for classroom training, post-course assessments, or refresher courses.
3. Decide the Levels of Interactivity
A blended learning program ensures great control over learning and due to this quality, learners can enjoy self-paced customized learning activities. Determining the level of interactivity can provide better clarity to instructors as well. A well-defined ratio of how much of your course would be classroom learning, how much would be online, and how much would be through self-paced activities can give the basic insights.
Utilize the power of rapid eLearning authoring tools to create professional-looking courses seamlessly, without degrading the quality. Authoring tools can help you to include pre-loaded templates, icons, buttons, pictures, and backgrounds because they have a huge repository of royalty-free content.
4. Allow Instant Feedback
When eLearning assets are built traditionally, it usually takes months, because one of the crucial processes includes the involvement of SMEs. SMEs don't have a lot of time to invest in reviewing the content of eLearning courses, so rapid eLearning reduces the number of touchpoints in the review process, making things easier for them.
Rapid eLearning follows the Successive Approximation Model (SAM) where prototyping is efficiently incorporated. This helps the SMEs and the other stakeholders to provide their valuable feedback and review the course online while it's in the development phase and make the changes instantly.
5. Allow Mobile Compatibility
When learners get to interact with their peers, know each other better, create a community and share lots of desired information and knowledge and benefit from each other's skills and experiences. Nowadays the most used device is a smartphone, so creating courses and assets that are accessible on multiple devices will ensure that learners can access their training content on the go.
Rapid eLearning authoring tools can help you design responsive courses and scale your corporate training to newer heights. mLearning courses are cost and time efficient for both, the organization and the learners, so it increases the overall training ROI. Learners can also share the training content with their peers through social media platforms and promote social learning within the organization.
6. Integrate an Assessment Plan
As much as the designing of a basic course curriculum is important, a course is always incomplete if an assessment plan is not included in the course. A default assessment plan is used to track an employee's performance with a detailed progress report that states their strong and weak sections. You can add a couple of surveys at the end of your course to assess the knowledge your learners gained through the course. Adding quizzes after every module or section can be a useful practice as well.
Rapid eLearning authoring tools can help you create these interactive assessments quickly because they have a lot of features to incorporate gamified assessments or branching scenarios.
Parting Thoughts!
With blended learning, organizations can help their employees to learn in a fun and exciting way while being productive as well. Blended learning is one of the latest trends in the eLearning industry and rapid eLearning can effectively boost its development speed to deliver training under tight deadlines. It is always a good practice to create eLearning assets for blended learning with the help of rapid eLearning solutions to create a top-quality blended learning program efficiently. A successful blended learning program can enhance an employee's performance to a great extent and this eBook can provide you with detailed insights about the narrative.