Ease into the Digital Era with a Blended Learning Approach
Learn how to make the most of a blended learning approach for different types of trainings.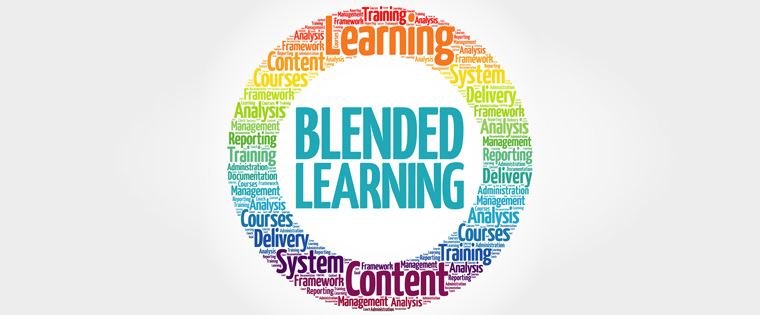 Digital learning has established its stronghold in the world of organizational training. It is a learning method that sits well with today's young workforce and is able to cope up with dynamic demands of the workplace as well. Despite the numerous advantages of digital learning, many companies are reluctant to move away from the traditional classroom method for employee training. That's why they decide to opt for a Blended Learning strategy. Blended learning has become the 'go to' approach for many organizations as it bridges the gap between a conventional mindset and a digital world. It combines the flexibility of digital learning with the benefits of human interactions to give employees the best of two very different learning methodologies.
Blended learning can be used to convey all types of organizational training. Be it compliance, safety, or even sales, a blended approach can breathe a new life in every form of training. Below are some best practices that you can opt for each type of training and create an impactful learning program:
Blended Compliance Training
Following industry compliance plays a huge role in establishing your organization as a market leader. However, compliance training consists of endless text-heavy laws, procedures and best practices that pertain to your organization, which makes it very dull and dry in nature. Most certainly, a classroom session on compliance issues can put everyone to sleep. This is a blended approach that can be followed:
Considering the nature of compliance training, move the actual content away from classroom sessions. Use the classroom only to connect with learners about the importance of following compliance procedures and displaying the practical consequences in case of failure. You can also use a classroom session to facilitate the usage of the online modules in case your workforce is not well versed with using digital mediums.
Ideally, you should convey your entire compliance subject matter through the digital medium. E-learning courses offer a ton of interactive and engaging options that help generate a great amount of learner interest. Using game-based learning or scenario-based learning has works best for compliance training.
Blended Safety Training
Workplace safety is one of the most important responsibilities of an employer. But since this training is not directly related to the primary duties of employees, they are often disinclined to attend classroom sessions. Let's see what kind of blended approach you can take to change this:
Safety training is not related to something virtual that exists only on your computer. Hence, it is necessary to share the take of people who've been involved in accidents with learners. This is possible through blended learning as you can include a classroom session with a peer or experienced employee. You can also emulate a practical safety scenario through classroom role-playing games. This can give users an active learning environment on what they are going to face in the workplace.
Short, just-in-time learning modules can serve as the perfect doubt-buster when employees actually sit down to perform a crucial task. These bite-sized courses provide highly-specific and practical information that is necessary to boost the safety of a particular task at hand. You can also create ample online assessments to continuously monitor the progress of your employees.
Blended Sales Training
Sales often forms the backbone of any organization as it brings in the maximum business. But training sales personnel is not easy as trainings need to strike a balance between useful product information, market insights, and soft skill development. Here's how you can use blended learning to improve sales trainings:
As sales employees are parched for time, help them make the most of classroom trainings by providing an online course before the session. Employees can clear any doubts that might come up while undertaking the digital course, in the classroom. This makes the classroom training time less and its impact, more. Use scenario-based training and role-playing games to enhance the classroom training experience.
Products often change, get updated, or newer versions are released. Short digital courses can help employees stay up-to-date with product information. In case of complicated products, you can provide easy to absorb digital elements such as videos, infographics, or animations to help users learn faster.
The beauty of the blended approach is that you can adjust the proportions of digital and classroom modules to create a course that satisfies your unique needs. What I have conveyed is just the general strategy, but to get the best results, you should to assess it from the point of view of your organization, learners, and design your blended course.