Blended Learning: Why it HAS to be a Part of Your Training Strategy
If you do not want to be left behind in implementing technology-enabled learning in your organization, you must read this post now!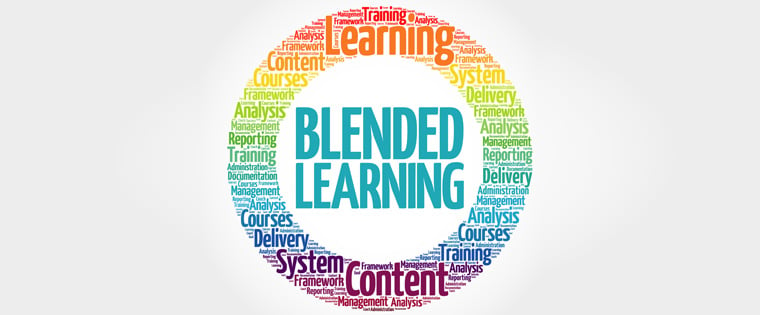 Blended learning, also referred to as hybrid learning or mixed-mode learning is a mix of traditional classroom training and digital learning methodologies. The idea is to provide a mix of different delivery methods for a comprehensive learning experience. It can include classroom training, eLearning, as well as other online formats, such as video-based learning and mobile learning.
Why is Blended Learning Right for Training Employees?
To know why blended learning is important, it is good to take a look at the "Cone of Learning". Developed by American educator Edgar Dale, the Cone of Learning shows that different senses (visual, oral, aural…) have different recall value for individuals. Our ability to remember something is greater when we exercise all our senses and do things practically.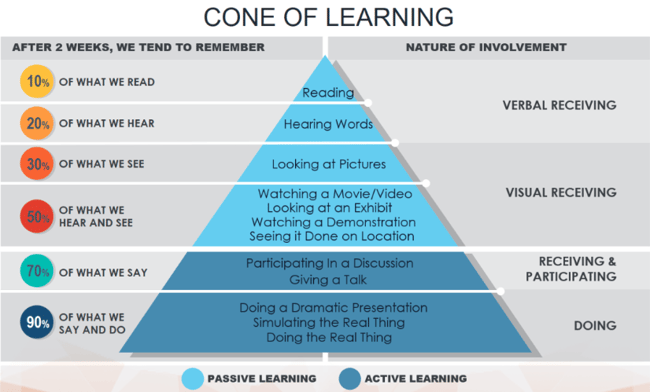 Reference: Edgar Dale. Audio-Visual Methods in Teaching (3rd Ed.). Holt, Reinhart, and Winston (1989).
Our recall value is highest during active learning that is represented in the last two segments at the bottom of the pyramid:
Training that involves active engagement and participation. This happens in a classroom training environment, where there are lots of discussions and interactions with the trainer and peers.
Training where the learner gets to do activities, work in simulated environments, or work on real-life job situations. This typically happens in on-the-job training or during hands-on workshops or in scenario-based or game-based eLearning courses that can have a combination of interactivities, simulations, and practice exercises.
These methods of learning are by far the most effective. However, can we have a formal format of training, always, for every single training need? It's not possible and not needed too. For example, if a service engineer needs to quickly go through the steps of installing a piece of machinery, a good infographic could well be a viable option. It serves as a perfect learning tool at that instant.
As training managers, we need to figure out the best training delivery for a particular learning need. To do this, it is essential to first have a thorough understanding of the different training delivery methods and what they can do.
For convenience, let's categorize them into two broad categories.
| | |
| --- | --- |
| Classroom Training (ILT) | E-learning |
| Face-to-face interactions between the instructor and learners | E-courses, mobile learning, videos, podcasts, PDF documents, infographics, etc. |
To blend classroom training with eLearning, it is important to understand the unique strengths and limitations of each delivery format. Then, we can combine classroom training smartly with the right eLearning delivery format, for a given learning need.
Understanding Classroom Training & E-learning
Classroom training and eLearning, each have their strengths and limitations. This table captures the unique strengths of each medium.
| | |
| --- | --- |
| Classroom Training | E-learning |
| Availability of subject matter experts and coaches to adapt to participant needs and questions | Self-directed, learners can proceed at their own pace |
| Live group interaction, collaboration, demonstration, role-modeling, and mentoring possible | Convenient and flexible, available on-demand (24x7x365), even in remote locations |
| Greater capacity for hands-on experiences with physical devices and equipment | Scalable – simultaneous, audience and/or enterprise-wide rollouts possible |
| Addresses topics and issues that are outside of the packaged course material | High individual learning accountability |
| Face-to-face sharing of experiences and social interaction | Consistency in the format and delivery of content |
| Dedicated time in a controlled environment, away from other work demands | Easy to update and disseminate |
| Closer simulation of actual work performance, particularly people-based interactions | Reduced time away from work and cost of logistics |
| Builds personal relationships, networking, and breaks down silos | Easy-to-manage administration and analytics |
| Easy to modify and adapt instructional strategies (activities and interactions) | Ideal for a multi-cultural and multilingual context |
As seen, each has its strengths and therefore the smart thing to do is to make the best of the strength of the method by keeping in mind the objective we are out to achieve.
Therefore, when we plan training, we have to align the training directly with performance outcomes. What do we want our learners to accomplish with the knowledge/skills they learn/acquire at the end of the day?
We need to define the learning objectives.
For every job role, there are a set of tasks that are to be performed. To do those set of tasks, you need employees to have certain skill sets. What is the best way that you can help employees acquire those skill sets?
We need to define the delivery method for training.
Not all skill sets require classroom training as shared in the example above. Some can be achieved through online courses or e-courses. Some others can be achieved through a simple infographic or a simple sheet providing a step-by-step guide. So, it is always a good idea to use a combination of training delivery methods.
Blended learning gives a fillip to our training efforts as it allows us to integrate the latest technological tools, along with successful methods adopted till date and get the best of the both. Have you initiated blended learning in your organization? What has been your experience? Do share here.