4 Challenges of Blended Learning and How to Overcome Them
Blended learning combines the best of two worlds – digital learning and classroom training. However, there are a few implementation challenges that could put a break on its success. Read on as I discuss some of the most common challenges of blended learning.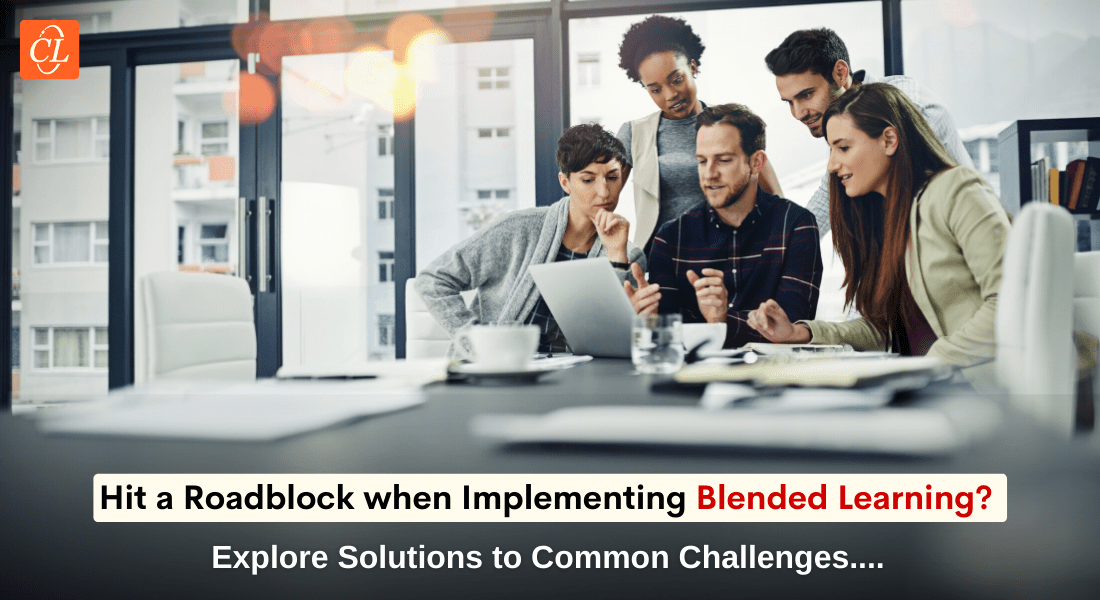 Blended or hybrid learning, as you might know, is a training format that combines online and face-to-face learning modalities. A blended learning environment involves the employees spending a part of their training time in the traditional classroom setup, and get trained by an instructor. And for the other part, they can continue the training online via digital learning platforms.
While blended learning is considered to be one of the best ways to deliver corporate training, it does have certain limitations that could challenge its implementation and drive it toward failure.
Wondering What Hampers Blended Learning Implementation?
Here are the 4 key challenges –
Over and Under Use of Technology
Deciding Upon the Right Mix for the Perfect Blend
Managing and Monitoring Learners' Progress
Excessive Control over the Learning System
Read on to explore ways to mitigate them.
Let us discuss some of the most common challenges and ways to mitigate them.
Challenges of Blended Learning (And How to Overcome Them)
Over and Under Use of Technology
While first introducing a blended system of learning, any organization can face the challenge of over or underuse of technology. For a successful blended learning implementation, it is imperative to maintain a proper balance. Many organizations face the challenge of having skeptical instructors who see technology as useless interference and avoid using it, especially at times when technology can transform the entire learning process. On the other hand, some organizations may have over-enthusiastic L&D teams that want to add technology in areas that can do better without it.
The best strategy to maintain a proper balance is to start small. To start with, the program should have easy-to-use technology which is accessible to both the learners as well as the instructors. The levels can be advanced once the stakeholders get used to the technology.
Deciding Upon the Right Mix for the Perfect Blend
Apart from the balance between the two broad training delivery methods of blended learning, there needs to be proper coordination. The online and offline modes of learning must complement each other. The modules need to work together as one unit towards a single goal. They cannot and should not work in silos.
To ensure proper coordination, it is important to create a course map beforehand. This course map must have detailed information about the course content and how each unit will be dealt with. Organizations should not randomly insert online and offline course modules without creating a proper connection between the two.
For instance, the rotational blended learning model – which includes both self-paced online learning and face-to-face sessions – can be a great way to impart complex yet mandatory training. The core concepts can be delivered in classroom setting or through Virtual Instructor-Led Training (VILT) to help leaners clarify their doubts and build a strong foundation. The supplementary nice-to-know content can be delivered through eLearning courses which can be taken up by learners at their convenience. The FAQs or catchy facts on the subject matter can be delivered through interesting microlearning formats like infographics and digital flashcards.
Managing and Monitoring Learners' Progress
The next great challenge of a blended learning format is the management and monitoring of learner participation and progress. It is challenging because of the multiple modalities involved. In a traditional classroom setting, it is easier to assess the learner's progress through face-to-face interactions, discussions or group projects. However, it can be a bit challenging in an online learning environment.
The best way to handle this is by hosting online training courses like eLearning, microlearning, and VILT sessions on a Learning Management System (LMS). LMSs use learning analytics which helps track the learners' progress, course completion rates, time spent on each course, etc. All these analytics make it easy to monitor and manage their progress and make course revisions if needed.
Excessive Control over the Learning System
You must understand that the motto of implementing blended learning is to bring the goodness of online training to traditional classroom training. One of the most striking features of digital learning is that it gives the learners freedom to learn at their comfort and their pace. On the other hand, traditional learning is strictly time-bound, and maximum control is in the hands of the instructor. This excessive control can extend in the digital learning part as well as in blended learning.
The instructor must understand that the learners need to be given some breathing space while taking up the digital learning modules. Learners should be self-driven to complete their course rather than the trainer nudging them to finish their modules. Undoubtedly, self-paced learning should be should be encouraged and regular assessments should be done to evaluate learning.
Final Takeaway
Blended or hybrid learning consists of face-to-face classroom training and digital learning. There are challenges in implementing the format with proper balance. But, once these challenges are tackled well, you can enjoy the benefits of online and offline learning systems together. Overcoming the challenges of blended learning is mostly about planning well and implementing the plans to reach one common organizational goal.
Once you overcome these challenges, it becomes easier for you to see the real benefits of blended learning. One such an unmissable benefit is the increase in employee performance. This eBook will help you know how!