Learning Management Systems and Virtual Classrooms: Will the Twain Ever Meet?
The LMS and virtual classrooms seem to be two different technologies. Can these two be integrated? If yes, does integrating VILT with LMS bring any benefits to learners and instructors? Find out, in this blog!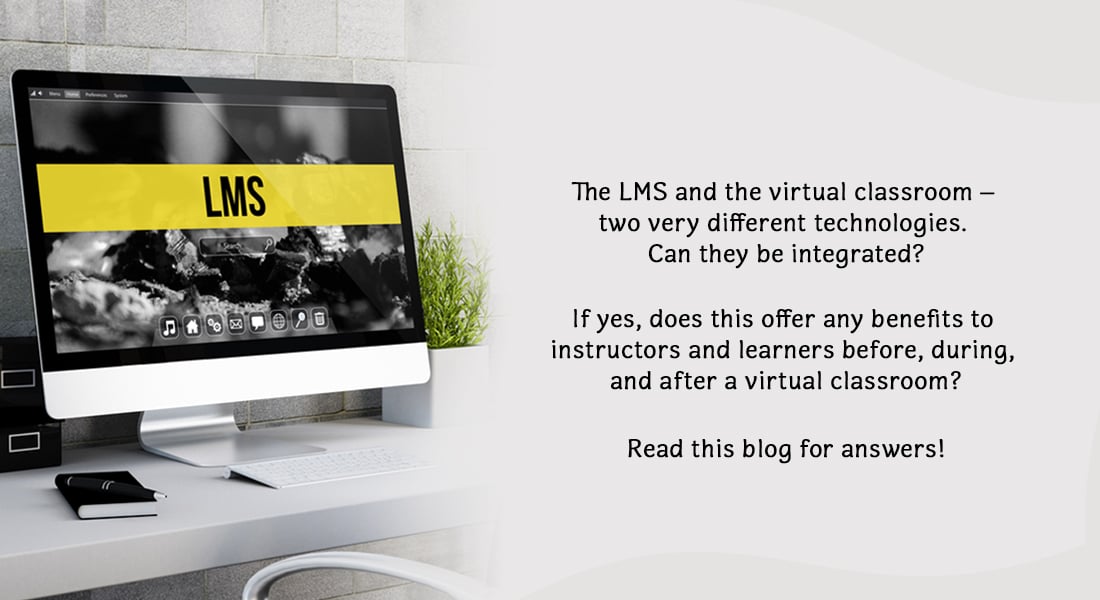 If there was no eLearning, there wouldn't have been a need for a learning management system (LMS), don't you think? But thanks to the popularity of eLearning, the LMS is here to stay. There are thousands of LMSs today, with many more emerging in an already crowded marketplace.
9 Benefits of Integrating the LMS with Virtual Classrooms
Schedules Virtual Instructor-led Training
Allows Self-Registration
Automates Reminders and Notifications
Monitors Attendance
Authenticates Sign in
Facilitates Assessments
Acts as a Central Repository for Resources
Generates Reports
Enables Discussions with Experts
According to the 2019 Training Industry Report, 9.7% of organizations use instructor-led training (ILT) exclusively for employee training. About 38% organizations use ILT for 10 to 29 percent of their training, while most of them use a combination of training methodologies that include blended learning, virtual classrooms, and other online methods.
These statistics make it clear that classroom training is a popular training strategy and always will. But when the coronavirus pandemic hit the world, the training plans of many organizations came to a standstill. And that is why many organizations opted to quickly shift from classroom ILT to virtual ILT when the pandemic hit.
An LMS, as you already know, is a software designed to host, track, and report metrics on online training programs. It is an integral part of the training framework for organizations that use online training. On the other hand, virtual classroom training or VILT is delivered in a virtual environment that simulates the physical classroom.
The two appear to be two very different technologies serving different purposes. A VILT session is delivered using virtual training platforms such as Adobe Connect, Cisco WebEx, Microsoft Teams, and Zoom to name a few.
The question here is, "Is an LMS of any help when an organization opts for virtual classroom training?"
Absolutely! The LMS can be integrated with virtual classrooms to provide seamless training delivery.
Here's how this integration can benefit both instructors and learners.
Before, During, and After the Virtual Classroom Session: How Can an LMS Help?
The LMS and VILT platforms are complementary to each other. Here's how integrating them can help in different stages of training delivery.
Before the VILT Session
1. Schedules Virtual Instructor-led Training (VILT)
An LMS can be used to schedule VILT sessions and organize the VILT session in different ways. What it means is that the same VILT session can be scheduled for different sets of learners at different instances. That might be required when you need to schedule the session at different times for employees working in different time zones.
Another possibility is you could have one VILT program that's divided into different sessions and have the same set of learners enrolled for all the sessions conducted over a period of time.
When you do this through an LMS, it's much easier to keep track of sessions scheduled and learners enrolled.
2. Allows Self-Registration
One problem that you could run into with virtual classrooms is that the date/time may not be convenient for all learners. With an LMS that problem can be solved.
When you have multiple instances of the same VILT, you can offer learners the flexibility of choosing a date/time that's convenient to them.
By offering self-registration through the LMS, you not only give learners the flexibility to choose their slot according to their work schedule but also put them in charge of their own training schedule.
The LMS administrator can also set a limit to the number of registrants that could be accepted for one instance of a VILT session.
3. Automates Reminders and Notifications
Integrating an LMS with virtual classrooms makes it easy to send email reminders and notifications to learners as well as the instructors. Some LMSs also allow the notification to be added to learners' calendars so that the time is blocked on their schedule.
What's more, these reminders can be automated without actually getting someone to send them manually.
During the VILT Session
4. Monitors Attendance
In a VILT session, one of the challenges that instructors face is they may not be able to keep track of all the learners participating in the session. An LMS solves this problem by monitoring attendance of learners participating in the virtual classroom.
5. Authenticates Sign in
When you integrate your LMS with virtual classrooms, each session is set up as a course on the LMS.
Previously, learners had to leave the LMS environment, login to the VILT session on the virtual platform that was used to set it up, and then come back to the LMS for any continued learning activity such as assessments related to the VILT session.
Not anymore! When you integrate the LMS with the VILT, learners can be authenticated on the LMS through Single Sign On (SSO) which authenticates the learner on the VILT platform as well, avoiding the need to sign in again. For example, if you're using Skype or Zoom to conduct a VILT session, integrating it with the LMS makes it easier to authenticate learners and manage the session.
Here's how a virtual training would appear on your LMS. You can login to it just as you would access any other course on the LMS.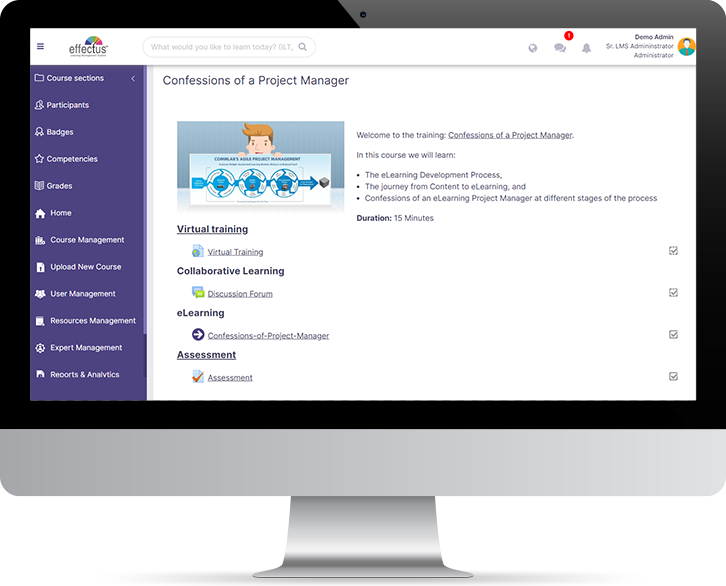 6. Facilitates Assessments
If an assessment is to be conducted for learners during the VILT session, it can be administered through the LMS. The scores of the assessments can also be tracked and stored for future retrieval if necessary.
Note: The LMS can also be used to deliver pre-assessments (before the VILT session) and post evaluation (after the VILT session).
After the VILT Session
7. Acts as a Central Repository for Resources
While virtual training platforms have the facility to offer handouts and other resources for participants to access during the session, learners may not be able to access them after the session. But when you integrate the VILT with your LMS, you can make these resources available to learners long after the VILT session is complete. The LMS will act like a central repository of resources.
8. Generates Reports
When you have multiple virtual classroom programs, an LMS makes it easier to track them and generate reports after training completion.
For example, if instructors would like to know how learners have fared in an assessment that was conducted before, during or after the virtual classroom, it's possible to generate that report through the LMS.
9. Enables Discussions with Experts
Since virtual classrooms involve instructors, they have defined timeline for completion, unlike self-paced eLearning.
What if learners have some questions that need clarifications after the VILT session is complete? The LMS can take care of this by facilitating discussion boards and chats enabling learners to get in touch with instructors or other subject matter experts for more information.
It's a Wrap
Virtual classrooms are here to stay and integrating them with the LMS brings benefits to both learners as well as instructors. An LMS complements virtual classrooms and their integration gives organizations a chance to make the best use of both worlds.
Are you looking for a new LMS or considering investing in a second LMS? Then this eBook on choosing the right LMS is just what you need!