Implementing Blended Learning? Be Prepared for these 3 Challenges!
Are you planning to implement blended learning in your organization? Do you know the challenges involved? Read on to be prepared for these organizational challenges in blended learning implementation.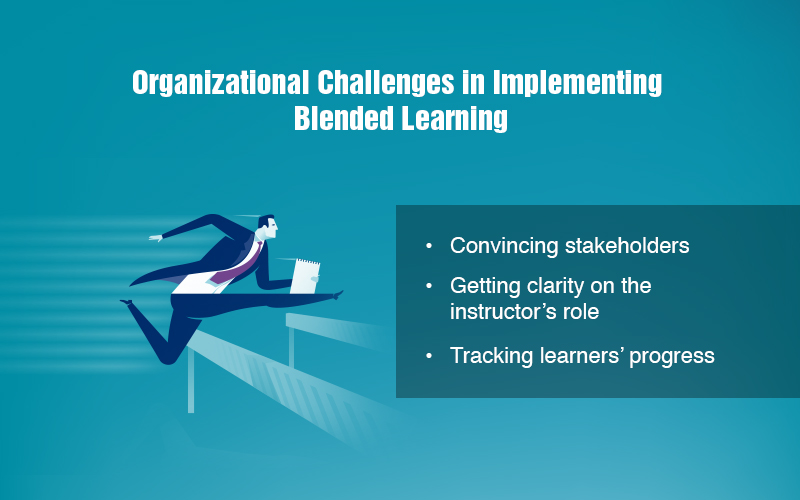 Challenges in implementing blended learning? Really? There's a notion among training managers that blended learning is the answer to all prayers, that it is the panacea for all the ills plaguing learning and development!
And here I am, talking about the 3 challenges to implement blended learning.
Challenges in Implementing Blended Learning
Are you prepared for these people challenges in blended learning implementation?
Convincing stakeholders on the need for blended learning
Getting clarity on the instructor's role

Monitoring and tracking learners' progress
Blended learning is not a new term – most of us know what it is, but not many are aware that there are challenges to its implementation. These challenges can be classified into three categories – organizational, technological, and design challenges. We'll be discussing the 3 organizational or people challenges in implementing blended learning, in this blog.
Deciding on Implementing Blended Learning
Before we look at the challenges, you need to make that all-important decision to implement blended learning in your organization. Here's an example to help you.
Let's assume that you need to rollout a sales training. There are certain components in sales training that are best dealt with in the classroom or in face-to-face workshops (e.g. negotiation skills) and online training cannot take its place.
Now there are certain other components in the same training that can be easily completed by learners online. For example, it's necessary for sales professionals to be thorough on the features of products they are selling to be able to answer questions from customers. If this information is available online, it would help your sales team access this information when they need it the most – just before a sales pitch. That's your cue for implementing blended learning.
Imagine how much more efficient your training is going to be, when you learn to blend these two different worlds – classroom and online!
What are the Organizational Challenges in Implementing Blended Learning?
Challenge # 1: Convincing Stakeholders on the Need for Blended Learning
A couple of decades ago, classroom training was the only means of delivering corporate training and some organizations are still following the 'old is gold' maxim! While classroom training will always remain a favorite, there is a need to make it more engaging and cost-effective. And this can be done by integrating it with digital learning. For example, high-impact leadership training could benefit from a blended learning approach. But, convincing stakeholders on the need to combine different forms of training delivery could pose a real challenge.
Solution
Identify the problems with using a completely classroom-based training. Here are a few questions on classroom training you should reflect on:
Do all learners participate in the classroom training?
Is technology being leveraged?
Is it easy to measure the performance of learners?
Is it easy to communicate with all learners?
Does the classroom facilitate opportunities for collaboration?
Present a business case highlighting how the problems in classroom training can be solved through blended learning. Focus on key benefits such as:
Learner engagement
Personal touch (through instructors)
Immediate training support (through a collaborative learning environment)
Reinforcement of learning (through microlearning)
Training programs on topics such as sales, leadership, and employee onboarding deliver better results when there are human touchpoints and blended learning is an excellent strategy to deliver such training programs.
USP of Blended Learning
In traditional classroom and online training environments, the flow of information is unidirectional – from the instructor or the course to the learners. In a blended learning environment, the flow of information and knowledge is bidirectional – instructor to learners and among learners (peer-to-peer learning).
Challenge # 2: Getting Clarity on the Instructor's Role
For an instructor, a blended program may seem very different from the classroom. He or she is suddenly required to move away from the role of a 'sage on the stage' and morph into a 'guide on the side'. This can be confusing for instructors, especially if they have not gone through a blended learning program themselves.
Here's an example. As part of a blended program, learners are required to complete certain sections of the training program online. If instructors discuss the same topics in the classroom, then the whole purpose of rolling out a blended learning program fails.
Solution
Instructors need to consider each part (classroom training, eLearning, virtual classroom training, microlearning, job aids) of a blended learning program as a critical unit of learning. They also will have to be trained to deliver blended learning.
Before you begin implementing blended learning, spend some time educating instructors on it. Here's how you can help instructors adapt to teaching blended formats.
Involve instructors in the development of the blended learning program. Let them:

Pick the topics that can be moved to online delivery
Act as the SMEs for the eLearning project
Be involved in creating assessments aligned to learning objectives

Train them on delivering content in blended learning formats
Provide them with efficient support to implement blended learning
Challenge # 3: Monitoring and Tracking Learners' Progress
One of the most difficult challenges in blended learning is tracking the progress of learners in each component of the blended program. You may have multiple components (such as a classroom session, a microlearning module, a video, and so on) in the blended learning program, and I agree it does get cumbersome to track the progress of learners in all of these, but if you want to derive value from the training, you cannot skip this part.
Solution
Implementing blended learning requires careful planning. It's not necessary that your blended learning program begins with classroom training before moving to flexible online formats. Select a blended learning model that works for your organization. (More information on blended learning models in this link).
Begin by setting clear expectations for learners. Let them know how they are expected to proceed through the blended learning program. Prevent learners from skipping certain components by including assessments for each. For example, if your blended learning program begins with an online component, you could clearly specify that learners will not be able to participate in the classroom training without proving their competence in the online learning module by passing the assessment.
Here are some tips to ensure that you get through this challenge:
Get LMS administrators to work with the team designing the blended learning program.
Plan for tracking and assessing all the components in the blend.
Let learners know that they need to complete and pass the assessments in all components of the blended learning program, including self-paced learning.
Share a detailed plan with learners on the various components that need to be completed in the blended learning program, giving them clear timelines for completion.
With the introduction of new technologies such as xAPI, it's easier to track learning experiences that happen offline – both inside and outside the classroom. Here's more information on using xAPI to track learner progress in blended learning.
Parting Thoughts!
As an L&D professional or training manager, your main intent is to achieve your training goals and ensure your stakeholders achieve maximum return on investment (ROI) on training. If implementing blended learning can get you the results you're looking for, why wait?
Still wondering whether blended learning can help you scale your corporate training initiatives? Well download this checklist to steer clear of your confusion.
Editor's note: This post was originally published in 2020 and has been updated for comprehensiveness.