A Handy Guide for Developing Digital Learning that Works!
Delivering text-heavy digital learning courses to learners is a futile endeavor. Here are 4 design imperatives to develop impactful digital learning.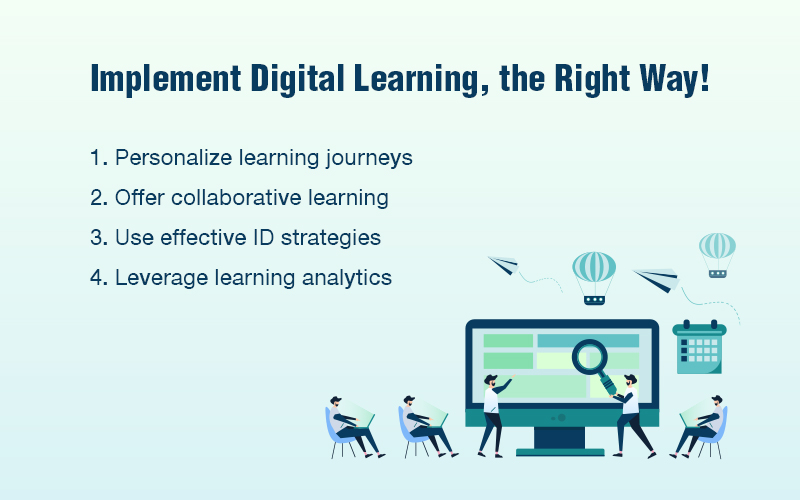 If you are asked, "What is a digital learning program?", would your answer be…
"A digital learning program offers training that goes wherever the learner goes"? OR
"A digital learning program equip learners with the skills and knowledge required to do their jobs better, no matter where they are located in the world"?
How to Implement Digital Learning, the Right Way?
Give learners their own personalized learning journeys
Enable learners to make connections for collaborative learning
Captivate and challenge learners using good ID strategies
Use learning data to improve the learning journey
Well, these are valid responses, but digital learning is more than just reaching out to remote employees and giving them access to 'on-the-go' learning. It's also about technology's potential to offer meaningful learning experiences—experiences that can change behaviors and attitudes at the workplace.
Wouldn't it be great if there was a guide to, well, guide you through the process of creating an impactful digital learning program? You're in luck. In this blog, we are going to look at the 4 design imperatives that will help you develop impactful digital learning programs.
How to Implement Digital Learning – the Right Way!
1. Give Learners Their Own Personalized Learning Journeys
Many seem to think a personalized learning journey is all about role-based learning; others as delivering the minimum learning as quickly as possible. The truth, however, is that personalized learning is more about giving learners their own learning journey in a meaningful way than about squeezing learning time down—although that may be a bonus side-effect.
There are two facets to delivering a tailored digital learning program:
i. True personalization takes into consideration a learner's
Competencies
Needs
Confidence levels
Attitude
This information on the learner can be obtained before the training even begins through, for example, a series of Likert scale questions on the learners' confidence levels, attitudes, and working practices, or through online pre-assessments. Based on their responses, learners are offered a tailored 'menu' of learning topics that displays the topics by subject matter.
ii. Consider a microlearning approach to complement your personalization strategy
Instead of forcing an hour-long course on your learners, turn it into small, discrete modules. (Remember, they should be meaningful, not just small!)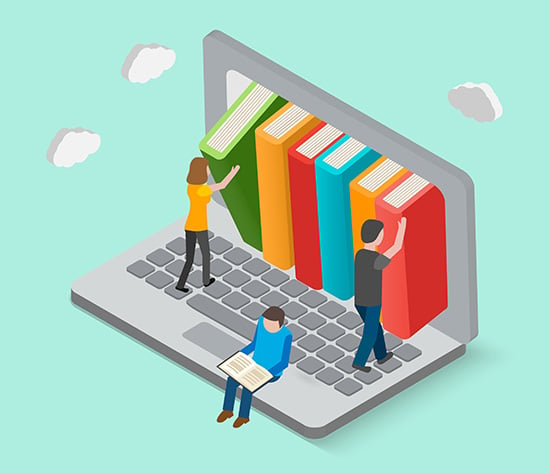 Microlearning is effective because it offers the right type of learning for the right context—which is what personalization should be all about. Learners feel empowered when offered different components in different formats to choose from.
In other words, a truly personalized learning program does not push learning to learners; rather it pulls and empowers them to learn in their own way, asynchronously.
2. Enable Learners to Make Connections for Collaborative Learning
Did you know that more learning happens through social interactions? As humans, we are all wired to relate or make connections with one another. And at the workplace, often without even realizing it, we find ourselves collaborating and sharing information with our peers and colleagues.
In reality, organizations do not even require a dedicated social learning platform to bring their employees together. In fact, social learning need not happen face-to-face. It's something today's employees already do by way of email, Facebook, WhatsApp, Skype chat, or Google Hangouts. As long as they're connecting and sharing ideas, it is 'social learning'.
Having said that, you can facilitate social learning through your online learning courses. Here are three ways to integrate social learning with digital learning.
3. Captivate and Challenge Learners with Good ID Strategies
The true mark of success for any digital learning program lies in its ability to captivate and challenge learners through the entire course. There are 3 trends that are getting a lot of attention in L&D circles – game-based learning, scenarios, and Augmented Reality (AR) and Virtual Reality (VR).
Game-based Learning (GBL): GBL is mostly being used as a blanket choice for learner engagement, while missing out on opportunities for effective digital learning. What's the right way to do it, then?
To get the most out of game-based learning, one needs to go beyond boards and points. Rather than adding points, scoreboards and badges into the course, turn the entire gamut of learning activities into learning games.
Provide games that revolve around specific learning objectives and reward learners when they accomplish a task. By tying gaming mechanics to learning objectives, you are offering learners an eLearning course that looks more like a full-fledged game rather than a series of information-heavy slides.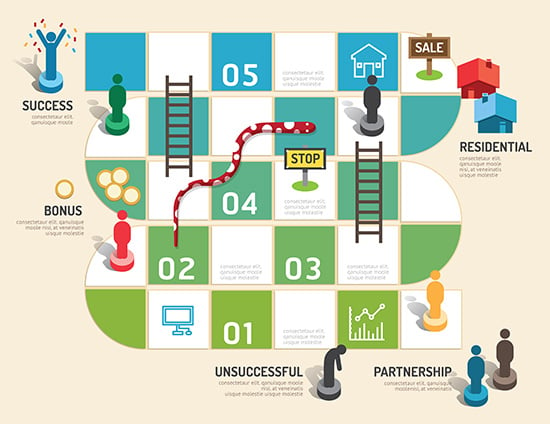 Scenarios: Scenarios are a way of storytelling—stories about the learner's job challenges that compel him/her to make decisions as well as witness the consequences of those decisions in real-time.
Scenarios give instructional designers the opportunity to show the employee's job challenges in different perspectives and contexts—contexts the learners may have never considered. Witnessing the impact of their decisions from these new 'vantage' points drives effective learning.
A word of caution, though. Scenarios where the decisions are 'obvious', or a story that doesn't resonate with their work is likely to disengage learners. For a well thought out scenario-based learning, organizations really need to delve into the 'wicked problems' employees face at work—especially those where making the 'right decision' is not easy.
The goal here is to present real-life impact of their decisions and drive behavioral change.
Virtual Reality (VR): Virtual reality in digital learning is especially useful for recreating environments or situations that cannot be accessed in real life. For example:
Highly hazardous environment such as chemically polluted industrial sites, radioactive and nuclear site can be recreated in VR to allow learners to practice skills safely.
Where access to expensive industrial, heavy machinery is limited, giving learners the chance to virtually access and interact with them is another valid use for virtual reality.
4. Use Learning Data to Improve the Learning Journey
Although this doesn't strictly fall under the ambit of instructional design, it's important to talk about learner data and its role in improving digital learning at large. 'Precision education' is a term that teachers in schools use to describe the process of gathering data about their learners and tailoring learning inputs to suit the learner's needs.
In the same way, corporate organizations can obtain learner data from their LMS (Learning Management System) and gain valuable insights not only about the learners but also the effectiveness of training. That's right.
With these data-fueled insights, companies will be able to understand how learners are interacting with the training, as well as examine design approaches which are proving most effective at driving behavior change.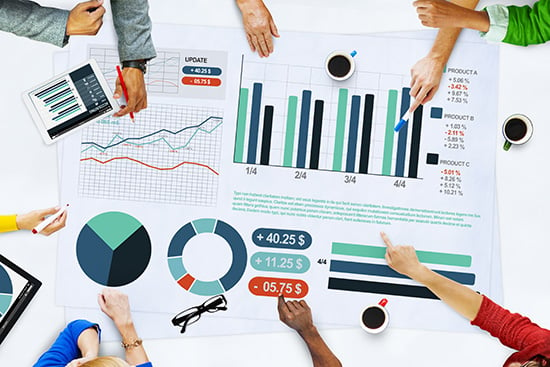 Note: Learner data serves no purpose unless it's analyzed for insights about learners and their contexts, for understanding and optimizing learning and the environments in which it occurs. This process—right from collecting to analyzing the learning data—is called learning analytics. You can learn more about learning analytics and its influence on corporate learning here.
Concluding Remarks
Simply delivering information-heavy courses to learners is not likely to solve anything, let alone their performance problems. If at all, these digital learning courses will disengage learners and keep them away from training. Consider the 4 tips we have discussed in the blog for your digital learning strategy to offer a more performance-driven, meaningful learning experience to your learners.
In a rapidly changing corporate environment, companies are expected to adapt their business processes and keep their employees up to date with the latest information. But compromising on instructional quality for the sake of rapidly developing and delivering courses is not the answer.
Access our eGuide 'Rapid eLearning Design for Quick Rollout' for useful tips on how to develop courses rapidly without compromising on quality!