Blended Learning for Corporate Training: Overcome 3 Implementation Challenges [Infographic]
Blended learning can give you the best of both worlds – in-person classroom training and online learning. But implementing blended learning needs careful planning. Here are some solutions to the challenges you may face while implementing blended learning.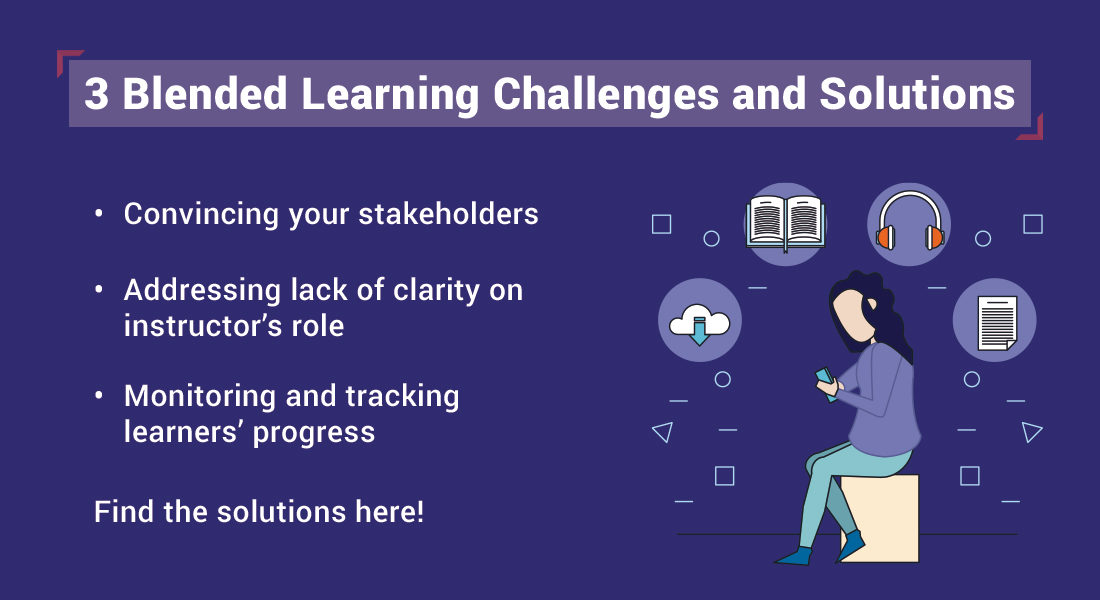 If there was a face-off between classroom instructor-led training (ILT) and eLearning, who will be the winner? Hmm… It is a tough bet, isn't it? Both classroom training and eLearning have their own advantages and disadvantages, both hold equal importance in corporate training, and while classroom training is often preferred, eLearning is more suited for training a global 21st century workforce. Choosing between the two training methods is a dilemma you face every time you envision a training program. But there is one way you can leverage the best of both classroom training as well as eLearning – Blended Learning.
Blended learning is a training strategy that involves both offline and online training practices. It is a carefully structured training plan that can have in-person training elements (classroom sessions, workshops, field visits) and digital learning methods (eLearning, VILT, and microlearning modules for performance support). Each training method is chosen by keeping in mind the learning objectives, complexity of training subject, importance, and need for practice.
Blended learning provides learners more flexibility and scope for self-directed learning than your average sole classroom or online training. Moreover, the use of multiple media and learning approaches caters to different learning styles and preferences of learners.
Blended learning can be a very successful training strategy if implemented properly, but there are quite a few implementation challenges that you will need to overcome. Here is an infographic with some insightful solutions.