4 Tips for the Quick Development of eLearning Courses During COVID-19
Are you looking for quick eLearning development during COVID-19? Read this blog to find 5 ways to enable rapid eLearning development now!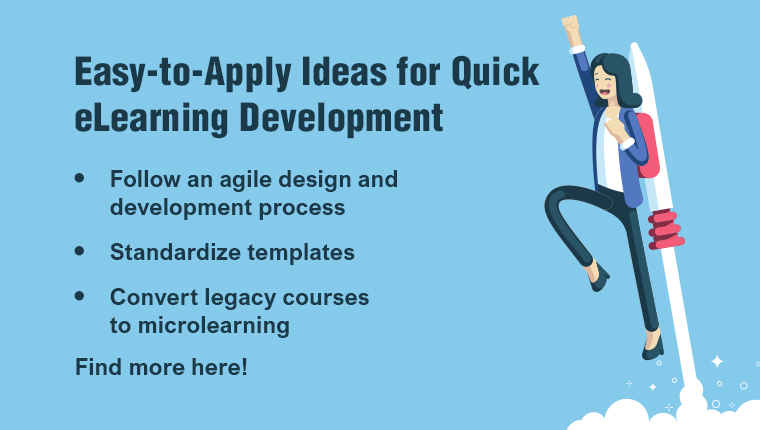 The disruption due to COVID-19 has created tremendous pressure on Learning and Development (L&D) leaders to address new training needs. While some are looking for the incremental digitization of critical ILT content first, others are foraying into the total migration of in-person classroom to online training. All in all, the need for the quick development of eLearning – either from scratch or using existing classroom training resources – is the need of the hour!
How do you Enable Rapid eLearning Development?
Follow an agile design and development process
Standardize templates and elements
Convert legacy courses to microlearning
Use our quick and dirty method to develop courses
Whether you're new to eLearning development or wanting to speed up your current development process, here are some ideas you can implement right away for the rapid development of eLearning courses.
How do you Speed up eLearning Development During COVID-19?
1. Go for an Agile Design and Development Process
Although 'agile design' has its roots in software development, it has been adopted by many other disciplines, including eLearning. Essentially, agile methodology is an iterative and incremental process for eLearning design and development in a highly flexible and collaborative manner.
Unlike the conventional linear design and development process – where scoping and designing is followed by course development – projects driven by the agile methodology are divided into small milestones, called 'sprints'. So, instead of reviewing the final output, the agile framework focuses on one step at a time, proceeding to the next only after sign-off by all stakeholders. This prevents rework and decreases the time to launch an eLearning course.
But, how do you ensure the rapid development of multiple eLearning courses using the agile methodology?
Hold kick-off meetings with the eLearning development team to clarify project requirements and doubts about the subject matter at hand.
Prioritize courses that need to be developed and rolled out immediately. This will allow you to deliver critical training first, and go for the other courses next.
Build a prototype – a fully-functional sample of the final eLearning course – and test it with stakeholders or reviewers for their feedback. This mitigates the risk of late changes in the project.
Use online review tools/apps – such as Lectora ReviewLink, Adobe Captivate Reviewer, and Articulate Review 360 – to reduce review loops. Online review apps/tools allow you to offer in-context feedback, resolve ambiguous ones, and consolidate everything in one place.
2. Standardize Templates and Elements
Standardization is the process of implementing similar design in standard elements of all eLearning courses. Standardization in eLearning contributes to the quick development of courses, helping achieve consistency, especially when different teams are working simultaneously on different courses of the curriculum.
When there is no standardization, chances are each course will be designed differently, leading to lack of consistency across courses, resulting in rework and additional cost and delays.
Here are some elements which should be standardized to enable rapid eLearning development:
Templates: One of the best ways to speed up eLearning development is to standardize templates. These templates can be for common screens such as the 'Welcome' screen, Learning Objectives, Introduction, Assessments, Summary, Interactivity screens, and the Graphical User Interface (GUI). eLearning developers reuse these templates – changing content – without having to design them every time. Moreover, most rapid eLearning authoring tools offer free in-built templates whose design can be tweaked to meet your needs.
Typography: Apart from templates, you should also standardize typography elements such as font style and size for headings and subheadings, the color of highlighted text, style of bullet points, and so on. In fact, to ensure smooth development, you should pass on your organization's style guide at the kick-off meeting itself to the development team. Standardizing typography elements not only helps reduce errors, but also reduces learner distraction.
3. Convert Legacy Courses to Microlearning
Microlearning in online training enhances learner engagement, improves knowledge retention, and caters to the demands of the modern learner by allowing learning in the flow of work. Since microlearning courses are usually only 5 to 10 minutes long, they also take less time to develop.
Microlearning is particularly efficient when it comes to repurposing existing legacy course content. It can be used to break larger training courses into more manageable smaller modules.
ILT Content to Microlearning: Here are some examples of how your existing ILT content can be directly developed into various types of microlearning assets or nuggets.
Q&A sessions in ILT can be converted to micro FAQ modules, either as refreshers or as performance aids at the point of need.
Case studies can be turned into scenario-based microlearning nuggets to practice acquired knowledge.
Recordings of classroom training can be used as a series of micro videos or audio podcasts.
Instructor manuals and learner handouts can become interactive eBooks for in-depth reading.
Legacy Course Content to Microlearning: If you have a lot of existing Flash-based legacy courses or courses developed in software now obsolete, now is the time to give them a fresh lease of life. Flash-based courses can be converted to micro modules, each covering one learning objective, and extracted videos can be converted into standalone video nuggets.
Legacy course content can also be used to quickly develop and deliver online training through microlearning. During these stressful times, microlearning can be a cost-effective and efficient method to train your work from home employees – who can access learning on their mobile devices whenever they need.
4. Use our Quick and Dirty Method to Develop Courses
'Quick' eLearning development can also be delayed due to the non-availability of Subject Matter Experts (SMEs) – not because the SMEs deliberately delay submissions or push deadlines, but because they are high-value professionals with other responsibilities whose primary job is NOT training. They are usually hard-pressed for time, and eLearning is the least of their priorities. But, as they are experts in their own domain, their role is critical for creating effective eLearning courses.
So, how do you make the most of the SME's limited available time for rapid eLearning development?
Try our quick and dirty method of creating eLearning courses with minimal SME touchpoints.
| | |
| --- | --- |
| Step 1 | The Subject Matter Expert (SME) creates a 'quick and dirty' PowerPoint deck. |
| Step 2 | The SME then records his explanation for each slide using the screen recording feature of the PPT. This will help the instructional design team understand what needs to be done. |
| Step 3 | The eLearning development team enhances slide deck by applying new-age creative eLearning designs that appeal to the right brain (design, play, story, symphony, empathy, and meaning), and polishes the narration script. |
| Step 4 | The SME reviews the script and the PPT slide deck. |
| Step 5 | The eLearning team develops the eLearning course. |
That is how you can create eLearning courses in just four steps, without taking a lot of the SME's time.
Pro Tip!

If you're planning to outsource eLearning development or already have a trusted eLearning vendor, ensure they create an online resource library for you. An online resource library for will provide eLearning developers everything they need at their fingertips (so they don't need to waste time hunting for the right images, videos, graphics, or audio files). The key is to build an easy-to-search folder and labeling system within the library that makes resources easy to find. Depending on the type of eLearning courses the vendor handles, resources can be grouped by:
Target audience – such as sales, shop floor workers, marketing and so on
Media type – such as videos, audio, illustrations, images
Templates – screens such as GUI, introduction, learning objectives, and assessment
Type of training – such as sales enablement, safety, new hire onboarding
An online resource library will save your team hours of time down the line with the development process.
As training leaders, you may need to speed up eLearning course development for many reasons. It could be that you need a quicker turnaround in a time of crisis like COVID-19, or you might be seeking to streamline training in general. Either way, these tips will help you with a more efficient, effective, and most importantly, rapid eLearning development process.
Wrapping it Up!
Before I sign-off, here's something that I think will help you – especially those of you who are looking for ways to enhance engagement in eLearning courses – a free eBook you can use to create impressive and impactful rapid eLearning courses.
This eBook talks about 5 instructional design best practices to create effective rapid eLearning courses.