The Secret to Developing Blended Learning Assets Quickly Revealed! [Infographic]
Blended learning supports a variety of digital assets for corporate training – but the question remains – how do we develop them quickly so that learners' performance improves organizational goals? Try rapid eLearning to develop digital assets for blended learning within time, without compromising on creativity.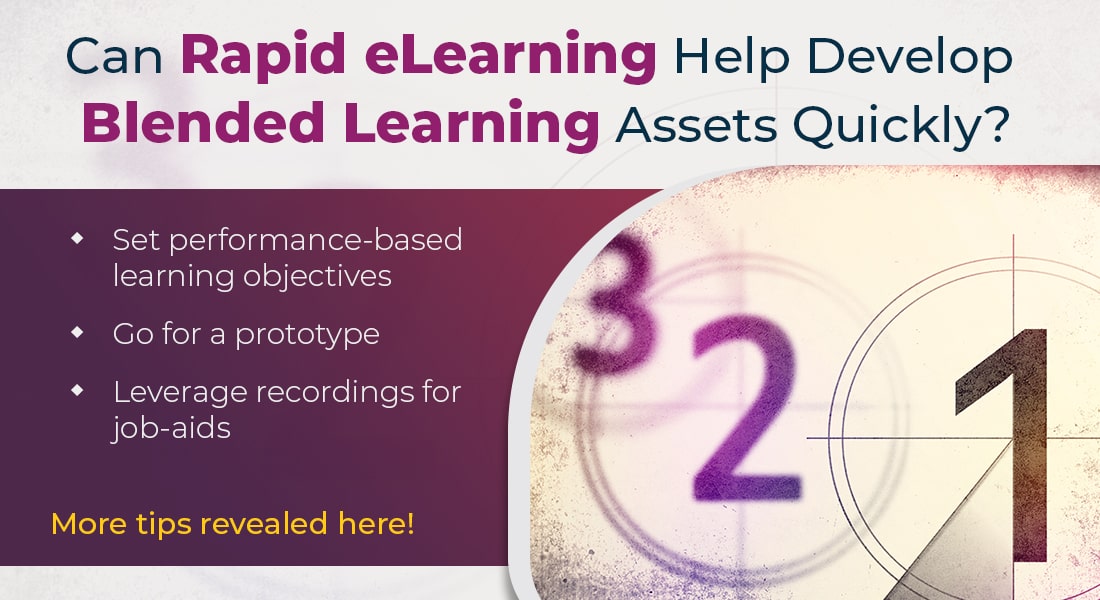 We as social beings crave human interaction and the flexibility of doing things at our own pace – this extends to training as well, and blended learning is the best way to address this duality in corporate training.
Blended learning combines synchronous classroom training with asynchronous online learning, offering the best of both worlds. It enables learners to take self-paced learning, and interact with instructors face-to-face. The synchronous part of the training can happen in brick-n-mortar classrooms or through virtual instructor-led training (VILT). And self-paced training can be eLearning, microlearning, or just-in-time performance support.
Blended learning = Instructor-Led Training + Online Learning (synchronous and asynchronous) + Performance Support
Some Formats that can be Used in a Blending Learning Strategy
Live Formats
Instructor-led (classroom) training
On-the-Job training
Virtual Collaboration: Synchronous
Virtual instructor-led training
E-mentoring
Social Learning
Discussion boards
Online forums
Self-Paced Learning
eLearning modules
Simulations
Scenarios
Online assessments/quizzes
Performance Support Systems (EPSS)
Job-aids
How-to videos
Knowledge databases
Mobile applications
Performance/decision support tools
How Do We Develop Online Assets for Blended Learning Quickly?
While it is good to see the variety of digital assets that can be used in a blended learning framework, the question remains – how do we develop them quickly so that gaps in performance are filled and employees are ready to face the dynamic business environment?
And this is where rapid eLearning can help. Rapid eLearning develops digital assets aligned to organizational goals within time, without compromising on creativity. It does it by utilizing rapid authoring tools, agile project management and ID principles.
There are 4 easy steps to ensure you develop effective blended learning assets with rapid eLearning, quickly.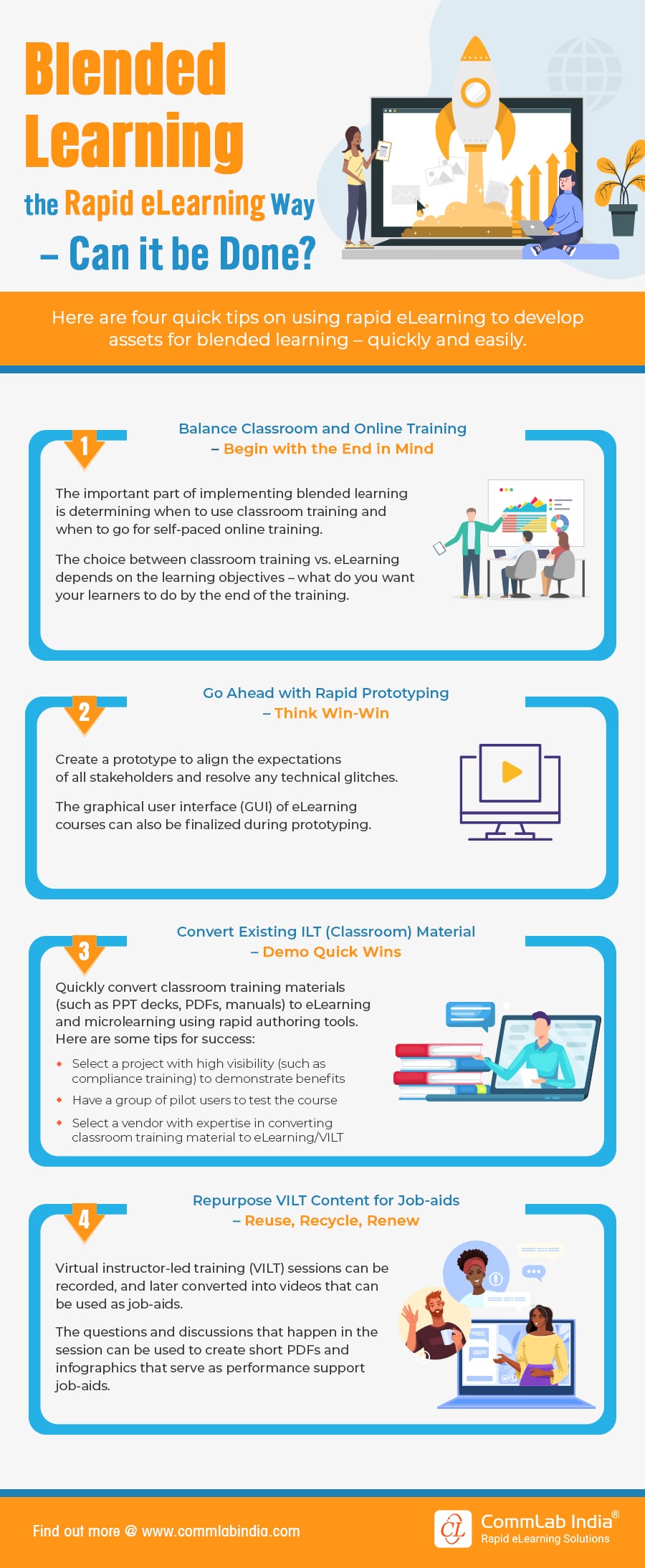 And if you think rapid eLearning is all about publishing PowerPoint decks using an authoring tool or courses with minimal or no instructional design, explore the real rapid eLearning!
Getting Started with Blended Learning
If you need a framework to get started with blended learning, the 55:25:20 model is a good place to look for inspiration.
Experiential Learning (55%)
Scenario-based eLearning
Watch-Try-Do Simulations
Social Learning (25%)
Online Discussion Boards and Forums
User-generated Content
Formal Learning (20%)
Virtual Instructor-Led Training (VILT)
And for more insights on blended learning, don't miss this comprehensive reading guide.