How to Enhance Your Online Training with Social Learning
Social learning engages employees, makes them more confident, and motivates them to perform at their best. Let's dive a bit deeper to understand how to leverage social learning within your online training to improve training ROI.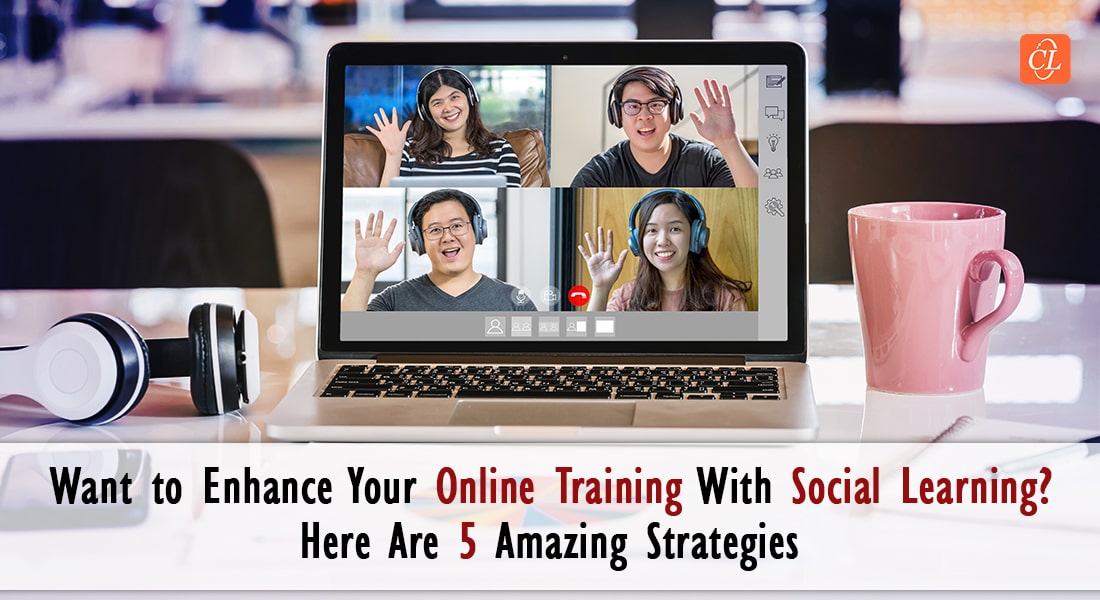 As a child, you all must have attended group learning sessions at least once, and most of the group learning sessions were fun and exciting, isn't it? The fact that group sessions can still be engaging and exciting in the corporate workplace, is fascinating indeed. Learning in groups is a method that can be adopted productively for online corporate training in the form of social learning.
Looking Forward to Improving Your Online Training with Social Learning?
Here are some social learning strategies to help you out –
Organize Live Events
Promote "How-to-demos"
Assign Social Learning Buddies
Drive Interactions with the Help of Podcasts
Create Social Media Groups
Read on to understand how social learning is implemented here.
Social learning helps the employees within an organization to understand each other better and build a positive work culture and a collaborative work environment. In today's era, organizations are following a hybrid work model so employees don't get a considerable amount of time to interact with their colleagues. Social learning can impactfully remove these barriers among employees and they can be trained to work as a team to achieve the company's business goals altogether. Here are a few ways you can enhance your training with social learning sessions to maximize training ROI for organizations.
5 Ways to Enhance Your Online Training with Social Learning
1. Organize Live Events

Covid-19 has made it quite impossible for last gatherings to take place, but with the help of digital advancements, these gatherings can be held virtually. Live sessions can be hosted on social media or video conferencing platforms where learners can clear their doubts, address their problems, or just provide feedback regarding their training sessions, instantly. Discussions and debates can help the learners interact with each other directly and retain the knowledge gained because the interaction would be first-hand. Live events can also be hosted to discuss various aspects of product training like features of a newly launched product and software training the functioning of the latest tools with Subject matter experts(SMEs) and other externally involved individuals or teams.
2. Promote "How-to-demos"
The primary aspect of social learning is to enhance engagement of employees, both with their work and with their colleagues. Organizations have hundreds or thousands of employees, so it's impossible to interact with each other, even virtually, on a practical basis. Hence, "how-to-demos" in the form of audio clips, videos, infographics, and other relevant formats on a specific topic can be shared by the employees, and others can comment their opinions on it or just gain knowledge from it. A "how-to-demo" can –
Help employees learn from each other – Learners can create their own "how-to-videos" on what they learned so far, either in their training sessions or on their own. Thus, employees will get to share their knowledge with each other, and learn collectively.
Help employees demonstrate their skills and expertise – Employees can demonstrate their creativity and skillsets with the help of these "how-to-demos". These skills can be designing skills, creative thinking, or simply knowledge they have in their respective fields of work.
Help employees to gain peer-peer feedback on their work – When their work will be shared on an online platform, it will facilitate collective peer-peer reviews and feedback for that piece of work. Their instructors or mentors can also share an opinion or advice to motivate the learners to keep up with their training sessions.
3. Assign Social Learning Buddies
Social learning, name suggests, works best when learners are paired or grouped together. These learners can consider each other as learning buddies, just like school-life group study sessions, employees can also engage themselves in their online training alongside their social learning buddies. Employees who are newly hired might feel alone in the early days of work, so providing them with a buddy can ease their anxiety a bit and make them comfortable at their workplace. A learning buddy can help them with company laws, office infrastructure, and other relevant queries.
Apart from newly hired employees, there are employees who might have to change roles (which can happen due to multiple reasons), and to get a better grip on their new role, a learning buddy who belongs to their new department can help them out. During or after the training sessions, employees might as well hesitate to share their doubts directly with the instructor, but that won't be the case with their learning buddies.
Assigning social learning buddies can also improve the teamwork skills of individual employees, where they would be assigned a task and have to complete the task with their team. Employees can always learn good habits and skills from their buddies and share their own expertise with them, so the overall upskilling and reskilling of training maintains their flow as well.
4. Drive Interactions with the Help of Podcasts
Unlike live events and web conferences, a podcast allows the learner to learn things on the go instead of being present during the event. Employees are provided with online learning resources or various microlearning in the form of podcasts that are accessible conveniently either during office breaks or after work hours. Auditory learners can benefit a lot from podcasts because they prefer to consume content through audio instead of texts and slides.
Podcasts can drive interactions among employees and support social learning because learners can discuss and at times debate over certain topics or questions included in the podcast. Knowledge about topics like time management tricks, customer satisfaction strategies, or sales techniques can be shared through the training podcasts. Learners can be invited to training podcasts at times as individual or group volunteers to share their experiences or to showcase their expertise. The podcast clips can also be reused in the performance support.
5. Create Social Media Groups
The wave of social media has struck almost everyone by now, and it has tapped the potential that was previously unexplored by other platforms. Creating a social media group can be the easiest strategy to facilitate social learning among employees. Employees can interact with each other freely, share their knowledge, gain insights from others' knowledge, sparkle discussions/debates, or even plan collaborative events through these social media groups. Learners can also be advised to join informative online communities to interact with people around the world. Social media giants like Facebook, Instagram, Twitter, and LinkedIn have already introduced multiple collaborative features and options to provide a seamless social experience for everyone.
Wrapping up!
Social learning can almost double the learner's retention of knowledge if implemented and executed correctly. When employees retain what they have learned, they tend to perform better, and employee performance is directly linked to a company's training ROI. Mobile phones among all the other devices allow the learners to actively participate in most of the collaborative events and sessions, they can further lay the foundation for more creative and comfortable social eLearning sessions. This free eBook can help you to figure out and overcome the implementation barriers of mobile learning in your organization and help you to make it an impactful part of your training strategy.