6 Benefits of LMS That Makes it a Training Manager's Trusted Partner
Training managers have a lot on their plate, and they need some burden off them. But how will that happen? Well, it's simple! All they need is the right LMS as their best friend. Let us state a few reasons how an LMS can help training managers.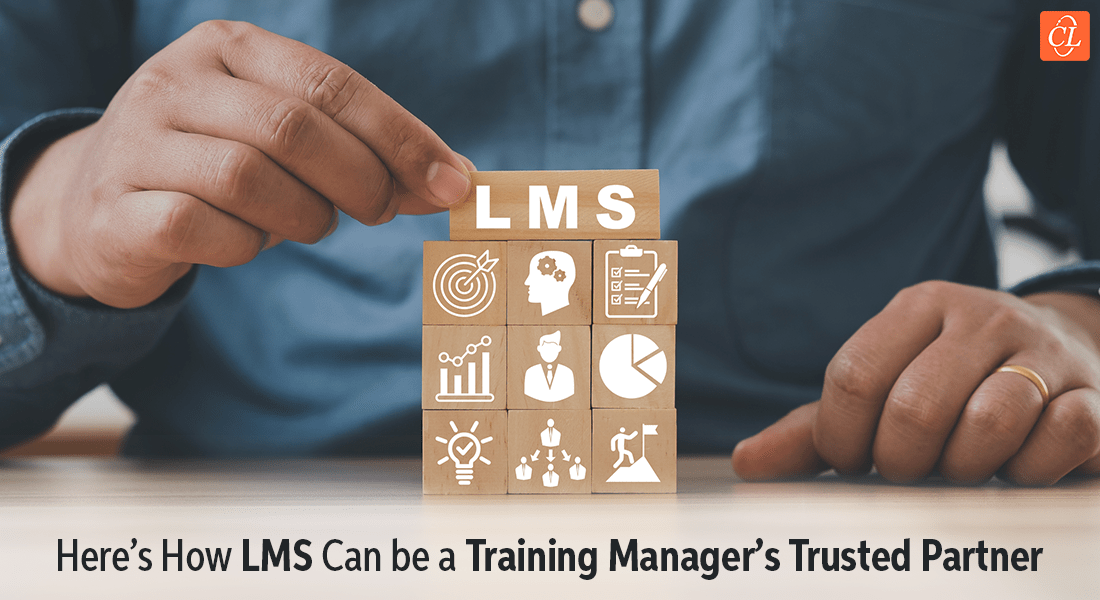 To achieve business goals, recently organizations are more focused on training and learning. However, to assess whether the training provided is giving the desired results, it is important to keep a track of the same. By tracking the course performance, you can enhance the overall efficiency of training. But how do we do all this? The answer is a Learning management system (LMS).
Well, yes! LMS has many uses. Whenever we talk about training, mention of the learning management system (LMS) inevitably comes up! A Learning Management System (LMS) is vast and is not limited to a single feature. It helps organizations manage their training needs much more effectively and promote workplace learning.
Are You a Training Manager Struggling to Enhance Training?
Here Are Some Incredible Uses of LMS For Effective Training:
Managing Courses Better
Tracking Learner's Progress
Offering Easy Accessibility
Helping Training Manager Juggle Multiple Tasks
Read on to Know More…
A training manager juggles a lot of tasks related to learning and training, and while doing all that an LMS serves to be a trusted partner. It helps manage and organize tasks making training managers' work easy and taking some burden off them.
Let us find out some benefits of an LMS and how it helps shoulder some burden of the training managers.
Benefits Offered by an LMS for Effective Training
1. Managing Courses Better
An organization might be having many online courses. But is there an effective way to manage them all? Is there a way to make sure that there is no duplication of the courses? The LMS will help you keep track of the courses of various departments, making their access easy for learners. An LMS will help the training managers to:
Update the courses
Archive duplicate or obsolete courses
Assess the popularity of each course
2. Tracking Learner's Progress
There are many questions that arise during training. The number of learners that are going to access the course and is the course completed by the existing learners. How many learners are in the process of completing the course and which courses are the most popular ones? And yes, training managers will need answers to all these questions. But how do they get them? Well, you got it right! The LMS. It will help you track the learner's progress and get clear answers to such questions.
With the help of learning analytics, an LMS can generate some important data related to online as well as offline training.
An LMS can be used to track:
Course completion rate
Course enrolment rate
The points scored in various courses
Time spent on each course
Popular and most viewed courses/digital assets/videos, etc.
3. Offering Easy Accessibility
What modern learners need is flexibility in training and easy accessibility to learning. Training managers sometimes struggle to make sure that all the learners can access courses easily, and they are always looking for ways to make training effective and flexible for the learners. That's when LMS comes into the picture. An LMS can help to access learning irrespective of time and location. An LMS helps make training effective by providing freedom and flexibility of learning to learners and all the way making training managers' work easier. Also, its being mobile-compatible proves ideal for modern learners and their learning needs.
4. Helping Training Manager Juggle Multiple Tasks
An LMS offers a lot of benefits and can be used for various learning needs. A training manager has to take care of many things at a time. Keeping a track of everything related to training can be difficult. That is when LMS becomes their best friend. An LMS helps training managers manage and organize multiple tasks at a time, it helps them with tasks such as:
Creating and evaluating assessments
Conducting online training sessions
Resource sharing
Creating surveys and sending polls from LMS
5. Improving learning and compliance
Apart from tracking the information related to the courses, an LMS can also be used by training managers to analyze the rate of learning and how much the employees are learning. An LMS can also be used to generate individual learner's reports, it can help track data like:
Recent login and logout
Status and progression of the course
Assessment scores
List of certifications
The overall history of the course
By tracking all this information about learners, training managers can identify the gaps and help to improve learning and compliance.
6. Fostering Continuous Learning Culture
An LMS also supports social and formal learning. It is easy to gain and retain knowledge through interactions and collaborations, social and formal learning both are getting widely accepted to make learning more efficient. LMS is one such approach to promoting social learning, it makes training engaging and collaborative for the learners. Because of it, the learning space is completely revolutionized. Because of the benefits offered by the LMS, learning has become an experience for the learners, they are kept engaged throughout the learning journey.
It's a Wrap
Without an LMS in place, even the best content might not be effective. If you want to make the most of your online courses, you can easily do that by befriending an LMS. And now that I have given you enough benefits of an LMS and why it is essential for better learning outcomes to make online courses more effective, you can utilize it well and get maximum out of your training programs.
LMS will work as a centralized platform from where your learners can access all the training content and you can track their learning. Now that you know all these benefits the next step for you will be to choose the right LMS according to your training needs. Grab our eBook and take away some amazing tips that will help you choose the right LMS.