How the New-Age LMS Make the Lives of Learners and Training Managers, Better
Is your existing Learning Management System meeting your evolving training needs? If it isn't, maybe it's time for a switch. Explore the benefits of the new-age LMSs and how it can help you overcome business challenges and enhance training ROI.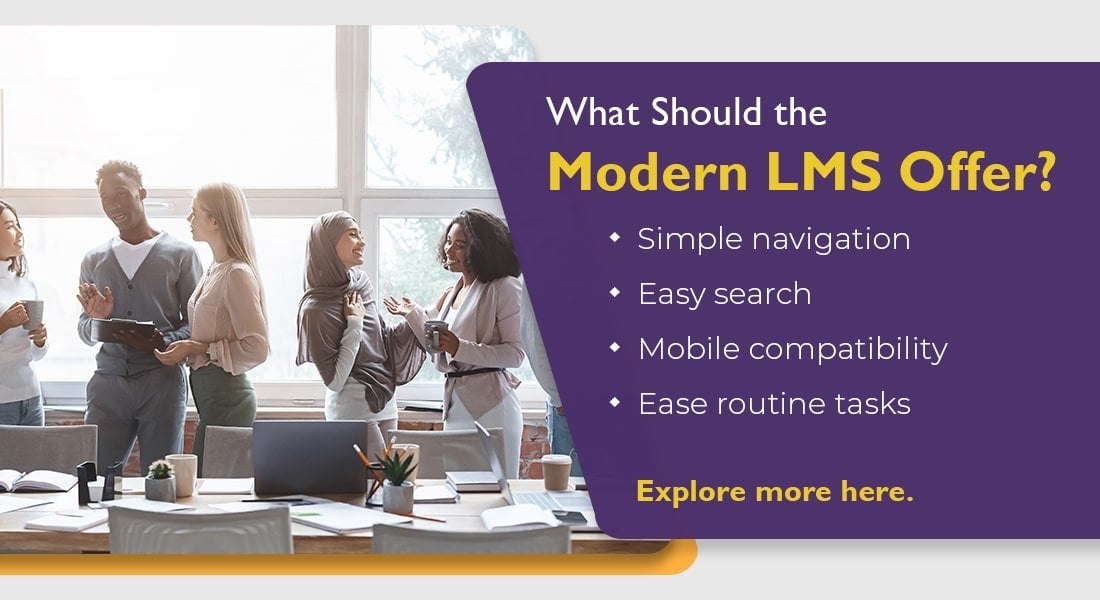 Let's admit it. Corporate training is no longer limited to the classroom. Organizations are venturing into a wide variety of training approaches, right from eLearning to virtual classrooms and blended learning. Managing all of it is not an easy task. And the Learning Management System (LMS) plays a key role in training.
But is your LMS equipped to handle all this? I guess not. And that's why you've landed on this page.
If you are looking for some insights on the new-age LMS and how it can help you meet your evolving training needs, read on.
What Does the New-Age LMS Offer?
For Learners
Easy navigation
Mobile accessibility
For LMS Admins
Easy integration with external platforms
Customized reports
Read more in the post.
What's New in the New Age LMS?
The new-age LMS is not an entirely new concept. Rather, it is an improved version of the old, traditional LMS – more user-friendly, making learning an intuitive process. Let's see what this more modern LMS offers.
Rapid installation and deployment
Flexibility for customization
Content management for eLearning, VILT (Virtual Instructor-led Training), and classroom training
Robust security across domains
Mobile compatibility
Hosting courses
Specific domain interfaces for multiple users (learners, customers, suppliers)
Customized reports in various formats
Communication and collaboration through chats and discussion forums
Those were the important features of the modern LMS. Here's how it can ease the lives of learners, training managers, and LMS administrators in your organization.
How Does the Modern LMS help Learners?
Traditional LMSs were slow, restrictive, and lacked an appealing interface. No wonder learners were not happy using them. Modern LMSs are designed to be learner-centric and ensure a smooth learning experience for your new age learner. They offer:
Simple and Intuitive Navigation
Traditional LMSs had two huge setbacks. First, it was difficult to find courses quickly. And second, learners could only access courses they were assigned to, and not the ones they were interested in.
The new-age LMS provides simple open navigation for learners. It also allows self-guided exploration and pathfinding by learners. Well-designed LMSs have clearly labeled buttons and drop-down menus that make navigation a very simple matter. Learners can move from one learning point to another, always aware of their course progress. This saves a lot of time and effort and enhances the entire learning experience.
Personalized Dashboards
Personalization can enhance the learning experience manifold. Modern LMSs have visual, personalized dashboards that allow customization. Customizing the LMS dashboard according to your organization's branding makes your learners feel more connected. Learners can sort courses based on priority or completion date, and take a peek at recent and upcoming courses.
Learners can also get a clear idea of their course completion status, upcoming due dates, and certification expiry dates with the help of the color-coded dashboards.
Mobile Compatibility for Anytime-Anywhere Access
In the present times when workforces are forced to work remotely, many organizations are converting their classroom training material to eLearning and making it mobile compatible. New-age LMSs offer mobile accessibility that allows learners to take courses from anywhere and at their convenience.
Gamification
Interactivities make courses interesting and facilitate the active participation of learners. New-age LMSs allow the inclusion of gaming elements in courses to help learners learn better and increase retention. Gaming elements like leaderboards, badges, points, certificates make learning sessions more interesting and motivate learners to do better in training.
How Does the Modern LMS Help LMS Administrators?
LMS administrators need to manage a lot of routine tasks as well as customization duties. Managing multiple courses, allotting them to learners, cleaning up the LMS, giving access rights – truly, it's not a cakewalk. But with the new-age LMS, these tasks can be automated or performed more easily.
The new-age LMS helps admins to:
Add new courses and streamline different training plans with rapid 'plug n play' installation
Archive old courses and clean up the LMS regularly
Create user groups and set up access rights
Assign courses and send notifications to learners
Generate customized learning reports in visual formats (pie-charts, line, bar graphs, and more)
Integrate with payment channels
Integrate with external applications and secure access to resources using single sign-on authentication
Integrate with virtual training platforms for VILT (Virtual instructor-led training) sessions
How Does the Modern LMS Help Training Managers?
Training managers need to gain actionable insights based on reports. New-age LMS makes their lives easier as they:
Are compatible with eLearning standards like SCORM and xAPI. This allows them the flexibility to design the course in any format without worrying about compatibility issues.
Are mobile compatible, allowing them to deploy mobile learning preferred by most learners
Generate customized reports that simplify the implementation of learning analytics
Help identify red flags early so that they can revaluate learning plans or make necessary course corrections
Provide multilingual support and help develop courses that can cater to a diverse global workforce
To Wrap Up!
Streamlining training is a challenge for many organizations and your LMS should support your training needs. It is also essential for your LMS to address the evolving needs of your learners, LMS admins, and training managers. So, choose an LMS that caters to your changing training needs, is customizable, and ensures scale and speed. A well-designed and apt LMS can certainly help you overcome business challenges and enhance training ROI.
If you are looking for a comprehensive guide to aid you in evaluating your training needs and choose the right LMS that caters to them, check this eBook now!