The Need for a Second LMS – Reasons Why!
Using a single LMS for all the training needs of all types of users in your organization can be quite challenging. If you are considering a second LMS to manage multiple users and their different training requirements on your LMS, this blog is for you!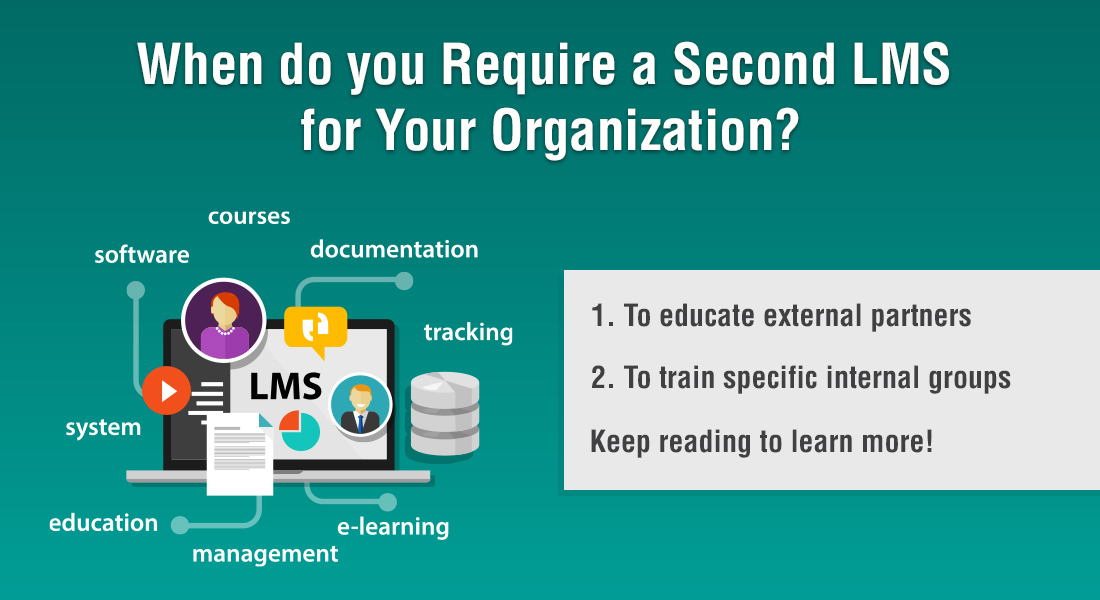 What is an LMS and why do you need a second LMS?
As everyone connected to training and L&D is well aware, an LMS (Learning Management System) is a software application that allows training managers to administer, track, and report training. It also plays the role of a repository of training material.
Earlier, most organizations used a single LMS for all their training needs; but it was becoming increasingly difficult to manage the varied needs of different users (employees, customers, vendors, etc.) within the same LMS. So, organizations began to opt for a second LMS to separate the training for different user groups they were dealing with. That is not all; there are several other reasons why organizations can opt for a second LMS.
Why do Organizations Require a Second LMS?
To educate external partners
To train specific internal groups
And, you can go for a second LMS and still be within your budget!
A second LMS or an additional LMS can be used to:
Train specific learner groups
Train customers, vendors, dealers
Sell training programs to customers
Train employees in different divisions
Create a new hire experience
Provide better IT security
Protect internal content
When your LMS is not compatible with your online training courses, it will only make the road to training more rocky. So, organizations are very careful when choosing an LMS. However, after a few years, they may find they need another LMS. This can happen because the one they have is unable to keep up with the organization's growing needs, or they require a specialized LMS for a specific function. In such cases, the same amount of care should be taken to choose the second LMS.
Here are some points to keep in mind while opting for an additional LMS:
Ease of installation
Level of engagement (gamification and other interactivities)
Cost effectivity for your organization
Compatibility with various plug-ins
The Second LMS: The New Superhero in Town!
Let us now see how and in what situation a second LMS comes in handy for an organization. There are two important reasons for an organization to go for a second LMS:
1. To Train/Educate External Partners
Sometimes, organizations need to train their vendors and dealers also, in addition to their employees. This may include training on the products, safety training, training on navigating through their premises, etc.
Educating customers helps them understand and use your product/s correctly. It is also very important for the organization to build long-term relationships with their customers.
However, in both these instances, the learners do not belong to the organization, they are outsiders. Security is a big concern while providing outsiders access to the organization's LMS for training due to fear of hacking, security breaches, etc.
Organizations have to ensure that proprietary information relating to the company or employee data remains secure. Since the main LMS used by the organization might contain such information, it is important to carefully decide who has access to it.
Therefore, when organizations need their external partners (vendors, customers, etc.) to have access to the LMS, they go in for an additional LMS to maintain safety and security, allowing training managers to deal with external partners and employees separately.
While employees can use the main LMS, external partners can be allowed access to an alternate LMS, whether it is for online training purposes, discussions, or meetings. A second LMS will allow customers to gain access to the course easily, without raising any concerns about security of confidential information.
2. Train Specific Internal Groups
The core LMS of the organization helps manage several important functions. If your organization has several different large groups of internal learners, each group with very different training needs and topics, a second LMS will help with specialized training and customized curriculums for each learner group in the organization.
For example, sales executives are constantly interacting with customers and employees. They need to be trained on sales and negotiation skills. And as they are constantly on the move, they would need shorten training modules on the product portfolio and customer interaction. They also require training to be engaging and highly interactive, and as they are also highly competitive, an element of gamification thrown in.
Modern LMSs (like Effectus) have the option of creating multiple domains within the same platform, where different groups of people, such as key account managers or new hires, can work together. While key account managers will require a highly customized domain, new hires will require one that is user-friendly and easy to navigate through. Each domain can have multiple users (since they can be working in teams, and those teams might have sub-teams), which means each group will only be able to access the domain that is devoted to their needs.
Dividing the functions between two LMSs will reduce the clutter and confusion during training.
Apart from the two main reasons to opt for a second LMS, there is another important point that needs to be kept in mind – the budget! So, how does one avoid heavy costs when going for a second LMS? Let's find out!
Avoid Heavy Expenses – The "Budget-Friendliness" Benefit of a Second LMS
Cutting costs is always going to be a problem. However, there are some steps you can take to choose the perfect LMSs for your needs. All modern LMS offer a wide variety of features, but you should select the LMS based on your users' requirements (both employees, external partners and customers). Not all features offered by the LMS will be needed by your organization. Availing and utilizing only the basic, necessary features is the best way to go. You can always ask the vendor to configure your second LMS in such a way that it allows you to only use the necessary features, while keeping the others turned off. This will ensure that you do not spend money on the extra features, yet have the option to turn them on – no compromise on the quality of the LMS, even as a secondary one! In this way, the heavy expenses for unnecessary features can be easily avoided.
For example, if you have foreign clients who wish to access the course in a different language, you can keep the multilingual feature turned on. Similarly, if you are going to use the secondary LMS only as a repository of content, you can turn off the video, audio, and chat functions. Using multiple domains can also prove expensive; therefore, you can stick to customizing and paying only for the domains you need. Once the goal is achieved, and you no longer need a specific domain, you can ask your vendor to remove that domain altogether. The perks of getting a robust secondary LMS with multiple features is that you can always customize it and turn off functions as per your needs.
Summing it Up!
The LMS plays a big role in making or breaking the process of training in an organization. Therefore, it is important to understand your organization's specific requirements before choosing the most useful LMS. Don't forget to consider the functions it provides, how flexible it is, and your organization's budget.
If you wish to learn more about how to choose the right LMS, take a look at our Beginner's Guide to Learning Management Systems.