LMS – Why Does Your Organization Need It?
The modern LMS is a one-stop solution to all your training needs. With amazing features in its arsenal, the LMS is not just a hosting platform for courses anymore. It caters to a wide variety of users such as learners, training managers, and admins. Explore more.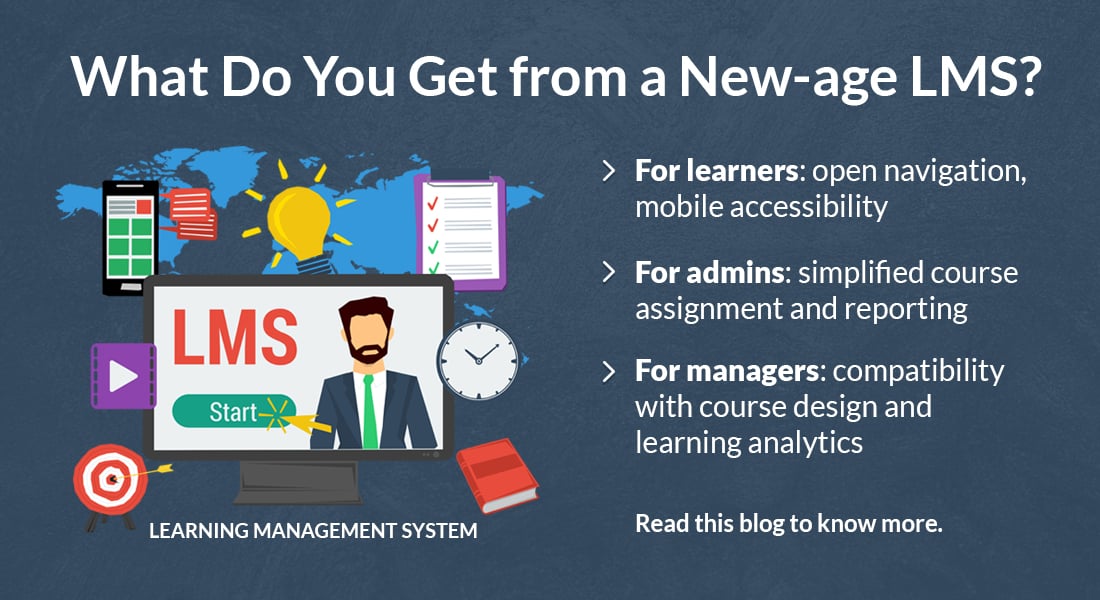 We get it. We totally do. We know you want to bring in a culture of continuous learning in your organization. To have an incredible online learning system in place. And we know you are willing to try every trick in the book to make that happen. But do you have an LMS (Learning Management System) in place to host your online courses and learning resources? If you already are using an LMS and are perfectly satisfied with it, you may stop reading. But if you don't have an LMS, this blog is for you.
What Does an LMS do?
An LMS facilitates the management, delivery, and tracking of an organization's training programs.
Use it to:
Manage courses
Track learner progress
Ease admin and training managers' tasks
Foster a culture of continuous learning
First, let's go through some basics.
What is an LMS?
The LMS is a central platform where you can host all your online courses and learning resources. These courses and resources can then be accessed by your employees, customers, vendors, etc. An LMS facilitates the management, delivery, and tracking of all your training programs. It allows you to:
Centralize all learning resources for employees, customers, and external partners
Host different training materials (videos, simulations, microlearning modules, eLearning courses, PPT decks, eBooks, and more)
Save time and money and improve your training ROI (return on investment)
Let's now discuss why you need an LMS for your organization.
Reasons to Have an LMS
1. Manage courses better
You may be having numerous online courses in your organization. But how do you manage all those? How do you sure there is no duplication of these courses? The LMS can help keep track of different courses of various departments, making it easy for learners to access them. The LMS helps training managers to:
Update courses
Archive obsolete or duplicate courses
Assess the popularity of every course
2. Track learners' progress
How many learners are accessing each course? How many of them completed them? How many learners left mid-way? Which courses are being accessed or viewed the most? Training managers need answers to these questions. And how can you get them? The LMS! It helps you get a clear picture of learners' progress.
The modern LMS generates a lot of data (course completion rates, scores, time spent on each course and on each screen within a course, popular training tracks, most viewed courses/videos/ digital assets, and more). The LMS does all this with the help of Learning Analytics. It also helps track of offline training as well, thus providing you a holistic picture.
3. Offer easy accessibility
You are aware that learners today want flexibility in learning. You can make it easy for them by giving them ANYTIME, ANYWHERE accessibility. Your LMS should help them access content irrespective of their location and connectivity. Your LMS being mobile compatible will suit the needs of fast-paced learners, who are always on the go.
4. Make the training manager's job easy
Modern day LMSs have a lot to offer. Their in-built tools help simplify many tasks of training managers/instructor, such as:
Creating and grading assessments
Sharing resources (including glossaries)
Creating and sending surveys and polls from the LMS
Conducting virtual sessions in collaboration with videoconferencing platforms such as Zoom
5. Foster a culture of continuous learning
The modern LMS supports formal and social learning, along with different types of learning resources. This has completely revolutionized the learning space and helped make learning a continuous process, a journey.
6. Speed up admin tasks
LMS Administrators perform a lot of routine tasks along with customizations. The LMS makes these routine tasks (creating user groups, reports, updating course completion status, archiving old courses, and clean-up) much faster.
Customizations include integrations with various payment channels and with virtual platforms such as Zoom for webinars.
3 Top Characteristics of the Modern LMS
The modern LMS facilitates learning by making things easy and fun for learners. It offers:
1. Simplified navigation
Learners getting lost in navigation, not finding the homepage, or having trouble accessing courses – sounds like a nightmare, doesn't it? But that was a common issue with older LMSs. The modern day LMS offers simple, intuitive navigation. It also has breadcrumbs that help the user know where they are and guide them to the homepage.
You can opt for a customized interface that goes with your corporate branding. This will make your learners connect to it, instantly.
2. Personalized dashboards
You can customize anything these days. Why not dashboards? Dashboards of modern LMSs are a treat to the eyes with colour coded competition statuses, course deadlines, upcoming due dates, or programs.
Also, these LMSs allows learners to add widgets so that they can prioritize courses according to due dates and urgency.
3. Gamification and mobile compatibility
You can foster healthy competition among learners by displaying:
Leaderboards with names of top performers
Training history along with certificates
One of the best features of the modern LMS is that it unlocks badges for learners on course completion. This exciting feature of gamification and leaderboards makes the learner yearn for a perfect score, to see his name displayed among the top performers.
It's A Wrap!
An LMS is essential to make the most of your online courses, informative resources, and content. Even when you have the best content in place, without an LMS, it goes down in vain. Also, your forever on-the-go employees need a centralized platform to access content. The LMS helps you offer just that!