How Does Modern LMS Win Against the Traditional LMS
Where did it all begin? LMS has become a requirement in the current corporate training environment. In this blog, I am going to state a few benefits of modern LMS and how it beats Traditional LMS in today's training environment.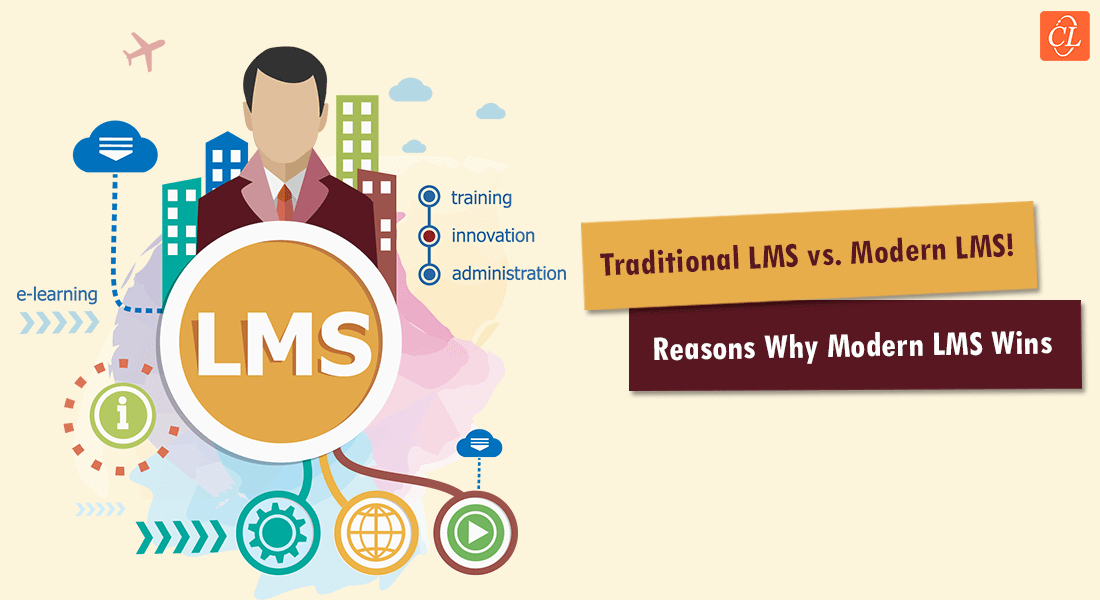 Is change always good? Well, yes, it is. While we talk about the training environment, we can say that change is beneficial, it is good for organizations to stay up to date with the current changes. Efforts are always made by the learning and development teams, and training managers to make training effective and get better learning outcomes. One such change in the training environment is switching from the legacy or traditional Learning Management System (LMS) to Modern Learning Management System (LMS).
Modern LMS vs. Traditional LMS
Reasons Why Modern LMS is Better Than Traditional LMS
It Makes Learning an Experience for Learners
It Simplifies Training Design and Delivery
It Provides Actionable Insights to Training Managers
It Helps Admin to Utilize LMS Optimally
The learning management system (LMS) has gone through many changes since its development. Today it is hard to imagine corporate training without LMS. An LMS works as a single repository for all the training material and helps in managing training processes for eLearning. It also makes many training-related tasks easier by tracking and reporting learning activities. Because of the features offered by an LMS learning courses can be accessed 24×7, also helping in user registration, processing stats, generating reports, etc. These are only a few of the many benefits offered by an LMS.
LMS has gone through changes since its conception. First developed by Sidney L. Pressey as a teaching machine that looked like a typewriter offering different kinds of practical exercises and multiple-choice questions (MCQs) to the modern LMS, which meets the demands of the modern workforce and supports the training needs of the global workforce. LMS has had a long journey and it is still developing.
Let us go through a few reasons why the traditional LMS was not ideal for the current training environment and how the modern LMS is better than the traditional LMS.
Limitations of Traditional LMS
Non-Compatibility with The Mobile Devices
The training with traditional LMS was limited to desktops, as Legacy LMSs were not compatible with or accessible on mobile devices.
Not Easy to Customize
Legacy LMS had little to no scope of customization. It was a major task to make the slightest changes to the user interface or personalize the learning environment.
Not Very User-Friendly
While working with the traditional LMS the focus was always on the technical aspect rather than making it user-friendly. Talking about being not user-friendly, there was little to no support offered after deployment.
Not Good Administrative Features
Traditional LMS may not be very useful for organizations with a large workforce. Even for the smallest routine tasks working with traditional LMS becomes unmanageable and quite complicated.
Not Reliable
Traditional LMS lacked some security features and was open to data security threats. It did not have some necessary features like anti-spam, password authentication, data encryption, safe signups, etc. This could lead to serious security attacks and could put the organization's data and assets at risk.
Almost No Upgrades
Organizations that needed to upgrade their LMSs, and add more features to them for the users, did not have that option. They either had to wait for a long time or even worse get a new LMS platform every time. All of it adds to the cost and effort to start from scratch.
Lack of Analytical Capabilities
Traditional LMS offered limited reporting. It only could track and store data related to online learning activities however, the data was not of much use to trainers.
Now that we know what the traditional LMS lacked. Let us shift our focus towards what the modern LMS has to offer. Let me state a few reasons why the modern LMS wins.
Reasons Why Modern LMS Wins!
Make Learning an Experience for The Learners
Modern learners' needs and preferences were not considered in the case of traditional LMS, New-age LMS makes learning seamless and smooth for modern learners. Because modern LMS learning has now become a journey and an experience for the learners. It offers:
Easy Navigation: Modern LMS offers many user-friendly features. Navigation through the platform is much easier than it was earlier. Finding the required details and data is much easier for learners.
Personalized Dashboards: The modern LMS offers many personalization features to learners. Modern dashboards are very appealing to look at and easy to work on. They get all the required data color-coded for them, for instance, they get details about their completion status, due dates, pending programs, etc. The new-age LMS also offers the learners an option to add widgets like calendars, clocks, badges, etc. and they can also customize it according to their needs.
Mobile Compatibility and Gamification: Modern LMS is mobile-friendly and supports gamification, making training more engaging. Learners are motivated when they get such features while training which leads to effective training.
Simplifies Training Design and Delivery
The modern LMS has to offer many features and in-built tools that make the life of trainers easier. Taking the burden off them contributes to the enhanced efficiency of training programs. It helps in:
Creating Assessments
Grading Assessments
Sharing Resources
Creating and Sending Surveys and Polls
And many more such features to simplify training.
Provides Actionable Insights to Training Managers
The modern LMS helps to track, generate and report a lot of data that make the day-to-day tasks of training managers easier. Also integrating it with the learning analytics tools can help to track offline learning activities too. New-age LMS can be used by training managers to:
Creating specific groups for learners and adding them to it.
Assign various courses to learners.
Track stats related to courses like completion rates, score time spent, etc.
Device a learning path based on the performances.
Helps Admin to Utilize LMS Optimally
LMS administrators have a lot on their plate. They have day-to-day routine tasks that need to be taken care of apart from customizations and integrations. They have routine tasks like generating reports, updating stats related to courses, archiving old courses, regular cleaning of LMS, setting access right and assigning users, etc. The modern LMS proving to be an ideal learning partner helps them to make those tasks easier.
It's a Wrap
An LMS works as a storehouse for all your learning needs and more. Starting from something basic, an LMS has now become a trusted learning partner for many organizations. New-age LMS offers solutions to many learning needs. The simplicity it offers making it user-friendly, yet it packs many features that make training engaging, effective, flexible, and fun. Isn't it too good to not be considered? Do you need more reasons to love LMS? Well, let me help you with it. Grab our eBook and explore all that you need to know about LMS and also get some amazing insights to choose the right LMS.