The 6 Key Benefits of Online Learning to Enhance Training Outcomes
Are you looking for ways to enhance your training outcomes? Do you wonder how you can upskill your employees? Explore 6 key benefits of online learning and the variety of methods you can use to keep your learners engaged.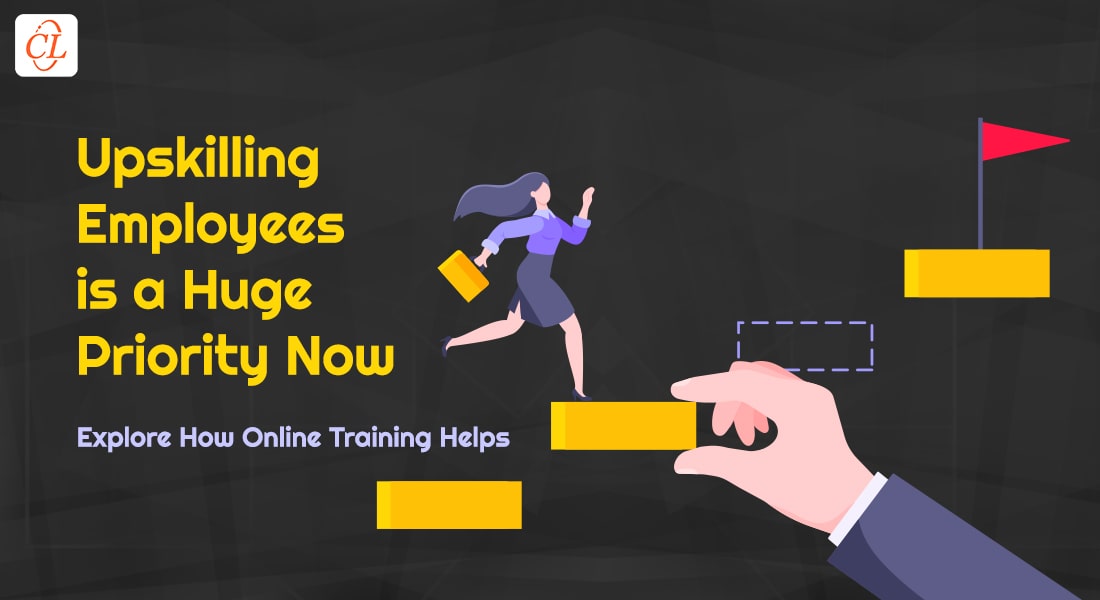 For decades, corporate training has played a crucial role in equipping employees with the knowledge required to boost productivity, improve operational efficiency, and meet the company's bottom line. However, with the emergence of new business technologies and new generations entering the workplace, there is an increased need for reskilling and upskilling employees that traditional training methods can't meet. To keep pace with the evolving landscape, many companies are adopting online learning-an unconventional approach to training.
With the recent adoption of remote and hybrid models, it has become daunting for companies to schedule classroom training for their employees. Considering employees have their work to think about, cramming learning into tight sessions can render your training strategy ineffective.
In this blog we discuss the benefits of using online learning to upskill employees and enhance your corporate training outcomes.
Corporate Training for the Modern Business Landscape
The role of corporate training has always been to ensure employees have the skills and knowledge to tackle emerging problems or undertake specific tasks. However, the medium through which they transfer this knowledge has continued to develop based on technological advancements, best practices and standards, and successive workforce generations.
For instance, online learning has become a popular alternative to traditional instructor-led classroom training as it offers manifold, unique benefits that are fit for the modern era – flexibility, time management, virtual collaboration, and instant accessibility.
Wondering How to Enhance Training Outcomes?
Here are 6 key benefits that can prove useful:
Self-paced Learning
Better Time Management
Increased Collaboration
Enhanced Agility
Improved Critical Thinking
Progressive Soft and Hard Skills
Today, businesses arrange corporate training to:
1. Be Fast-Tracked
Time is money in the corporate world, and the modern generation expect their companies to make things happen quickly. With rapid eLearning, you can develop your eLearning courses quickly without compromising on quality. Rapid eLearning ensures that employees are meeting their business objectives on schedule. It accomplishes this through training which helps close performance gaps.
2. Be Role and Career-Oriented
The core purpose of corporate training is to ensure employees perform their roles more efficiently and to prepare them for bigger and more important responsibilities. As employees gain new skills in their field of expertise, they can use this to advance their careers.
3. Be Super-Specific
Jobs today are super-specific when compared to the past few decades. In addition, skills are rapidly digitizing, and this require employees to actively participate. As a result, modern online learning typically focuses on pragmatic issues and proposes short-term benefits to both the organization and the employee.
4. Offer a Healthy Return on Investment (ROI)
Modern online learning programs should offer a healthy (ROI) return on investment. It can be hard to calculate the ROI of training investment accurately. Still, managers can compute the benefit of training using predetermined key indicators and training costs.
However, as the effects of learning take time to manifest, many organizations are going for shorter courses at regular intervals to reduce the wait time.
Benefits of Online Learning for the Modern Business Landscape
If you're still on the fence about integrating online learning into your training strategy, check out a few major benefits it brings to the modern business landscape:
1. Self-Paced Learning
Considering the pace of today's corporate dimension, employees put their daily tasks on hold and go for classroom training. This is where online learning comes in. Online learning engages learners on several formats such as VILT (Virtual Instructor Led Training), microlearning videos, and unique blended learning solutions to enable training and professional growth on the learners' own initiative . This way, employees don't have to worry about working late or skipping meetings to join in training.
A few employees may also not feel comfortable asking their managers and instructors to repeat a point or clear their doubts. With online learning, employees can go back to their training material including product features, policies, operational best practices, and they can rewind courses to improve their recall. This also increases flexibility and enhances employee productivity and training outcomes.
2. Better Time Management
Although your team works remotely, juggling office, family, and off-the-clock activities can't be easy. That's why, modern managers and organizations need to recognize and admire the time management it takes to balance all three activities. They need to make learning easier without disrupting that balance.
Since online learning doesn't require learners to join in-person, they can be flexible and create their own schedules based on their work-life balance.
3. Increased Collaboration
Corporate training can be challenging in remote workspaces, especially if employees need to commute to participate in a session. Online training makes learning easy. It also boosts collaboration through asynchronous communication models.
Online learning programs include virtual sessions to facilitate learner-to-instructor and learner-to-learner interaction vis-a-vis email and other software solutions. This way, managers get teams to communicate ideas, receive feedback, and resolve queries while also building relationships. Popular communication channels include Skype, Zoom Meetings, Slack, Trello, and Basecamp, to name a few.
4. Enhanced Agility
Learning and development teams combat emerging market issues quickly using online learning platforms and they also get to save on time, energy, and costs. Instead of arranging long training sessions, they can produce short courses and virtual sessions to strengthen the learning curve and also create valuable resources.
For instance, microlearning videos provide concise modules that allow them to take in bite-sized learning nuggets in the flow of work and apply them instantly to their tasks.
Online learning also makes sure employees focus on the training resources they need. This way, they integrate digital learning into their jobs and enable their managers to follow the agile approach that facilitates learning in short, virtual, and iterative cycles.
5. Improved Critical Thinking
Online training facilitates critical thinking and self-improvement in a safe environment. Popular online formats include simulations, case studies, scenarios, role play, and asynchronous activities.
Modern businesses want employees to share ideas, communicate openly, and master new skills. By fostering a culture of self-learning, employees are allowed to understand the link between workflows, identify inconsistencies and errors in reasoning, and approach problems systematically and consistently without too much intervention. This also makes sure employees are more confident and motivated at work.
6. Progressive Soft and Hard Skills
Since online learning requires working with technology such as virtual communication software, learning management systems, and eLearning courses, employees have the opportunity to improve their technical skills. There's barely any room left for digital nomads today, as most businesses rely on technology to conduct operations. Shifting to an online learning model can build some of the most sought-after soft skills in the market including adaptability, organization, prioritization, effective communication, and creativity.
Bottom Line
If you're considering online learning for your corporate training strategy, be sure to consider all the benefits it offers. With the help of eLearning design and development, you can tailor your web-based material to your employees' specific requirements and improve them based on changes in technology and state-of-the-art corporate practices.
So now that you are aware of the benefits of online learning, it is imperative that you know how classroom training material transforms into eLearning. Get all the insights from this webinar- "Is Your Training Material Ready for eLearning?" Download now!