How L&D Professionals Can Navigate the Transition from ILT to eLearning?
Converting ILT to eLearning is a crucial step for any organization looking to keep up with the fast-paced world we live in. But how can you ensure that your eLearning courses are effective and engaging? Join our most-awaited event LearnFlux to explore!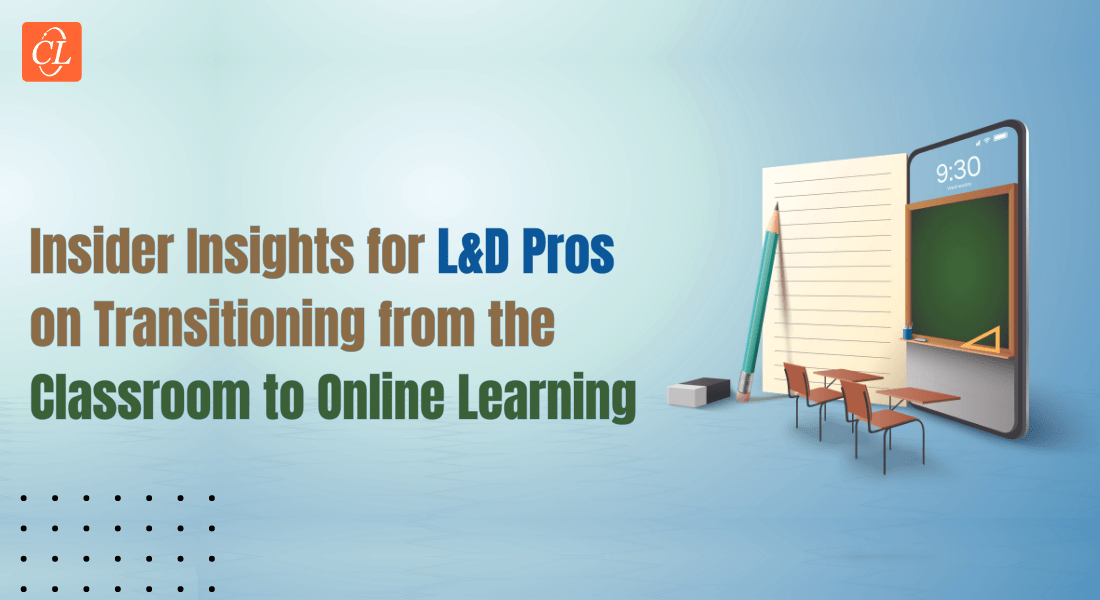 Are you still relying on the traditional classroom approach to deliver your training programs? Well, it's time to make the switch to eLearning!
With the fast-paced world we live in, it's crucial to adapt to new technologies that can enhance the way we work and learn. This is especially true in the field of learning and development, where eLearning has become the norm. If you haven't made the transition yet, you might be missing out on a lot.
So, what's holding you back? Take a leap of faith and convert your Instructor-led Training (ILT) material to eLearning now!
Let's start!
5 Best Practices to Convert ILT to eLearning
1. Start with a comprehensive plan:
Before you start converting your ILT content to eLearning, take the time to draft a clear and comprehensive plan. Identify your learning objectives, target audience, and the delivery methods. This will help you design and develop an eLearning program that is both effective and engaging.
2. Chunk your content:
Always remember to segregate your need-to-know content from nice-to-know content. Need-to-know content is essential and unavoidable to ensure successful completion of training and achieving the learning objectives. Whereas, nice-to-know content complements the need-to-know content for better understanding of the concepts and offers a more holistic approach to learning. Moreover, the nice-to-know content can also be related to the interests of the learner.
Use multimedia elements:
To keep learners engaged, it's important to incorporate multimedia elements like videos, audio, animations, images, etc., into your eLearning courses. It not only makes the content more interesting and engaging, but also helps reinforce key concepts and ideas for better employee performance.
4. Design for accessibility:
Right training material needs the right audience to fulfill its purpose. Therefore, when you're converting ILT to eLearning, it's important to design your training courses keeping the accessibility element in mind. Consider the device and browser compatibility to ensure that your content is accessible to learners across the globe, at any time.
5. Evaluate and improve:
Once you have your eLearning courses up and running, don't forget to evaluate their effectiveness. You can do so by collecting feedback from learners and using analytics to measure the training's impact. These learning analytics will help you in developing better, relevant, and learner-centric eLearning courses for successful training outcomes.
So are you ready to put this theory into practice?
*Nervous chuckle*
I understand that taking the first step can be intimidating. Maybe you think that eLearning is too complicated, expensive, or time-consuming to implement. But don't worry! It doesn't have to be that way anymore. In fact, the truth is, making the switch from ILT to eLearning is easier than you think.
And our upcoming event LearnFlux can help you get started.
That's right! Get ready to convert your ILT material to eLearning in all confidence and grace by learning from the eLearning experts themselves. At LearnFlux, you'll learn from experts in the field who have successfully made the transition from classroom training to eLearning. They'll share their valuable insights and best practices, and even answer your rapid questions. You'll discover how to create engaging and interactive eLearning courses, how to choose the right tools and technologies, how to measure the effectiveness of your training programs, and a lot more!!
Wrapping It Up!
The clock is ticking, and you don't want to miss out on this opportunity. If you want to stay ahead of the game and ensure the success of your organization, you need to make the switch to eLearning. And attending this event is the first step.
So, don't wait any longer! Register now for the LearnFlux and take the first step towards a brighter future for your organization. See you there!