Challenges, Solutions, and 5 Best Practices for Seamless ILT to eLearning Migration
Classroom training is slowly being replaced by eLearning in corporate L&D space. Are you too looking forward to switching to eLearning? Read on to understand the challenges you might face, probable solutions, and 5 best practices for seamless conversion of ILT to eLearning.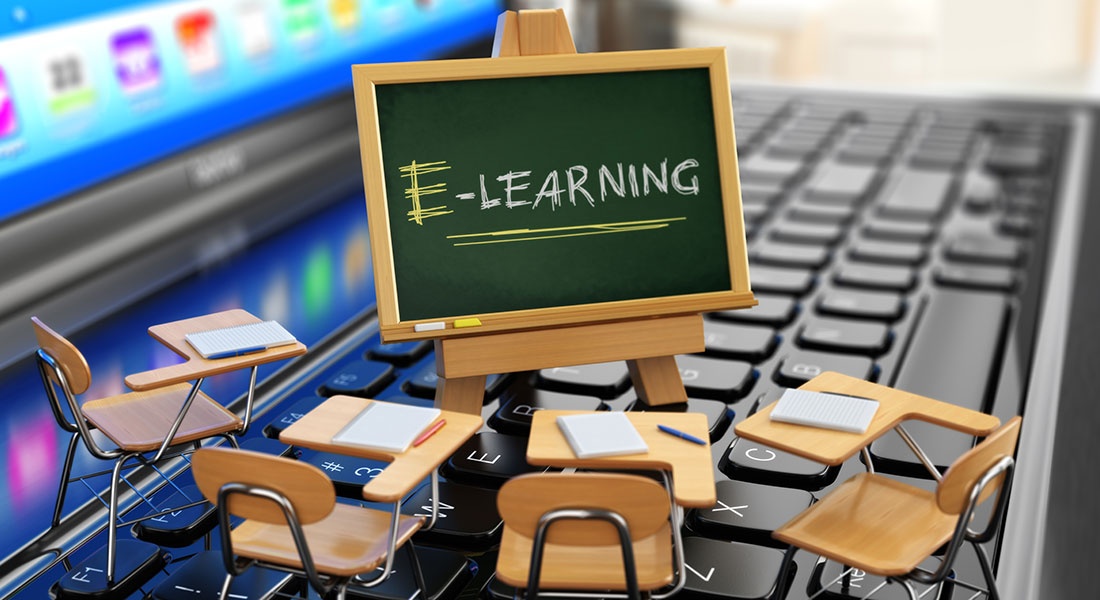 Let's face facts! Classroom training or instructor-led training (ILT) used to be the preferred training format for most organizations. But eventually, it is taking a backseat and eLearning is now gaining much popularity, especially in the post-pandemic scenario. Are you still relying on the conventional classroom approach to deliver training? Well! It's time to switch to eLearning. Why give a second thought when eLearning is helping organizations with continual learning, enhanced employee productivity, and positive ROI? Read this blog to get insights on the best practices to get your ILT to eLearning conversion right.
Are You Planning to Convert Your Classroom Training to eLearning?
Follow these best practices for seamless conversion:
Know your learners
Examine the learning environment
Revisit the learning objectives
Analyze the content
Think of an appropriate instructional design strategy
Why Convert ILT to eLearning?
With the remote work model becoming the new norm, most organizations are going global and have a cosmopolitan workforce. If you are one among them, you understand the hassle of ensuring uninterrupted training for a globally dispersed workforce. So, what's the way out? Adapting to new technologies is crucial to keep up with the evolving training needs of modern learners. And hence converting classroom training to eLearning is a viable option to ensure undisrupted training and drive desired results.
Converting classroom training to eLearning offers:
Flexibility as eLearning facilitates self-paced learning at the learners' convenience.
Cost-effectiveness as you cut down on costs related to infrastructure, logistics, and other costs.
Scalability and accessibility as you can host the eLearning courses on the learning management system (LMS) and the learners can access the courses on any device owing to the responsive design.
Challenges While Converting ILT to eLearning and Ways to Mitigate Them
Converting classroom training material to lengthy eLearning courses is not the solution. It is important to design an eLearning course that is:
Learner-centric
Engaging
Flexible
And gets you better learning outcomes.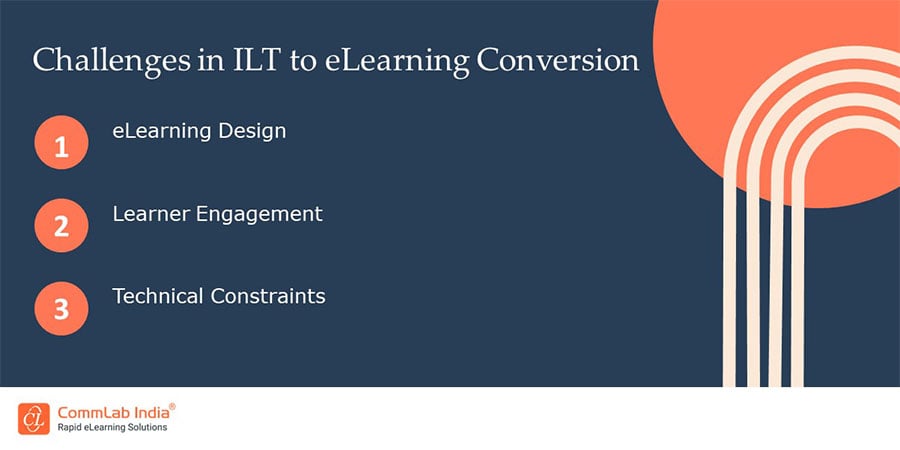 Here are a few challenges that you might face during ILT to eLearning conversion and ways to mitigate them:
1. eLearning Design
It is certainly not a cakewalk. Converting ILT to eLearning, while keeping the essence of the classroom training intact is a challenging task. It involves brainstorming on how the content is to be designed and delivered to cater to learners in a virtual environment. The content has to be engaging and interactive to compensate for the absence of a physical trainer. You should consider new-age instructional design strategies like storytelling, scenarios, and gamification to drive learner engagement in eLearning courses.
2. Learner Engagement
Classroom training entails regular interaction with the trainer as well as with fellow learners. This boosts engagement and enhances learning. However, eLearning can be boring if the content doesn't provide scope for interaction. It is important to think of possible ways to make the eLearning content engaging to motivate learners and enhance participation.
You can think of adding interactive elements like gamification and branching scenarios to make the content engaging and offer an immersive learning experience. Incorporating multimedia elements like videos and animations also add a fun element to the eLearning courses. Not only the content, but the assessments should also be interactive enough to challenge learners and boost course completion rates.
3. Technical Constraints
Converting ILT to eLearning is digitalizing classroom content. You should have the necessary infrastructure in place for successful conversion. You can opt for easy-to-use authoring tools like Articulate Storyline 360, Articulate Rise 360, Adobe Captivate, etc., which have a short learning curve to get started. If you still find it difficult you can always look for an eLearning outsourcing partner to take care of the design and development. However, designing a responsive course that's accessible on various mobile devices is not just enough. You should also have an LMS in place to host and deliver eLearning courses.
5 Best Practices to Convert ILT to eLearning Seamlessly
1. Know Your Learners
Knowing the learners is the first and basic step to getting started. After all, you are designing the eLearning course for them. Find out their readiness for eLearning. Make a note of their age, job profiles, geographical location, and technical competency to help you design an eLearning course that is just right for them.
2. Examine the Learning Environment
It is important to identify the learning environment of the learners. Unlike classroom training, where the learning environment remains the same for all learners, eLearning courses can be taken up anywhere and anytime, be it the workplace, home, or, on the go. Knowing the learning environment can help you determine the digital formats that can be used to deliver training.
3. Revisit the Learning Objectives
The existing ILT material can be used as a base to design multiple short eLearning modules. So, it becomes important to revisit the learning objectives. Once you determine the performance-based learning objectives, it becomes easy to decide on the content for each module, instructional strategy, duration, and cost of conversion.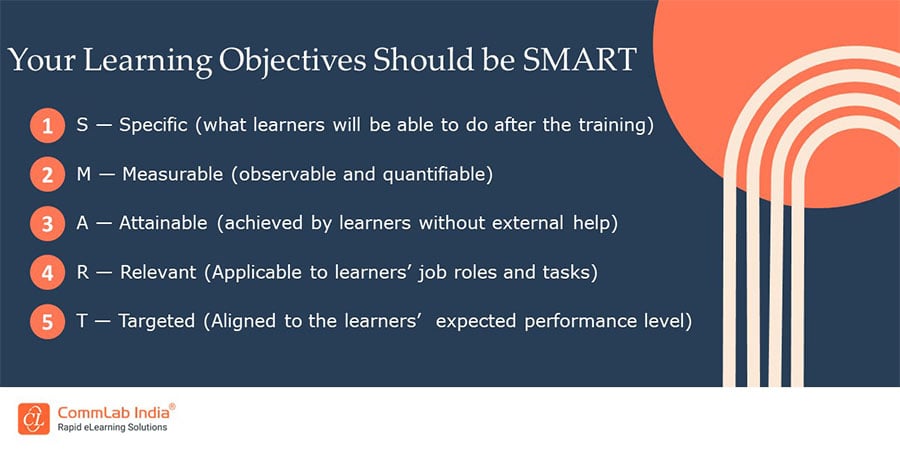 4. Analyze the Content
The classroom content in hand can be extremely vast and sometimes, it becomes difficult to chunk the content in hand to make it relevant to the desired topic. It is essential to understand the topic for each module in detail. This also helps you to identify any possible gaps in the existing content and take necessary actions to collect the missing elements and then design the final content.
5. Think of an Appropriate Instructional Design Strategy
Once your content is ready, you can decide upon a suitable instructional strategy like storytelling, scenarios, or simulations to meet the set learning objectives. This also enables you to decide upon the level of interactivity for the eLearning course and also the type of assessments (multiple-choice questions, drag and drop, and more) to evaluate learning.
Finding the Middle Ground — Go Blended Learning!
Like every other sphere, the corporate L&D space is also advancing at lightning speed. And you need to keep up with the evolving learning styles and preferences of modern learners. With hybrid work model becoming the new norm, it is better to take the middle ground and go for blended learning. Blended learning offers the best of both worlds to your learners and drives better results. Blended learning helps you to create a balance between ensuring a human touch in classroom sessions and allowing the flexibility of self-paced learning via various digital learning formats.
Rather than converting the ILT material to lengthy eLearning modules, it is better to repurpose the existing content to design a variety of digital learning assets depending on the learners and the learning environment.
Accelerate time to proficiency with blended learning! Watch this video for insights!
How to Repurpose Your Classroom Training Material for Blended Learning
If you have been into learning and development for quite some time now, you must be having a pool of classroom training content in the form of handbooks, PPTs, or training manuals. Depending on the learners, learning environment, various learning styles, and preferences, you can repurpose the classroom material into various digital learning formats. Popular digital learning formats like eLearning, virtual instructor-led training (VILT), microlearning nuggets, and video-based learning modules can be used along with classroom training sessions to offer a perfect blended platter for an immersive learning experience.
It's a Wrap!
Converting the classroom training to eLearning requires a well-thought action plan. Hope you find the blog insightful in making a smooth transformation from ILT to eLearning. Follow the best practices mentioned in the blog for hassle-free and seamless conversion of your classroom material to engaging and learner-centric eLearning courses. Still have questions? Well, grab a copy of this comprehensive eBook to quench all your queries about classroom-to-eLearning conversion.