Virtual Instructor-led Training – A Quick Overview for Training Managers!
The essence of virtual instructor-led training (VILT) is collaboration. Explore what VILT is, its main elements, common challenges, and solutions to those in this post. Get set to leverage the effectiveness of VILT for corporate training.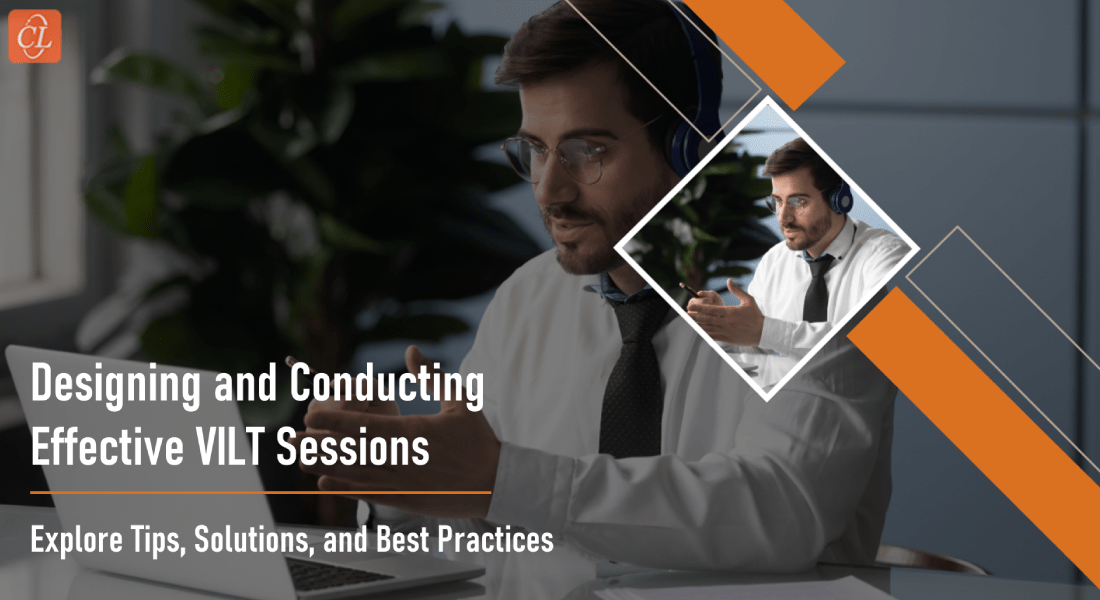 Virtual instructor-led training (VILT) has gained tremendous momentum ever since the pandemic hit the world. Training managers around the globe who were searching desperately for viable alternatives to classroom training found it in VILT. No wonder that a survey by Training Industry shows that web traffic related to VILT searches has gone up by a whopping 8135%. This blog takes us around this very effective format of corporate training and how VILT is different from other training methods.
But first let's take a quick look at the types of online training.
Types of Online Training
Synchronous – In this type of training, the instructor and learners participate in the session at the same time, whatever the location. There is a lot of scope for interaction between the learner and the instructor, and even among learners. Virtual classrooms and webinars are some of the more popular types of training in this mode.
Asynchronous – This type of training is self-paced, with learners accessing the training at their convenience, sans the instructor. eLearning and its avatars (mobile learning, microlearning) are good examples of this type of learning
An Overview of VILT for Corporate Training
Explore Solutions to Common VILT Challenges
Lack of rapport and trust – Have icebreaker sessions
Lack of visual cues – Use polls
Distractions – Set ground rules
Explore more in the post.
What is VILT?
VILT is a form of synchronous online training that is delivered in a virtual environment with the instructor and learners participating in the session at the same time, but from different locations. VILT offers all the benefits of the traditional classroom including the human touch. And it does that without all the hassles (scheduling, travel, logistics, cost, etc.). commonly seen with classroom training.
Here's how you can replicate the real classroom, virtually.
The two key factors for effective VILT are content and technology.
Content
Like any other format of training, content is the most important factor for effective knowledge sharing in VILT. Most organizations who have been training their employees in the classroom will have loads of material (instructor guides, reference materials, handouts) at their disposal. This material will form the base for the virtual ILT also.
However, it is important to remember that the classroom material should not be used 'as is' for VILT because the virtual classroom needs to compensate for the fact that the instructor is not physically present (only present virtually) and there is no direct collaboration.
So, the material must be worked on and redesigned in such a way that it helps build rapport and trust and also makes learners active participants in the session.
Technology
Several platforms are available to conduct virtual sessions – Google Classroom, Skype, Miro, Microsoft Lync, and more. Each of these platforms have their own limitations and strengths, but all of them offer a variety of tools that help replicate the information sharing and collaboration of the physical classroom. For instance, all of them offer options for:
Chat which facilitates easy one-on-one conversation amongst participants and with the instructor.
Polls that help the instructor feel the pulse of the participants and quiz them on the topics covered.
'Raise Hand' option that helps participants bring something to the notice of the instructor.
Challenges of VILT
Though it is a very effective format for training, VILT comes with its own set of unique challenges.
Lack of rapport and trust
Lack of visual cues
Reduced attention spans
Distractions
Technology issues
Most of these challenges have very simple solutions.
Lack of rapport and trust
In the physical classroom, the instructor can see the learners and make eye contact, which helps build immediate rapport between them. Because this is not possible in the virtual platform, an initial round of introductions from both sides can help break the ice. Posting short bios with photos, if possible, will also help put faces to names. It helps if the instructor can get to know the participants before the session through email exchanges.
Lack of visual cues
This can lead to learner disengagement. Unlike the classroom instructor, the VILT instructor has no visual cues to help gauge the mood and attentiveness of the audience directly. But the raise hand and chat options can help indirectly by assessing the attentiveness of participants. Collaborative exercises and polls can also help.
Reduced attention spans
New age learners have a very low attention span. They also get bored very easily. Using the same old PPT decks can cause them to switch off. Here are a few ways you can overcome this challenge:
Break the session into smaller ones.
Present information in diverse formats.
Engage them through anecdotes, war stories, etc.
Give short 5-minute breaks for them to stretch their legs and come back.
Distractions
As participants are not in a classroom under the instructor's eye, there is every chance for them to be distracted. And that's especially true in this digital world. E-mails, phone calls, WhatsApp messages, text messages, social media tweets, there is a literal barrage of distractions for today's virtual learner. So how do you combat them?
Set ground rules for participants (turning off phones, not sending or responding to e-mails).
Use activities like breakout rooms and polling questions frequently to keep them engaged.
Technology issues
Both the instructor and the participants may be unfamiliar with the technological platform being used. It's a good idea to have an orientation session before the VILT itself. Ensure your Internet is up and running and have a Plan B to fall back on, especially for media elements.
It's A Wrap!
So that was all about VILT. But before saying adios, I'd like to clear the air about an important misconception about VILT. Often, the terms VILT and Webinar are used interchangeably. That is INCORRECT. VILT is totally different from a webinar. Why? Let's see.
The essence of the virtual classrooms is 'collaboration.' However, in webinars, the interaction is mostly one way with the instructor or presenter doing most of the talking. Though participants are encouraged to share their opinions or answer questions through polls, there is no 'collaboration' in webinars. So, we can safely say that VILT is neither a webinar nor a videoconference. It is much more than that. And if you want to learn more about it, check this beginner's guide to virtual instructor-led training.