Why Virtual Classrooms are More than Just Webinars
'Webinars and virtual instructor-led training are same.' No, not really! These are two different training formats with VILT clearly having an edge over webinars. Discover 5 distinct characteristics of VILT that are different from webinars.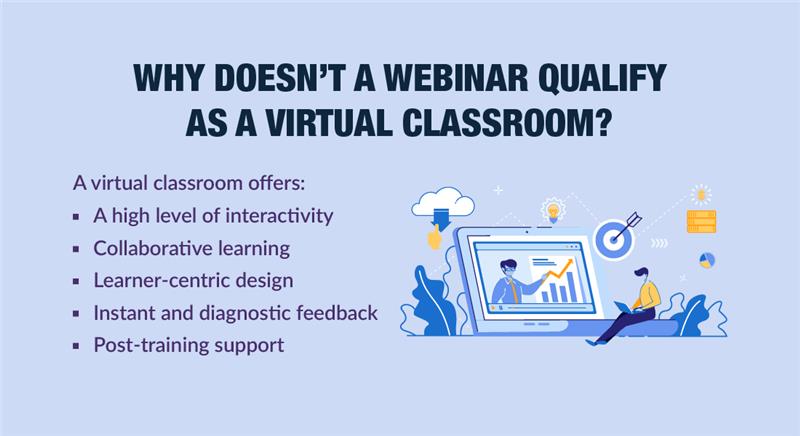 Both are online methods of corporate training, both are synchronous, both use virtual conferencing platforms – so what's the difference between webinars and virtual classrooms (virtual instructor-led training or VILT)? Why should you choose one over the other?
How is VILT Different from Webinars?
High level of interactivity
Collaborative learning
Learner-centric design
Instant and diagnostic feedback
Post-training support
Drawing from my experience as an L&D blogger, I've outlined 5 characteristics of VILT (which is becoming increasingly popular because of social distancing) that make it different from webinars.
But before that, shall we look at what these two actually stand for?
Webinars vs. Virtual Classrooms
If you've been mistaking virtual classrooms for webinars (or vice versa), it's time we clarified things. A well-designed and effective VILT session (for employee training) shouldn't be anything like a webinar.
Webinars use a 'broadcast' style of delivering information, messages, and overview/updates to an audience. This 'one-to-many' information sharing format offers limited opportunities for interaction between instructors and learners (providing only polls, chats, and an end-of-session Q&A round). They are best suited for providing updates about a product/service, introducing something new, or refreshing something done earlier.
VILT sessions, unlike the 'one-to-many' webinars, are virtual replicas of in-person classroom training. They allow for a higher level of interaction as opposed to merely having a concurrent chat option while the instructor runs through a presentation, addressing questions at specific points. While VILT can handle most training requirements, it's ideal for behavioral training (on leadership, skills, and team building) or anything that needs learners to work together.
5 Characteristics of VILT that Differentiate it from Webinars
1. High Level of Interaction
The secret behind the success of virtual instructor-led training is the active participation and engagement of learners. In fact, VILT's highly interactive approach fosters a positive learning environment that encourages learners to achieve the desired learning outcomes. On the other hand, a webinar focuses on disseminating as much information as possible – making it almost passive, and giving learners limited scope for interactions.
A well-structured virtual training session offers ample opportunities for the learner to interact with the instructor, other learners, as well as with the learning content itself. In fact, one of the key responsibilities of a virtual instructor is to encourage learners to actively and frequently participate in the session. This is done through a variety of ways including:
Ice breakers at the beginning of the session. For instance, asking learners what they expect to take away from the session and letting them share with others; or asking learners to share a funny incident (when it's a small group).
Brainstorming and sharing ideas. Letting each learner (in case of a few participants) or a group representative (in case of more participants) share ideas about a new product, ways to increase sales, or anything which allows learners to get creative.
Group discussions on any topic related to the subject being dealt in the VILT session. You can also bring in a game element (gamification in VILT) and reward top performers.
Q&A round after each learning point and at the end of the virtual session. The 'raise hand' and 'chat' options ensure everyone gets a fair chance to participate.
2. Collaborative Learning
We've all heard about collaborative and social learning approaches doing amazingly well in raising the engagement quotient in training, especially when used in conjunction with ILT, eLearning, and VILT. But that's not the case with webinars – apart from the occasional polls, chat, and the end-of-session Q&A round, webinars seldom offer scope for collaboration or learning socially.
The idea behind collaborative learning is to make learners work together to achieve a common goal (exchanging views or solving problems together). A lot of emphasis is given to interactions based on learners' common understanding of a subject/topic which are developed through exploring differences in knowledge, expertise, and positions.
Collaborative learning can be achieved in different ways in the virtual classroom.
Private breakout rooms that divide learners into small groups for group assignments/tasks. In addition to allowing learners to learn from each other, these breakout rooms also offer the much-needed sense of social connection. Learners can see, talk, take notes, and share just as they would in a conventional in-person setup.
The shared whiteboard (Zoom) option that allows the instructor as well as learners to digitally annotate (text box, free-form pen/pencil, shapes, highlight, erase, and more) – allowing everyone to participate.
3. Learner-Centric Design
Have you ever heard anyone say that the webinar they recently attended felt like it was tailor-made for them? That the content addressed all their learning gaps and the presentation format matched their preferred learning style? No, not really?
Well, that's essentially because webinars are 'lecture-styed', more focused on offering content, without paying too much attention to the needs and preferred styles of individual learners. In contrast, VILT sessions are designed to be learner-centric, personalizing the learning for learners.
This is done by considering the learners':
Knowledge levels (How much about the subject do your learners know – basic, intermediate, advanced?)
Knowledge gaps (What do your learners need to fill existing knowledge gaps?)
Experience with virtual/online training (Will your learners be comfortable using a virtual classroom platform?)
Preferred learning style (What do your learners prefer – text, graphics, audio, videos, collaborative, hands-on?)
(You can gather answers to all these questions by conducting a training needs analysis.)
In addition, to ensuring sticky learning experiences, topics in VILT sessions are spaced out – offering breaks at specific points, breaking down information, repeating what's learned in different ways, assessing learners, and giving scope for refection.
4. Instant and Diagnostic Feedback
VILT allows diagnostic and immediate feedback for both learners and instructors. This is hardly the case with webinars, where learners have to wait for the Q&A round to get answers to their questions.
To reiterate, feedback in the virtual classroom is almost instantaneous. For instance, instructors can give immediate feedback while learners are showcasing an assignment/project, or even ask other learners to share their views on the same (making it more collaborative). In addition, you can create a private breakout room to host online review/feedback sessions.
You can also enable non-verbal feedback in VILT sessions to let your learners communicate with the instructor without disrupting the flow of the session. Most virtual classroom platforms (like Zoom) offer icons (raise hand, go slower, go faster, clap, need a break, and more) that allow instructors to adjust instruction accordingly.

Source: Zoom
5. Post-Training Support
Though webinar recordings and handouts (which need not be exactly what the webinar covered) are made available, they don't qualify as post-training support. That's because learners would certainly not want to go through the entire recording after training to find the part they need.
However, VILT ensures your learners don't lose touch of what's taught by reinforcing learning over time. This is done through digital learning assets such as videos, audio podcasts, eBooks, and infographics to ensure your learners are always learning. In addition, instead of offering the recording of the entire VILT session, it can be broken down into microlearning modules to be used for performance support at times of need.
Wrapping It Up!
Does all this mean you should convert all webinars to VILT sessions? Definitely not!
Webinars are ideal to provide information to a large number of people with the agenda of introducing something, sharing an update/message, or anything which doesn't need collaboration between learners.
VILT, on the other hand, is a formal training approach that can be used for different corporate training needs – considering the current situation, VILT is the perfect replacement for in-person classroom training (to keep training going).
That's it! These are the five differences which make VILT different from webinars. What do you think? Do you have more questions about VILT? Do you want to know how to migrate your classroom training to a virtual platform?
I have just the thing for you to answer all your questions about VILT! Here's a webinar on classroom to VILT migration and learn how to replicate the real classroom, virtually!