5 Creative Ideas to Foster Social Learning in Online Training
The Internet is teeming with the benefits of social learning. It's engaging, motivating, and most importantly lets learners drive their own learning. But, the code to social learning lies in creativity! Find out how to hit the bull's-eye here!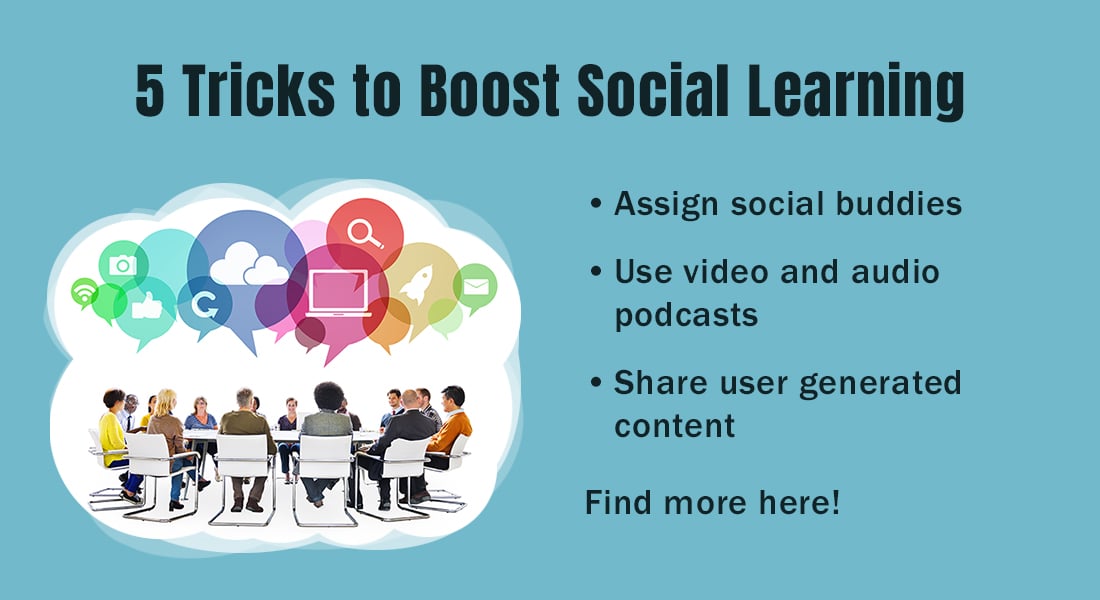 Looking for ways to improve the effectiveness of your online training program? The answer might lie in Social Learning! Social Learning is a simple strategy that promotes learning with and from peers in learning groups.
5 Tools to Promote Effective Social Learning
Assign social learning buddies
Use video and audio podcasts
Create social media groups
Encourage sharing of 'How-to-Demos'
Organize live events
By enhancing learner engagement and interaction in training programs, social learning drastically improves online training effectiveness, leading to higher successful course completion rates. According to a Harvard Business Review study,
The introduction of social learning to their eLearning platform HBX, resulted in an immediate increase of about 85% in their course completion rates. It also led to higher learner satisfaction as seen from their learner reviews.
It is essentially because man is a social animal and it's human nature to share information and thrive as a group. In face-to-face classroom training, interaction and exchange of information between peers takes place physically. Given the current COVID-19 situation, that is no longer a viable option and is being replaced actively with online training methods. The onus is now on you to enable and foster social learning.
Online learning uses a number of innovative ways to keep learners engaged during the training. By including social learning strategies, you can promote learning beyond the training hours. Let us take a look at the 5 top ways you can leverage social learning in your online training program.
5 Social Learning Tools for Effective Online Training
1. Assign Social Learning Buddies
Just as in the case of learners in the classroom, online learners too tend to perform better when paired with a learning buddy, or even a learning group of three or four. The main aim of the concept of learning buddies in online training is to facilitate collaboration between learners.
Unlike in-person Instructor-led Training (ILT) or classroom sessions, individual learners in online sessions may not be very enthusiastic to reach out and interact with their peers or trainers, especially if they are not familiar with them. Assigning social learning buddies will help make the interaction process much easier for them. It also:
Fosters team skills in individuals, when they are assigned tasks to be completed by working with their partners
Enables learners to observe and learn from their partners as well as share their own expertise with them
Makes learners more comfortable and confident as they have a person or group to reach out to whenever any issue arises
2. Use Video and Audio Podcasts to Drive Discussions
One of the main aspects of online learning is to offer learning on-the-go. This can be through eLearning modules, mobile learning courses, or microlearning assets. Online learners try to take their training wherever they are, whenever it is convenient. To support this on-the-go learning, video or audio podcasts can be offered to learners to access and listen to during commutes or even during breaks from work. These podcasts can be effectively used to facilitate social learning in online training.
They can be used to provide learners topics or questions to contemplate on and debate, thereby driving discussions among peers.
Podcasts can also be used to provide employees with updates on the latest developments or interesting facts to help in their job role.
Learners may also be invited to contribute to training podcasts, providing a platform to showcase their knowledge.
3. Create Social Media Groups for Knowledge Sharing
Most social interactions start on social media groups nowadays, which is why creating social media groups for your online training, especially for specific subjects or interest groups, can be very effective.
Learners can use their existing social media accounts to interact with their peers if such targeted groups are created. These can prove very useful for quick and easy communication, as most people would already be familiar with using them.
Social media sites such as Facebook, Twitter, or LinkedIn can also be used by learners to share their progress or certificates – to foster a sense of accomplishment.
Learners can also connect in real time through video or audio conferencing on social media sites. These are easy and quick ways to share tips, best practices, experiences in real-time and more so at the point of need.
4. Encourage Learners to Share 'How-to-Demos'
The prime aim of social learning is to make them more interactive and engaging. Social learning encourages learners to voice their opinions and collaborate with each other for better learning. However, it can be tricky to get learners to interact online when they are not able to see one another.

This is where the 'how-to-demos' come in. The 'how-to-demo' is a video or audio clip on a particular topic relevant to the course and attempts to explain how to go about it.

Giving learners a chance to create their own 'how-to-demos' enables them to share what they already know, or learn something new and present it to others. For example, if an employee chooses to do a demo on how to install the latest version of a software, they get to familiarize themselves as well as others taking the course on how to do it. They can also talk about the difficulties they faced while doing so. Peer-review of such user generated content is another great option for learners to collaborate. The feedback and responses from the peer-review can go a long way in motivating online learners to give their best.

In addition, learners get to know their peers better. Employees who were earlier just a profile name or an employee number on the screen, now become more human, making learners more comfortable in sharing the learning process.
5. Organize Live Events Periodically to Address Specific Topics
The disruptions due to the COVID-19 crisis may have made it impossible for large gatherings to happen, but with online learning, the impossible can be made possible – virtually!
Institutions and organizations worldwide have already embraced web conferences and seminars, bringing together hundreds of minds from different parts of the world. Now, online training can also use this to foster social learning.
Live videos shared on your portal or social media can be used to clear doubts, address issues faced in the learning process, or provide immediate feedback.
Live discussions and debates can bridge the gap between learners, their peers, and their facilitators.
Webinars and web conferences can also be hosted to discuss recent developments in their industry or domain.
It's Wrap Time
According to the 70-20-10 Model for Learning and Development, 70% of an employee's knowledge is derived from experience, 20% from observing others, and only half of that, 10%, comes from formal training events. While adopting the best eLearning methodologies can ensure the 10% of formal learning, it is social learning that could help double your employee's knowledge. The 5 tools that we have discussed here will give you what you need to foster this 20%, and push training ROI much higher.
Liked getting to know about social learning to boost online training? To learn about other exciting strategies to design engaging eLearning courses, download our free eBook – Instructional Design Strategies to Design Engaging eLearning Courses – right away!