5 Reasons That Prove VILT Trumps Webinars
Many people use the terms 'VILT' and 'webinar' interchangeably. Learn about differences between the two and five reasons laying out VILT's trump card.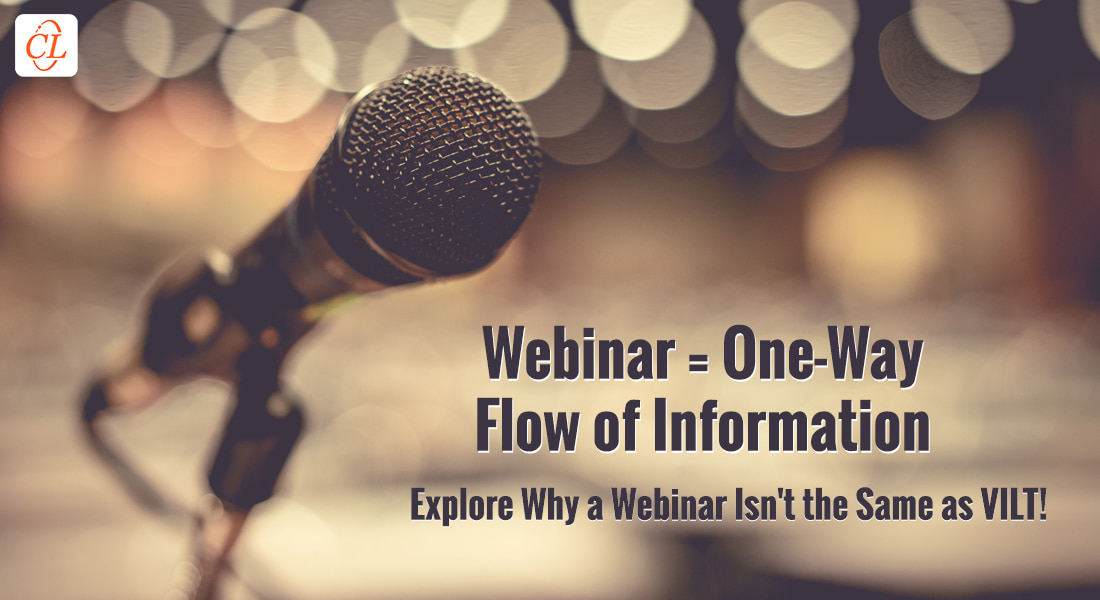 Most digital nomads consider webinars and virtual instructor-led training to be the same. While both online corporate training methods are synchronous and offered on virtual conferencing platforms like Zoom, Google Meet, EverWebiner, and Demio, that's pretty much where their similarities end.
In this post, we'll share the key differences between these two training methods. We'll also share five reasons to choose VILTs over webinars.
Why is VILT Better Than a Webinar?
5 Reasons to choose Virtual Instructor-Led Training over a Webinar:
VILT Sessions Offer a Higher Level of Interaction
VILT Facilitates Social and Collaborative Learning
VILT Fosters Learner-Centricity
VILT Enables Instant Feedback and Diagnostics
VILT Sessions Offer Post-Training Support
VILT vs. Webinars
If you're among those who have been mistaking webinars for VILT sessions, or vice versa, let us clarify the matter for you. A virtual classroom isn't and shouldn't involve what takes place in a webinar.
Virtual Instructor-Led Training
VILT is the virtual alternative for traditional instructor-led classroom training. It is delivered in simulated, online classrooms using popular applications, such as EdApp, Cloudshare, WizIQ, Zoom, Webex, and Microsoft Teams, to name a few.
Webinars
Webinars are broadcast-style training sessions designed to provide training to a wide ranging audience. Although they offer the same format as VILT sessions, webinars afford learners a limited level of one-way interaction through chat forums, Q&A, and online polls. Concurrently, the instructor imparts knowledge through slide presentations.
You can tell which method would be better suited for corporate training. VILT provides much more two-way interaction than webinars. However, this doesn't mean webinars aren't useful. They're best-suited for training employees on their company's products, services, and policy updates and can be used to complement VILT sessions when instructors aren't available.
5 Reasons to Choose Virtual Instructor-Led Training Over Webinars
Now that we've explored a bit about VILT and webinars, let's learn why you should choose VILT over webinars when conducting employee training:
1. VILT Sessions Offer a Higher Level of Interaction
The biggest benefit of selecting VILT over a webinar is learners' active engagement and participation. This innovative learning method facilitates a productive learning environment with the feel of a real classroom, which goes into improving learning outcomes.
In contrast, trainers utilize webinars to disseminate as much information as possible in a limited time period to a large audience. As a result, there is little or no room for interaction because of the passive form of knowledge exchange.
VILT sessions provide employees with several opportunities to interact with their instructor and colleagues. Online instructors encourage this form of involvement, especially in remote work environments, to increase participation and create a sense of belonging.
You can encourage your learners to engage in a VILT session using many means, such as:
Brainstorming Sessions
VILT enables learners to contribute to brainstorming sessions which helps them share ideas on solving complex problems at work.
Ice Breakers
Instead of diving right into the training content, ice breakers are an effective way to kick start the session. For instance, instructors can ask questions and request learners to share their opinions on sports, movies, science, or history to enliven the virtual classroom and encourage participation.
Q&A Sessions
Q&A sessions are a great way to evaluate the outcomes of online training. Software developers have equipped VILT platforms with emoticons to facilitate queries and real-time explanations and clarifications.
2. VILT Facilitates Social and Collaborative Learning
According to research, collaboration and social learning foster higher levels of learner engagement, interaction, critical thinking, and even competition. These are a few factors that can improve learning outcomes. VILT sessions are the exact replica of in-person training, though they are provided on virtual platforms. They can help organizations close skills gap faster and in an interactive environment.
Learners don't have to worry about the commute or work trade-offs. Instead, they can focus on developing their skills by working with others to solve problems, share knowledge and expertise. Plus, virtual classroom applications offer several social learning tools, such as live chat forums, Q&A sessions, games, and online polls.
Trainers can also divide their virtual classrooms into smaller groups to separate learners based on their roles, capabilities, learning objectives, and needs. In these smaller rooms, learners have additional freedom to interact with their facilitators and colleagues, take notes, and share information just as they would in a traditional classroom.
3. VILT Fosters Learner-Centricity
It's hard to imagine meeting a person who says that a certain webinar felt like the trainer designed it specially for them. While it isn't impossible, it's incredibly rare, considering the variety of learning styles and learners tuning into webinars at the present time. So, if you've been to one that meets your learning style and addresses your skills gap, then kudos to the eLearning developer.
However, the chances of this happening are slim to none. VILT offers a much better solution. It is learner-centric, which means eLearning experts can personalize content based on employees' needs, knowledge and skills gaps, technological abilities, and past training experiences.
4. VILT Enables Instant Feedback and Diagnostics
A critical reason to choose VILT over a webinar is feedback. Virtual classrooms enable learners to share their thoughts on the learning objectives, concepts, trainer, and their progress. The instructors can analyze their learners' feedback in real-time and respond back. This is not the case with webinars. You need to wait till the session's over to get your questions answered through a chat-styled Q&A.
Many modern training platforms enable learners to provide feedback non-verbally without disrupting a session's flow. For instance, Zoom offers many emoticons such as the iconic "Raised Hand", "Clap," "Need a Break," and "Go Faster/Slower". This real-time feedback provide instructors with the opportunity to interact on a personal level.
5. VILT Sessions Offer Post-Training Support
Although webinars usually come with participant handouts, recordings, and instruction manuals, they don't count as post-training support. This is frustrating for most employees who would rather not hear the entire webinar over again to find out what they've missed unless they have no other choice.
However, VILT is a solid part of digital learning assets, which also include microlearning videos, podcasts, infographics, interactive PDFs, and ebooks, to name a few. Many online platforms allow users to break down VILT sessions into smaller modules so that learners can easily get to information they need instead of searching through the entire VILT package.
Bottom Line
So, there you have it. Five reasons proving VILT's advantage as opposed to webinars in the corporate training world. This method of online training mirrors the human interaction and constructive feedback given in a classroom. VILT is perfect for remote and hybrid workspaces that want to upskill their employees and avoid sunk costs, such as travel, stationery, and accommodation.
This doesn't mean that webinars are obsolete or no longer useful. They're perfect for sharing information with wide ranging audiences where collaboration between the learner and trainer isn't required. So whether you're launching a new product or introducing a new workplace policy, you need to incorporate VILT and webinars into your training method.
Explore a few practical guidelines on customizing your ILT (instructor-led training) material into a VILT session and replicating the classroom's human interaction for optimal engagement. Download this free webinar titled – "ILT to VILT Conversion."