Successfully Migrate from Classroom Training to VILT – The "Why" and "How"
Migrating from classroom training to virtual instructor-led training can be a difficult task. If you are looking for tips to migrate successfully from classroom training to VILT, we have five great tips for you!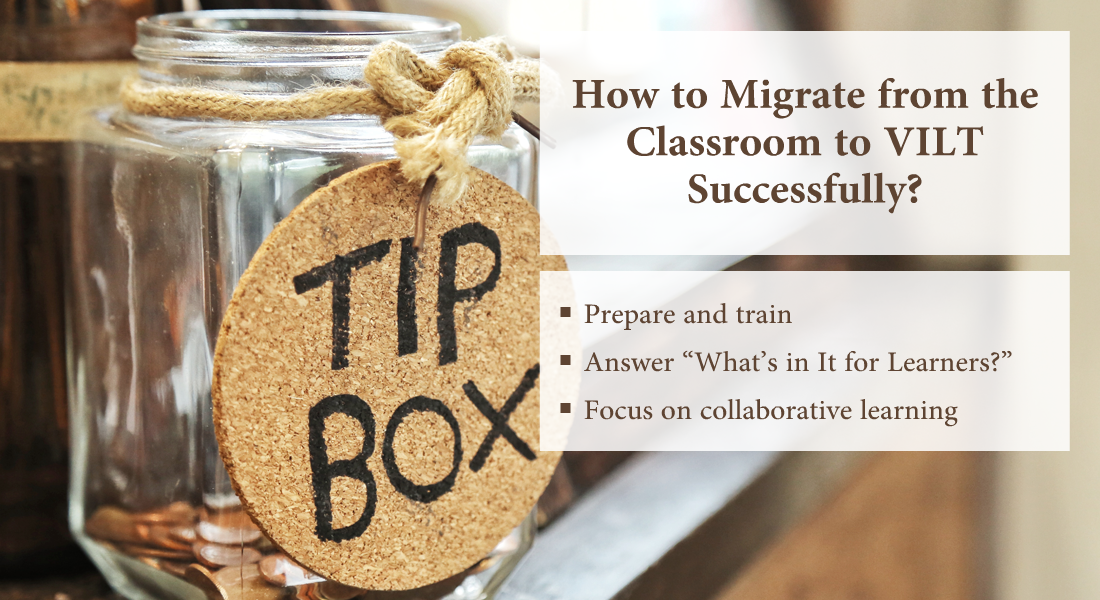 Do you have concerns about migrating from classroom training to virtual instructor-led training (VILT)? Are you worried about how to do it successfully? Worry no more! We have some useful information that will answer your questions.
Migrating Classroom Training to VILT
5 Tips for Successful Migration
Prepare and train
Answer learners' question of "What's in It for Them?"
Focus on collaborative learning
Outsource different aspects if needed
Offer digital learning assets
This blog aims to give you five important tips that will help you successfully migrate from classroom training to VILT. But before we get to the tips, let's first understand why migrating from classroom training (or instructor-led training/ILT) to virtual training is useful, especially during these times, and then move on to the differences between classroom training and virtual training.
From Classroom to VILT – Why Make the Move
The COVID-19 pandemic has taken the world completely by surprise. Our lives, both personal and professional, have been turned upside down by the tiny virus. However, due to this, virtual training has suddenly become a hot favorite of organizations trying to find alternative means to conduct training for their employees, most of whom are now working from home.
In a situation like this, it is practically impossible to rely on the tried and tested instructor-led training. Therefore, the next best thing is to shift from classroom to online training. Classroom training as we all know, refers to the traditional method of training where the instructor and learners are face to face in the same location.
Virtual training, on the other hand, happens in a virtual environment with either no instructor (eLearning) or with the instructor in a different location from the learners (VILT). There are two main kinds of virtual training – asynchronous (eLearning and microlearning) and synchronous or real time (VILT). We will be focusing on VILT in this blog.
But why VILT? What are the benefits of VILT? Let's take a look:
VILT can be very useful when the training content is very complex and may require trainer intervention.
VILT makes it convenient for the learner to learn anywhere, anytime, unlike classroom training, which requires the instructor and learners to be in the same location at the same time.
VILT can ensure interactive sessions (even though the instructor is not physically present) with learners asking questions, participating in discussions, and sharing their views.
VILT can be used to provide customized content (such as study material, online modules, etc.) based on the learners' requirements.
VILT allows the instructor to track learners' performance (using online assessments and polls) even while sitting at home.
Now that we know the advantages of VILT, let's get to the big question – How do we migrate from classroom training to VILT in the best possible way?
Shifting from classroom training to VILT is not a very easy process. Most instructors are used to teaching in the classroom and it can initially be difficult for them to adapt to the virtual world. Very often we see that both the instructor and the learner are not familiar with the technology that is used in VILT. The lack of face to face communication and visual cues complicates the process even more. And so, it is very important for both the instructor and the learner to understand how VILT works.
5 Tips to Migrate from Classroom Training to VILT
Here are five tips to be kept in mind to successfully migrate from classroom training to VILT:
1. Prepare and Train
As I already said, migrating from classroom training to VILT is not very easy. There is a little pre-work that needs to be done for a successful migration.
Gather all the classroom material and convert it to the digital format
Since referring to notes and handbooks while trying to attend a virtual class is not very convenient, all the text-based material needs to be converted to digital formats. PPTs become the most basic requirement for VILT.
You can also convert text-based resources into videos and infographics that can be accessed at specific points via links during the VILT session.
Help instructors and learners get familiar with technology (provide "how-to" guides)
Getting comfortable with the virtual environment takes time, especially if you are only used to the classroom. For VILT to be a success, instructors and learners need to be familiar with using technology. Providing them with basic "how-to" guides will help them make use of the various features of virtual learning platforms, thus improving the quality of the VILT sessions.
2. Answer the Question "What's In It for Them?"
Adult learners need to be told what they are going to get from the training. And so you need to introduce the training to the learners even before they log in to the session – giving them an overview of the course, telling them about the objectives, and setting expectations must be done beforehand. This can be done by:
Showing them video trailers beforehand to highlight the key takeaways of the VILT session
Using posters or infographics to highlight the various learning objectives of the VILT session
Giving them pre-assessments to assess their prior knowledge on the subject. This will also help them recollect and revise the topics that have already been covered in the previous training sessions

3. Focus on Collaborative Learning
Now that we are "working from home" and forced to maintain social distancing due to COVID-19, the lack of human contact has become something of an issue. Spending time with colleagues and working in groups has become almost impossible. You can make up for the lack of human interaction (an integral part of the classroom), at least in part, by adding social learning elements in VILT to make the migration process much more effective. This can be done with:
Online discussion forums: These will help the instructors and learners to communicate better. When learners have doubts or queries, the instructor can immediately provide answers for the same. Learners can also put forward their ideas and brainstorm as a group.
Role- playing: This teaches learners about what is to be expected from them when playing a certain role or doing a job. For example, a role-playing activity where the learner needs to act as a client will help them understand how they should interact with clients in a real-life scenario.
Group assessments: These will allow the instructor to assess the learners' performance and keep track of their progress. This will also help them improve their group work skills.
Virtual breakout rooms: These are virtual spaces that learners move into for group activities and socializing with their colleagues/ team members.
4. Outsource Different Aspects If Needed
Migrating from classroom training to VILT can be a tedious process. The organization needs to have a team that can work on this to ensure smooth transition. If you're not able to do this in-house, it is better to outsource the project to a reliable vendor. Here are some aspects of VILT that can be outsourced to a vendor:
Setting up the virtual classroom platform
Scheduling and notifying learners about sessions
Coordinating the live VILT sessions
Collecting and sorting the analytics generated during sessions
5. Offer Digital Learning Assets
We are an impatient generation of workers who neither have the time nor the inclination to invest in long, tedious, learning courses. Even when we try to do so, it is quite difficult to retain all that information for a long time. Hence, "reinforcement of training" plays an important role in fighting the forgetting curve.
Hence, offer digital learning assets such as videos, eBooks, audio podcasts, digital handouts regularly to ensure your learners are always learning. Moreover, you can record your VILT sessions and offer the recording as a post-training reference. The recording can also be broken down logically into microlearning modules which will come handy as job-aids, refreshers, as well as performance support assets at times of need.
Wrapping it Up!
Working from home or a hybrid work model is becoming the new normal for most corporates. And migrating from classroom training to VILT is the best way to keep the organization running and ensure the workforce is well-trained and ready to achieve their goals. Are you all set to launch your VILT program? Download this checklist to check your readiness.
Editor's note: This post was originally published in April 2023 and has been updated for comprehensiveness.