4 Digital Learning Assets to Jazz Up Online Training
Digital learning assets are the driving force of online training. If you've been wondering which digital learning assets to pick for your online training program – look no further! Read on to find some popular assets.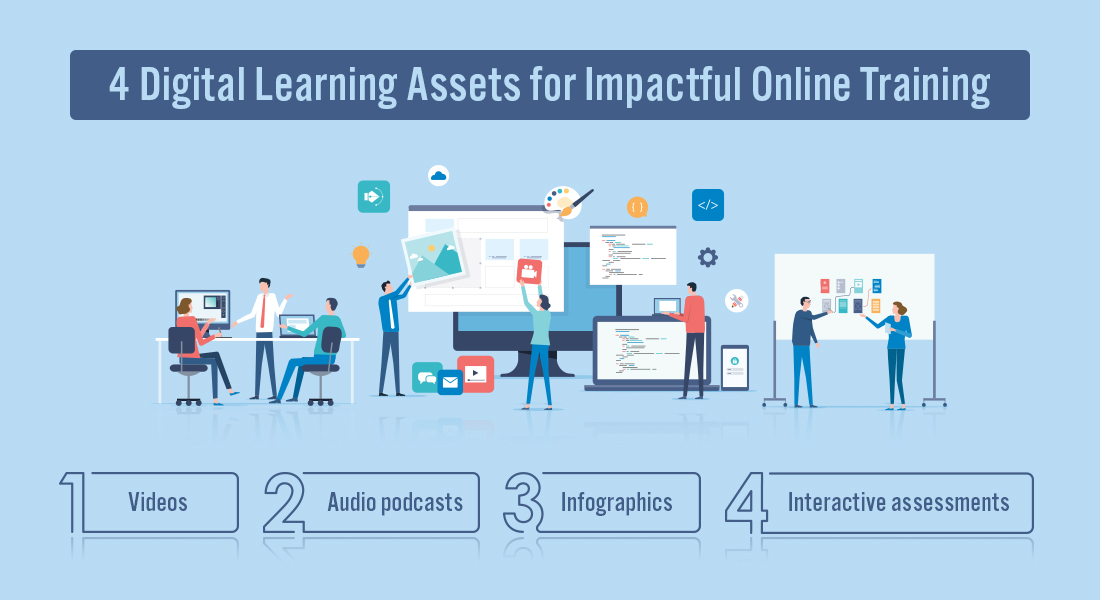 Over the past 16 years, small businesses have increased their use of e-learning by 900%. This shouldn't come as a surprise as this generation of employees were raised on the Internet. For them, online training is 'normal'. Organizations are constantly trying to improve online training experiences for their employees while keeping up with the rapid advances in technology and dynamic business needs.
4 Must-have Digital Learning Assets for Engaging Online Training
Videos
Audio podcasts
Infographics
Interactive assessments
How are they doing that? By using digital learning assets, of course. No online training is going to be effective if it's just a copy-paste of some physical coursebook. Online training needs to be engaging, immersive, and interactive, and what better way to do that than through digital learning assets?
But What Are Digital Learning Assets Exactly?
Learning assets, simply put, are information delivery formats used in eLearning to facilitate learners' understanding of a topic. In the pre-digital era, they were books, reports, manuals, and such. But today's digital context calls for a variety of digital assets – podcasts, eBooks, videos, and more.
While there are many digital learning assets one can use, there are four that are 'must-have' for effective and engaging online training:
4 Digital Learning Assets That Bring the Best Out of Online Training
1. Videos
Videos are undoubtedly the most dominating communication medium on the Internet, with 98% of organizations worldwide using video-based training in their online training approaches. According to a forecast report by Cisco, video content will account for 82% of the worldwide Internet traffic by 2022. People prefer videos over textual content because they:
Are engaging
Cause less cognitive load
Provide a more immersive experience
These popular digital learning assets, if used properly, have the capacity to convey complex information in a simplified manner. While 'how-to' video recordings of an instructor explaining a topic are most commonly used, there are a lot of creative ways to convey information in the video format.
Animation videos can educate and entertain at the same time. They are very effective, especially for explainer videos, when combined with a seamless voice-over narration.
Whiteboard videos show illustrations being drawn on the screen while a narrator walks learners through the content. They come in handy to explain concepts that need a lot of exploration.
Screencast videos are digital recordings of a computer screen accompanied by a voice-over narrative. They are used to explain the working of an application or software. They can be used as step-by-step guides to perform tasks which learners can follow to the tee with no scope for ambiguity.
Remember, short videos nuggets explaining specific topics are very effective. Both user engagement and retention levels are very high with such videos.
2. Audio Podcasts
Audio podcasts have been steadily gaining popularity in the recent years, with people flocking to them in large numbers. In addition to offering easy accessibility and convenience of usage, they:
Are a hands-free solution, enabling listeners to listen to them anytime, anywhere
Are highly immersive in nature
Enable cultivating a relationship between the speaker and listener
In online training, podcasts can be informative while also being very compelling – making them one of the 'must-have' digital learning assets. The speaker can establish a sense of kinship with the listener with an anecdote early on and then dive into the topic. While videos in eLearning fare better if they are short and crisp, podcasts have the advantage of time. Because of the convenience in usage, employees can listen to longer podcasts if they are interested and engaged.
Podcasts can be:
Monologue podcasts that are basically one-to-one communication between the speaker and listener
Interview podcasts with the host interviewing an expert in the topic
Repurposed content podcasts that are recordings of live conferences and seminars meant for live audiences, but made accessible to online learners as well
3. Infographics
Infographics are used to convey graphical information quickly and clearly. They can be used to translate the most complex information to its simplest form with the help of impressive design elements, motion graphics, and special effects.
Infographics are widely popular as they:
Can show boring facts and statistics more engagingly
Are convenient to read
Are relatively easy to memorize
Infographics in online training can be used to convey challenging but important content in a more digestible way. Their attractive designs appeal to learners, motivating them to explore the content.
Infographics can be of two types:
Static infographics that use text, still pictures, and animations
Interactive infographics that contain additional elements like animated GIFs to make them more interactive and immersive
Infographics are one of the best digital learning assets to summarize the key points of a text-heavy course to help learning and recall in learners.
4. Interactive Assessments
Learners need variety and can easily be put off with run-of-the mill assessment methods like multiple choice questions or true/false statements.
Hence, out-of-the box assessments are becoming more and more popular in online training. One of the more effective digital learning assets for training is the use of interactive assessments. All you have to do is give a different spin to a conventional eLearning assessment format. With recent improvements in motion graphics and animations, it's easy to put together, let's say, a maze game or a treasure hunt to assess learners' skills on a certain topic.
Gamified nuggets are very effective and highly engaging for learners. Adding scoreboards, ranks, badges, and levels will also up the competition quotient among them.
Insight
While all these digital learning assets make up for an engaging online training program, you can also include your learners in the creation of the same. How?
With user-generated content! Let learners create their own videos, podcasts, and infographics.
User-generated content is a great way to take advantage of experts within the organization. Employees with a good grasp of a topic can contribute audio podcasts and even demo videos to their fellow learners.
User-generated content is one of the most effective digital learning assets as it:
Builds on already existing relationships between the contributor and learners, enabling free communication
Helps learners relate to the content easily
Allows learners to learn from real-life experiences of their peers
To take advantage of user-generated content, employees need to be encouraged to share their experiences and anecdotes about the topics being discussed. They can also be asked to create short tutorials for complex tasks in a simple language that they know their peers will understand.
It's Wrap Time!
Training is pivotal to improved employee performance. For training to be effective, it's important to use everything the present technology has to offer. The four digital learning assets that we discussed in this blog are the best of the lot which can help your organization craft engaging, interactive, and immersive training courses.
While there are digital learning assets or online training, there are assets for microlearning as well. Microlearning is an e-learning trend that has revolutionized digital training. By reconfiguring content into shorter modules, microlearning is changing the way online training is designed and delivered. Find out more about microlearning and how it can fit in your learning strategy by downloading our eBook titled "Where Does Microlearning Fit in Your Learning Strategy?"