Converting UGC to Usable Online Training Modules? A Simple Guide
Do you have user generated content that needs to be converted to usable online training modules? Check this blog to find out how an e-learning partner can help.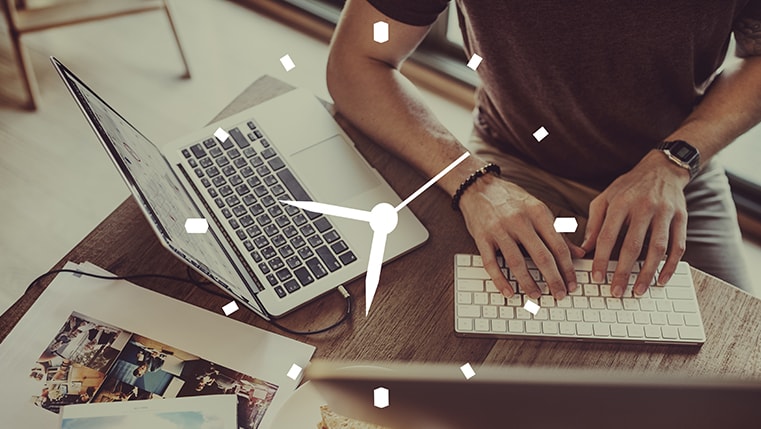 Imagine planning for a holiday. Sounds exciting, doesn't it? Once you've finalized your travel destination, the next task you probably would do is to choose your place of stay. Maybe you already have shortlisted a couple of hotels. So, do you go on to the hotel's website and look at the amenities that are offered? Even if you do, would you make your decision based on that or would you prefer to look up some good review sites and then make the decision? The latter would be the most probable choice, as these reviews come from people who have traveled and stayed at the property you are contemplating.
Wondering what this has got to do with learning? Effective learning happens more or less the same way. For example, when you insist learners from the customer service department follow a specific process or guidelines to interact with customers, it may not be very effective. Now change tack and use a video that features a co-worker explaining how following a specific process has helped boost customer satisfaction ratings.
Including this user generated content (UGC) as part of a usable training module has the potential to make a world of difference to the receptivity of your training program. That's a good reason an increasing number of organizations prefer to make use of UGC in their training programs. According to research from Aberdeen and Docebo, best-in-class organizations are 78% more likely than others to make use of user generated content for learning.
What's User Generated Content in Learning?
User generated content refers to any content that is created by learners to facilitate effective learning. When you give your employees a chance to share their thoughts and ideas, you also increase retention rates. So the same message that you wanted to convey (explaining the process to be followed in customer service) is conveyed through a better channel of communication (your own workforce).
The people involved in creating UGC could be:
Subject Matter Experts
Managers/Supervisors
Mentors
Peers
Customers
What are the Types of UGC in Learning?
PowerPoint presentations:
Presentations created by your SMEs can be used to train employees.
Job-Aids:
A supervisor or a peer who has come up with a flowchart or process map to make a process effective.
FAQs:
A manager or mentor who has jotted down frequently asked queries of customers. This can be converted to an effective learning resource.
Surveys:
A survey of customer expectations or suggestions for improvement can be used to enhance the usable online training module.
Videos:
An employee on the shop floor who quickly records his/her learning experience in the form of a video.
Now remember, you can't rely only on UGC to address the training needs of your organization. This UGC has to be converted to usable online training modules that can be accessed by your learners through a centralized learning platform or Learning Management System. The cost-effective way to do this would be to leverage the expertise of an e-learning vendor. Here's how an e-learning vendor plays an important role in the conversion of user generated content to a usable online training module.
1. Addresses Content Gaps
An e-learning vendor goes through the user generated content to check if there are any knowledge gaps to be filled. For instance, a flowchart depicting a process may work well for existing team members, but would that be enough for a new hire in the team? If no, then what else does the online training module need to include so that it benefits all learners?
Perhaps it would make sense to include a glossary of all the terms used in the process map or chart. The e-learning vendor can address these gaps in the content by interacting with SMEs and presenting that information in a way that's easy for learners to understand.
2. Presents Content in the Right Format
Your user generated content might include a lengthy PDF or a text-heavy presentation. But would it be effective as it is, in an online training program? You might need to present the content in interesting formats such as videos, interactive infographics, scenarios, and bite-sized learning modules. The content might need edits, maybe follow a style guide (fonts, colors, language etc.).
There are some instances where the user generated content might need to be translated to different languages. An e-learning vendor who provides translation services can address the requirement to a tee.
3. Designs Instructionally Sound Content
Remember, UGC is a way to supplement your training module. When you convert UGC to usable online training modules, the content has to be instructionally sound. For example, if your learners are not introduced to the basics of a technical process that's followed, the flowchart or infographic that you provide is not going to make sense. The training program also has to follow the principles of adult learning in order for it be effective.
When you leverage the services of an e-learning vendor, you gain access to a pool of resources (instructional designers, graphic designers, project managers, LMS experts, and so on). A well thought-out instructional and visual strategy for your online training module will no doubt increase its effectiveness.
4. Designs Effective Assessments
UGC can be used in your online training module, but how do you plan to assess learners on it? An e-learning vendor who has the expertise of developing assessments for a wide variety of training programs can be relied on to deliver an effective assessment. They also ensure the assessment is in-line with the learning objectives of the usable online training module.
5. Follows a Well-defined Process for UGC Conversion
The process of converting UGC to a usable online training module can be challenging if you have to do it in-house, unless you have dedicated resources who follow a robust process. But trust an e-learning vendor to do the best. An e-learning vendor who is aware of the industry practices and follows the best practices for digital training development will have a well-defined conversion process in place.
Like I mentioned earlier, you can't rely only on UGC to deliver a successful online training, but you can definitely encourage your skilled workforce to contribute to a knowledge pool that can be leveraged to design and develop successful training programs, with the help of an e-learning vendor.
Watch out for an upcoming post that explains the process of converting user generated content to usable online training modules.