Think Twice Before Using In-house Employees for eLearning Translations
eLearning translation is a must-have for corporate workforce training today. But eLearning translation development can be a little tricky. If you're planning to use in-house employees for the task, here is a word of caution!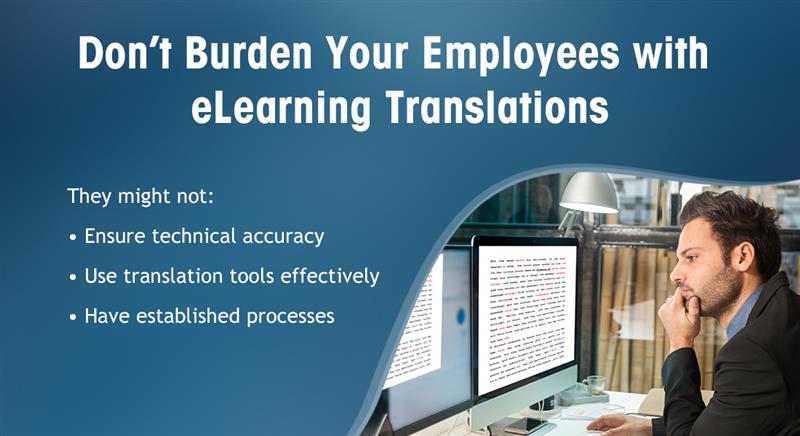 Most organizations and businesses across the world have a global presence today, be it with customers, partners, or off-site employees. And with a global presence comes a diverse workforce – in language, culture, and sensibilities. Amidst such differences, how do you plan to train all your global employees with equal fervor and effectiveness? Well, the solution is quite simple – eLearning translations. With eLearning translation, you can bridge linguistic and cultural barriers to train your employees better, irrespective of who they are and where they are from.
3 Cons of Using In-house Employees for eLearning Translations
Lack of expertise in the subject to be translated
Lack of technical knowledge
Lack of quality, productivity, and missed timelines
Are you wondering why you should even think about eLearning translation, when all your global employees understand English well?
The truth is, understanding a language and being aware of its subtle nuances are two different things. Just because English is widely spoken and is often the mode of communication in corporate circles, it should not be the preferred eLearning language for your global learners.
Most learners are more comfortable learning in their native language than in English. eLearning translation will not only make the training more acceptable to such a diverse workforce but will also make it easier for them to gain and retain knowledge.
Now that we have established that eLearning translation is necessary to train and engage your global workforce effectively, the next question is, how should you get it done?
You can go about developing eLearning translations in three ways:
Outsource the task to a trustworthy vendor (a simple, popular, and cost effective solution)
Hire a team of experts – professional translators, linguists, editors (an expensive option especially if they are going to work solely for L&D)
Take advantage of your in-house employees who are native speakers of the target language(s)
Many organizations would immediately jump at the third option and I can understand why. There is no immediate cost involved and since the project will be handled in-house, you don't have to worry about information security or about providing an external translation vendor your company's and employees' details.
But while this seems very appealing at first, it has many pitfalls that might not make it the smartest move in the long run. Here are a few things you should consider before assigning the task of eLearning translations to your in-house employees.
What Can Go Wrong with Using In-house Employees for eLearning Translations?
1. Lack of Expertise in the Subject being Translated
"Woe to the makers of literal translations, who by rendering every word weaken the
meaning! It is indeed by so doing that we can say the letter kills and the spirit gives life."
— Voltaire
Looking at this quote, you may be thinking, "What's so difficult about translations? Seems pretty straightforward! If you know more than one language, you just reiterate what you understand from one to the other. Simple!"
But actually, it is not that simple. Knowing a language, being able to understand it, even interpreting it to convey its meaning doesn't make you an expert translator. Translation is a technical skill. You need to know the grammar, have a range of vocabulary, be able to understand its idioms, be aware of the cultural context, and much more. They also need to take care that the translation remains accurate and meaningful and avoid using local idioms or catchphrases.
And when it comes to eLearning translation, translators need to be fully aware that the translated text is meant to go into a course for training. They need to have some knowledge of what eLearning courses look and feel like and how the translated text is going to fit in the instructional design.
On top of that, translators need to have the subject knowledge of what the translated course is about. They need to ensure the technical accuracy of all terms without watering down the meaning and impact of the training content during translation.
It all boils down to this – your in-house experts may be able to speak different languages, but that doesn't mean they are, or have the subject knowledge to become expert eLearning translators.
2. Lack of Technical Knowledge for eLearning Translation
eLearning translation is more than just going through content word after word and line after line and translating them to a different language. There is a lot technical knowledge involved in the process as well as expertise in using various CAT (Computer Assisted Translation) tools. 'CAT tools' is an umbrella term that describes the software used for rapid eLearning translation. They make the translation process fast, accurate, and cost-effective.
Translation memory software that saves translation units such as words, sentences, or segments from the course in a database to be re-used.
Cataloged base terms that serve as a glossary containing:
Words in the source and target languages
The meaning of the word, examples of how it can be used in a sentence
Grammar-related information
Metadata on the date and the last person who updated the term
Unlike the translation memory software that learns and builds a database of terms in real-time, a term base is manually created based on the course one is working on.
Quality assurance tools eliminate human error by running checks on the source and the translated texts and reporting inconsistencies in punctuation, abbreviations, spellings, length, and mismatch with the term in the 'term base'.
CAT tools can be pretty expensive if you have to buy them just for your eLearning translations. Moreover, your in-house employees might not know how to use these tools and will have to be trained. When you consider all these ad hoc expenses, outsourcing eLearning translation to a trustworthy vendor will prove to be the smarter move.
3. Lack of Quality, Productivity, and Missed Timelines
You can try to utilize your employees' multilingual skills by assigning them the task of translating your eLearning courses, but remember that translation is not their primary job responsibility, so it won't be their first priority. If you involve employees from different departments to carry out eLearning translations, it may cost you dearly in the end.
First, since these appointed translators wouldn't have much experience or established processes, the translated courses will be of poor quality.
Second, all this added work is bound to affect their productivity, leading to an adverse effect on your business ROI.
Third, since the task of eLearning translation won't be their first priority, there is a very good chance of missed deadlines, delaying your entire training roll-out timeline.
Summing it Up!
Do you now see how involving in-house experts to carry out eLearning translation may not be such a good idea after all? eLearning translation is an important part of training your global employees and you should not take chances with it, just because doing it in-house seems more convenient. I hope this article has helped give some clarity to the whole translation business and convinced you on the merits of outsourcing eLearning translation to a trustworthy vendor.
If you want to know more about rapid eLearning and how it can be used for different eLearning design and development tasks, download our eBook.