Solutions to Top 3 Challenges When Implementing Virtual Training
Shifting from classroom to virtual training isn't easy. Explore 3 challenges while shifting from classroom to virtual training and their solutions.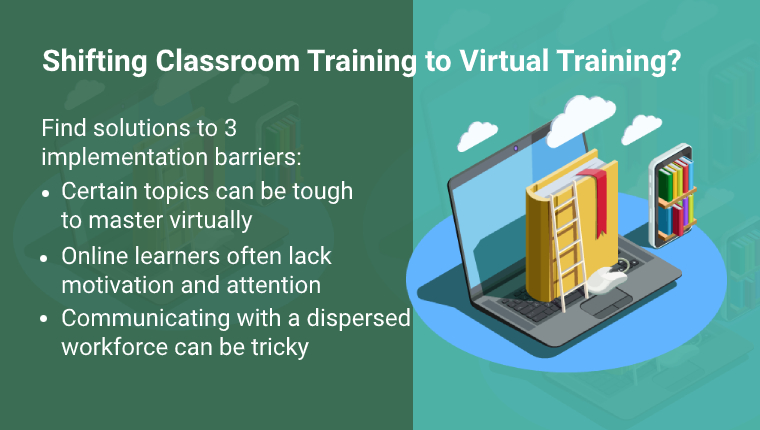 We are right in the middle of the COVID-19 pandemic. Until yesterday (when COVID-19 was just a news item to be read), most companies stuck to classroom training to train their employees. However, COVID-19 is forcing them to make the shift from classroom to virtual training. And more and more organizations are trying to do just that – to keep their training initiatives alive!
In this blog, we will look at the biggest challenges that organizations are likely to face when migrating from classroom to virtual learning, and how to solve them. Let's first understand what virtual training means.
3 Challenges that can Arise while Migrating from Classroom to Virtual training
Teaching topics that may be tough to master over the Internet
Dealing with a lack of motivation and attention from learners
Communicating with a distributed workforce across time zones
What is Virtual Training?
Virtual training is a learning strategy where learners go through training in an online environment. It may be:
Synchronous learning: A learning event in which a group of learners engage in learning at the same Examples include virtual classrooms, webinars.
Asynchronous learning: Self-paced instruction where each learner takes the course alone (by themselves), at a convenient time. The coursework is delivered by web, LMS, or mobile apps.
What are the Challenges that can Arise when Migrating from Classroom to Virtual training?
Challenge 1: Some Topics may be Tough to Master over the Internet
Or more precisely, some topics may be tough to master over the Internet without additional help.
When making the transition from a purely classroom-based training environment to the virtual space, the biggest gap that needs to be filled is that of the instructor.
In the classroom, engagement happens though the instructor, who explains difficult topics by relating them to personal anecdotes and experiences. In his absence, it may not be easy to understand and master certain topics virtually.
How should we go about solving this problem?
Solution: It's simple, really. When moving from classroom to virtual training, take care not to restrict training only to asynchronous methods such as eLearning.
Use a combination of virtual classrooms (synchronous) and eLearning (asynchronous) to train your remote employees.
This is often referred to as blended learning. This best-of-both-worlds approach works very well for learners as some may prefer learning with the help of an instructor even within a virtual setting, while others may be happy with self-paced learning alone.
In blended learning, the most appropriate delivery technology(ies) is used to deliver different types of content, with appropriate learning activities added for engagement.
Consider this scenario in which customer training has to be rolled out to the (remote) customer support team. The blended learning solution could be as follows:
First, short virtual classroom sessions are offered where the instructor/subject matter expert (SME) conducts pre-training quizzes to understand learners' existing knowledge and, then, accordingly tries to fill the knowledge gaps regarding customer support, best practices for handling customer objections, and more.
The virtual classroom training can be followed by self-paced scenario-based modules where learners can interact with virtual customers and apply what they learned in the virtual classroom session/s.
Note: Sometimes, webinars are used in place of an actual virtual classroom (with little to no instructor-learner interaction) resulting in losing much of the value afforded by the format. The 'coming together' of learners and instructors is not training per se; that can also happen via video, eLearning, or podcasts. The instructor-learner interaction enables learning to occur at a deeper level through discussion, practice, and collaboration.
Challenge 2: Online Classes Require a Lot of Learner Motivation and Attention
One of the major challenges of online training is MOTIVATION (or the lack thereof). If the content isn't engaging enough, learners are likely to zone out of the training, and that's a fact! This may lead to higher dropout rates and poor job performance.
How can you make virtual training engaging?
Solution: In a synchronous environment (i.e., virtual classrooms):
Make the virtual session something more than a PowerPoint presentation. Establish face-to-face interaction between the learners and the instructor/SME.
Plan for short 5-10-minute sessions instead of instructors speaking incessantly for hours.
Use multimedia tools and different formats (videos, whiteboard presentations, online resources) to supplement the virtual classroom training.
Use the integrated polling functions of video-conferencing platforms to host polls and quiz questions – for discussions or to check learner understanding.
Create collaboration by setting up a chat room/message board for participants to log in and discuss. For example, narrate a business story and let participants identify the main points in the chat.
Solicit feedback on learner engagement and understanding. Create anonymous polls to know what they think of the training, what type/s of assessments they'd prefer, if a certain topic needs more explanation, and what they would recommend changing.
In an asynchronous environment (i.e., self-paced, standalone courses):
Communicate the performance-based learning objectives of the training right at the start. This will help learners know what they will be able to do (and not do) after the training.
Incorporate eLearning interactivities. This could be as simple as drag and drop interactions or more complex ones such as a story-/role-based learning paths, watch-try-do simulations, or scenario-based assessments.
Keep learning modules short as endless content is the perfect recipe for disengagement.
Don't create text-heavy courses; use different media elements such as videos and infographics, because all text and no media make for boring learning.
Make courses visually appealing: Use avatars, high-quality videos, images, and animations to sustain learner attention and engagement.
Pique learner curiosity with thought-provoking scenario-based assessments and learning games. These exercises encourage learners to think and reflect on what they are learning.
Facilitate collaboration between learners and their peers by providing a link to the organization's social network where they can discuss the training and share best practices.
Challenge 3: Communicating with a Distributed Workforce can be Tricky
Note that this is a problem mainly with synchronous learning. In an asynchronous learning environment, learners have the luxury of time – to learn at their convenience.
When it comes to offering synchronous training across multiple cultural and geographical areas, one of the biggest barriers is that of different time zones. What might be convenient for learners in one location may not be so for others.
How can you reconcile these differences?
Solution: There are a couple of ways you could do that.
Rotate trainers and trainees according to convenient time zones.
Post virtual classroom session recordings and resources such as lecture slides, videos, and online readings on the company's portal/LMS. This can also act as post-training support. (Also note that this is similar to how asynchronous learning works.)
SOME OTHER PRO TIPS
Switch between two or three presenters for lengthy synchronous learning sessions, to keep learners engaged.
For asynchronous learning, establish due dates and deadlines for course completion to help learners manage their time better.
For the smooth conduct of virtual training for your remote learners, consider investing in an LMS. An LMS or a learning management system acts as a repository for all things training—including hosting, organizing, and delivering courses to learners.
Concluding Remarks
These are the three top implementation challenges companies face when they shift from classroom to virtual training for their remote learners. The solutions to these challenges are quite simple and doable, and should definitely cut down the complications that may otherwise arise.
More and more companies are turning toward virtual training in these desperate times. But just because something is being done frequently does not mean it is being done well. If you'd like to know more about virtual classrooms and how to master its implementation, sign up for our 60-minute eLearning course Maximizing Impact in the Virtual Classroom!